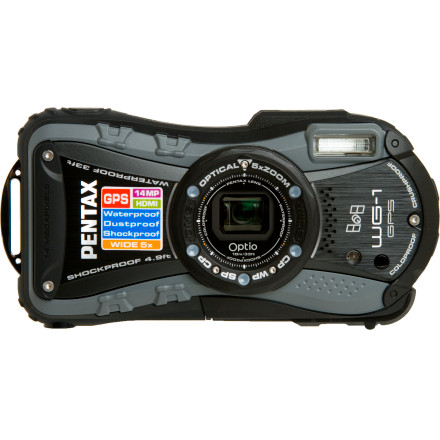 Detail Images

Community Images
Feeling sadistic? It doesn't matter; the ridiculously rugged Option WG-1 GPS Kit Digital Camera can take whatever punishment you're in the mood to dish out. Waterproof to 33 feet (so you can shoot underwater), shockproof from up to a 5 foot drop, crush-proof to withstand up to 100KG of force, cold-proof to 14F, and dust-proof, this is one point-and-shoot you're going to have to work hard to destroy. Also tough to beat: advanced features in this high-res 14-megapixel camera that allow you to capture anything from detailed Super Macro shots to HD movies.
Quick 1.3 second power-up time and 0.03 shutter lag mean you'll be ready to get the shot with a moment's notice
Digital Microscope mode with LED lens lighting captures subjects as near as 1cm from the camera
Shoot HD video in widescreen 720p at 30 frames per second and use the movie edit function for basic, on-the-fly editing in-camera
Extra-wide LCD monitor is treated with anti-reflective coating to make recording easier
5X zoom covers focal lengths from 5mm to 25mm, allowing you to shoot anything from spectacular landscapes to tightly framed snapshots
Face-detection and pet-detection modes zero in on the faces of your loved ones to ensure sharp focus
Triple anti-shake protection prevents different kinds of camera shake so you can nail crisp, clear shots even if you're jostled or on an unstable surface
Built-in flash with auto, on, off, and red-eye modes allows you to fill in shadowy areas or shoot in the dark with an effective area of 13 feet (3.9m) at wide angle to 8.2 feet (2.5m) shooting zoomed
New GPS function allows you to record where you took your photo and later track your movements during an outdoor shoot on your PC (Windows only)
HDMI port lets you play back your images on your high-def TV
Custom image modes include black and white, sepia, toy camera, retro, high contrast, starburst, soft, fisheye, and more
Compatible with SD, SDHC, and SDXC media (not included)
Comes with battery, charger, strap, carabiner strap, macro stand, USB cable, AV cable, and software CD
Does the Pentax Optio WG-1 (or 2) have a...
Does the Pentax Optio WG-1 (or 2) have a dedicated video button on the camera or does one have to press the Mode button to get to the " video scene."
You need to go to the mode button
This is an awesome camera. I've put it through its paces and found it exceeded my expectations on most every front. I just keep this bad boy in my kayak without worrying about the weather or paddle or scupper hole splash. Very clear pix.
What's In Your Pack? by Stephen Koch
www.stephenkoch.com
You won't win any photography awards with this camera. The image quality is mediocre but it is very solid and will survive bumps and bashes and is fully waterproof. So it's great to keep strapped to your pack for those spontaneous shots. One short-coming is that the battery won't last more than a day so it's a good idea to stock up on a couple batteries if you'll be gone for longer.
manufactures are missing the ball
all these "action" cameras are missing one thing:

A VIEWFINDER.

It has become nearly impossible to find a quality, full feature (waterproof) cam with a lookthru finder.

Without a finder these cameras are useless on the glacier, snow terrain and/or sunny day environment.
I got this camera in July. first day i took it in the ocean and took pictures surfing. I took it camping in Lake George, NY and also right in the lake and underwater. I dropped it a few times and it works. This thing is bomb proof. It says right on it waterproof to 33ft, coldproof, crushproof, and 4ft dropproof. It also takes awesome pictures for a point and shoot and the zoom is very good. the benner strap also cmes in handy when hiking. You can clip it right to your shoulder strap of your pack, you dont have to mess with camera cases and taking off you pack to get it out. Awesome camera!
Manny, The specifications listed on the official Pentax website's page for this camera say nothing about RAW format- so I would say that's a "no".
Pentax WG-1 Ionian Islands, Greece 2011
An unedited shot taken with my Pentax WG-1 this summer in Greece.
Lots of option = Lots of fun
This is a great camera. You definitely get what you pay for. It is quite a bit pricier than the last waterproof camera I used but surpasses it in features, quality and usability. GPS is a great feature, lots of fun for geocachers.
Unanswered Question
Hello, I am interested in the pentax optio...
Hello, I am interested in the pentax optio wg-1 gps but was told to look at the w90, what is the difference between the two? i am primarily looking for a good outdoor camera w/great quality for hiking and climbing.