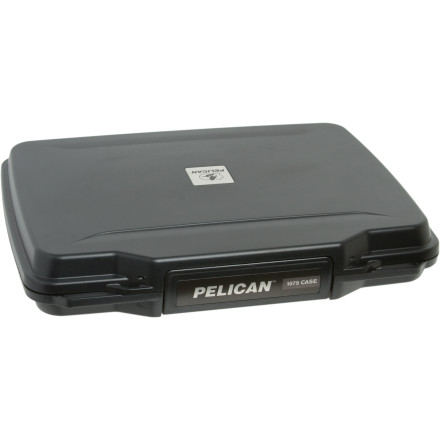 Detail Images
Even when you're on the road, you can keep up your productivity and safeguard your gear with the Pelican iPad Case. In addition to providing exceptional protection for your electronics, the case is set up to function as a mobile workstation with space for a keyboard and accessory cords as well as a slot into which you can slide your iPad or tablet to use as an easel. Thus equipped, you can set up shop and keep blogging, updating, or yes, even working from the road (or trail).
Integrated easel optimizes hands-free viewing in either horizontal or vertical position
Molded custom insert and tough outer shell protect contents from drops of up to three feet
Watertight gasket prevents leakage when the case is submerged
Automatic purge valve keeps water and dust out while balancing air pressure
How may times have you dropped your iPhone or iPad while enroute between point A & B with disastrous consequences? Do yourself a favor and get one of these cases. You will definitely decrease the ohh beep factor by 90%. Just for fun I have tossed my protected iPad from a distance of up to 3 feet onto the hard concrete floor w/o any adverse consequences. Item is a bit bulky but still smaller than the average textbook and given the amount of goodies you can now hold in an iPad the extra bulk is not an issue. I am still trying to get up the courage to submerge it under 3 ft of water as the side seals seem a bit loose compared to my phone's otter box hard case which I frequently throw into the ocean for fun. Have a great day!
Unanswered Question
Will this work for a Motorola zoom...
Will this work for a Motorola zoom tablet
So in theory this would work to keep my...
So in theory this would work to keep my ipad safe & dry, stuffed in a dry bag as well- if I were to take in out swimming?
Best Answer
In theory, yes. Why are you talking your iPad swimming?
Will this work with the iPad3?
Will this work with the iPad3?
It works great with the iPad 3 ( aka iPad HD, aka the NEW iPad ). I work on national incident management teams and Wildland fire management teams and these cases have saved my iPads from getting destroyed several times. My new iPad 3 just got it's new case yesterday. - Prod.Net