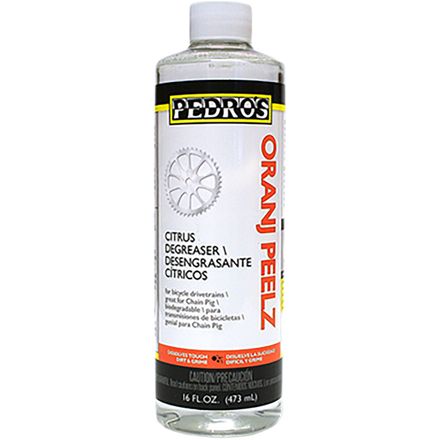 Colors

Community Images
Description
A clean drivetrain is a happy drivetrain
Pedro's Oranj Peelz is a powerful degreaser that is designed specifically for removing the toughest drivetrain grime. Oranj Peelz uses a citrus-based, biodegradable formula that quickly dissolves grease, rinses easily, and is safe against your bike's finish. Pedro's offers this in a 16oz squeeze bottle.
Dissolves the toughest drivetrain grime
Citrus-based, biodegradable formula
Safe against your bike's finish
16oz squeeze bottle
Smells like awesome
Familiarity:

I've put it through the wringer
After using plenty of other green and blue degreasers of the years, I always end up going back to this one. Let's face it, potions and lotions is where Pedro's got its start and they still do a damn fine job!

Not too much else to say about this awesome product, does everything you need it to do and nothing that you don't, and of course smells great all the while.
Great stuff
Familiarity:

I've put it through the wringer
I pour a small amount of this into a small cup, using a paintbrush, I apply it to my entire drivetrain, it melts the crud right off the chain, rings, and cogs. I use one coat, spin the chain backwards as I brush it on, then rinse with water. I then apply a quick 2nd dose to get everything squeaky clean and rinse it again. Voila! I'm looking clean and pro! Be sure you rinse the drivetrain thoroughly and lube that chain well afterwards. This stuff just works!
Orange in the Morning :-)
Familiarity:

I've used it several times
Like the smell of oranges? I do but grease doesn't. Cleans great. I am a big fan of citrus based cleaners.
Every home bike shop needs a bottle!
Familiarity:

I've put it through the wringer
We abuse the heck out of our bikes. They put up with a lot. So every now and then when need to reward them with a good cleaning. And this is the stuff you want when you get down to washing one of the most important parts of your bike. Your drivetrain will only last as long as you take care of it.



So every now and then take a bottle of this and an old toothbrush and give your chain and other parts a good scrubbing. They will come out looking as good as new! Plus everything will smell like you ran over a pile of oranges!




Yep, smells like oranges.
Love this stuff for all things drivetrain cleaning. Pop my chain off the bike, drop it in a rinsed out soda bottle, pour in a little of this stuff and shake it about, a quick brushing and rinse when it comes out and its like a brand new chain, i didn't know it could get that clean. I use a little on my chainring and cog, brush and rinse, good to go, now your bike smells like oranges and runs great after you apply your preferred lube to your shiny new drivetrain.
It makes your bike smell like orange season. It gets the grease out in no time, very easy to use. You can use a brush or a rag to wipe out.
, ☃bcs_badge_alumni_label☃
Really effective product
This degreaser works as advertised. I cleaned my chain, derailleurs (front and back), and bottom bracket area and it literally looked new when I was done. I just picked up a cheap car detail brush and used that directly on the parts. After completely cleaning, I rinsed off with water, then applied fresh lubricant to the parts. A great product to use when your bike is coated in dirt/mud and you need to start fresh. Highly recommended to have this one in your kit.
Works great/hard to apply
This stuff works awesome. Use this to degrease your bike and then grease it back up and you'll leterally feel like you got a new bike. It's hard to apply though because it shoots out in a very small stream. I always feel like a wasted a bunch after decreasing my bike.
A great citrus based degreaser that is easy and friendly to your skin. Just put a little on the part you need to degrease, add water and a brush and within a minute you have a perfectly clean part. Works great on drive trains or miscellaneous parts for maintaining your bike.
Pedros Oranj Peelz keeps the shiny bits sparkling
My bottle of Pedros Oranj Peelz is on hand whenever the bike needs de-filthified. I pretty much swear by citrus degreasers for metal parts, but you definitely want to make sure to rinse any plastic thoroughly. I've gone through two plastic chain cleaning tools that decomposed after poor rinsing of the residue.