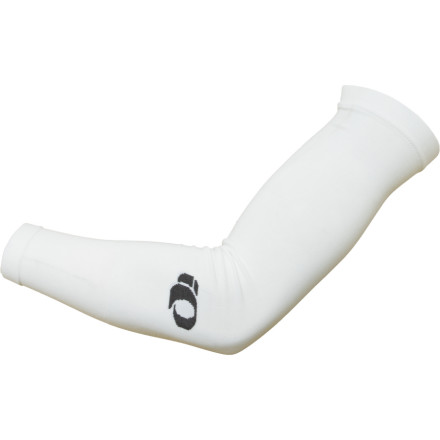 Detail Images
Thermal warmers are great for mid-winter jaunts across the valley, but once spring rolls around they often prove too warm to do anything but facilitate over-heating and excessive perspiration.The Pearl Izumi Thermal Lite Arm Warmers are specifically tailored to fill the gap between too warm and not warm enough.
Pearl Izumi has put a lot of effort into making their arm and leg warmers effective and comfortable. An upper arm scallop has been incorporated to allow for that extra bit of fabric at the top of the sleeve that will avoid the annoying gap that often results between the jersey and the warmer. The custom elastic top openings keep the warmers firmly gripping your arms, but avoid pinching any skin. They are designed with a left-right anatomic construction, so that each arm will fit perfectly for all ranges of motion. But perhaps most importantly, they have a seamless construction that will prevent any seam-indentations from forming along the length of your arms. That will save you the unpleasant tingly feeling you sometimes get once you take off an arm warmer which has been digging into your skin throughout a four hour ride.
The Pearl Izumi Thermal Lite Arm Warmers come equipped with reflective elements to keep you visible in low level lighting situations. They are available in Black and in sizes Small, Medium, and Large.