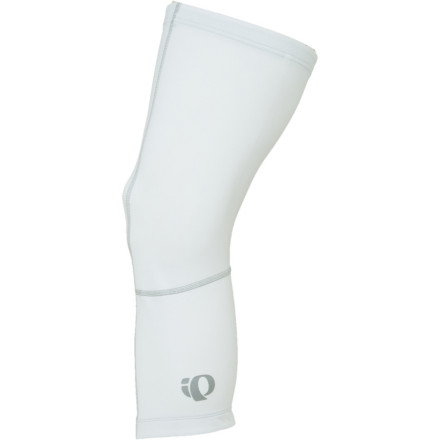 Detail Images

Community Images
So it's mid-March and you're looking to take advantage of the first warmish Saturday of the season. But the morning temps are still pretty chilly. If you know that an hour into the day you'll be enjoying mid-60s, you're not gonna want to wear your knickers, but the Pearl Izumi Thermal Knee Warmers will give you both the protection and the flexibility you'll need on such diverse trans-seasonal weather days.
They are made from P.R.O. Thermal Fleece panels so that you'll enjoy their pleasantly plush caress, especially on those nippy mornings. And if there's a little dewy moisture on the ground, or even an unexpected Spring storm, the nylon face of the warmers sheds the wet and grime which is thrown up from the street while a polyester back holds your body warmth close to the skin.
Pearl Izumi has put a lot of effort into making their arm and leg warmers effective and comfortable. They are designed with an anatomic construction, so that each leg will fit perfectly for all ranges of motion. But perhaps most importantly, they have a seamless construction that will prevent any seams-indentations from forming along the length of your legs. That will save you the unpleasant tingly feeling you sometimes get once you take off a leg warmer which has been digging into your skin throughout a four hour ride. Plush elastic grippers have been provided at each end so that the warmer will stay in place without irritating the contact points.
The Pearl Izumi Thermal Knee Warmers come equipped with reflective elements to keep you visible in low level lighting situations. They're available in Black and in sizes X-Small through X-Large.
P.R.O. Thermal fleece keeps your patella from shivering

Anatomically constructed to avoid behind-the-knee bunching through the pedal stroke

Elasticized gripper keeps your warmer in place, not in your knee-pit

Not bad...but I've had better
After fully thrashing my previous knee warmers, I finally had to break down and purchase another pair. Unfortunately these new ones are not quite the same as my old ones.

Old ones had rubber grippers inside & outside on top of thigh & lower calf area which helped to keep them in place, especially on longer rides. These new ones; although very warm & comfortable, tend to slip up or down more than I'd like.

As for Pearl Izumi sizing goes; I've found it to run more on the larger size. I'm 5'10", 165lbs and I usually buy Med in most stuff (except for Euro brands which I'm a large). In P.I., I almost always have to buy size small.
Pearl Izumi Thermal Knee Warmer
Fits on the loose side but doesn't slip down if pulled up high. I've been using this during the Sydney winter, 7degC at 5am. Great functionality when used with the long compression sox. I'm usually a large in shorts and bought a large.
I don't ride below 50 outside but do see some 50+ mornings before sunrise and have not felt cold. I'm 5'3" 139lbs and the xs was still a little loose at the knee but I got around that by pulling it higher. No real complains based on price and this shipped/arrived fast.
How do I know what size to order?
How do I know what size to order?
I would base your sizing off corresponding short or bib size and you should unless you have unusually thin or thick legs, then go up or down a size.
I sized them exactly to the regular Pearl Izumi short size and they fit perfect. But Alex's comments are valid. I expected the knee warmer to fit tight because the size large arm warmers did but the they were bigger than I though. Fit perfect but you could get a tree trunk in them so while you may want to size down if you have legs like Schleck you wouldn't need to size up unless your name was Fabian or Theo Boss.
Super warm and perfect for rides under 55 degrees - hey I live in Florda, ok? That said - be careful with sizing. I am 5' 10", 165 lbs and the Large was a tad too big. But, they work and don't fall down.
If you're leg warmer and tights averse like this fashion-conscious egomaniac, you'll definitely appreciate these. I picked up a pair in white (gotta up the Euro-cred somehow) and they ROCK. Veritably impermeable to nasty temperatures (15F is the lowest I've taken them thus far with little complaint), and no nasty back-of-the-knee bunching issues I've experienced with other brands. No slippage from the grippers up top to report. Mine ARE white, so they're gonna get dirty riding in cold weather crud - 'nuff said.Super fuzzy, super warm, and with enough leg exposed to show off your massive chiseled calves to passing cougars. These DO run big. I'm 6'1, 150 lbs (and it's all in my legs), and they're a little baggy/long, but still don't bunch up. Highly recommend!
Warmers are great for longer rides when you may need the extra warmth for only part of the ride, such as those you start early in the morning or long downhills that start at much higher elevations. I wish the upper part of the warmer was a bit grippier, but there's pretty good grip at the bottom. I have XS and just barely fill it out. I think I have slightly larger upper legs than most women. I think these would be too big for a lot of women.