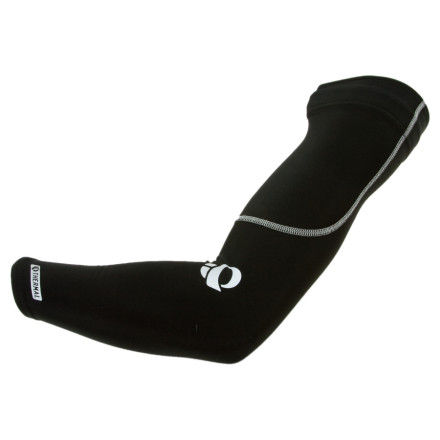 Detail Images
The Pearl Izumi Thermal Arm Warmers are made from P.R.O. Thermal Fleece panels so that you'll enjoy their plush caress especially on nippy mornings. And if there is a little dewy moisture on the ground, or even an unexpected storm, the nylon outer surface of the warmers works to shed the wet and grime thrown up from the street while a polyester inner provides the insulation to keep your body warmth close to the skin.
Pearl Izumi has put a lot of effort into making their arm warmers effective and comfortable. They're designed with a left-right anatomic construction so each arm will fit perfectly for all ranges of motion. But perhaps most importantly, they have a seamless construction that prevents seam-indentations from forming along the length of your arms. It's a small detail, but one that pays dividends when it comes to comfort. The top of the warmer has a scalloped shape to avoid that annoying gap that often results between the jersey and the warmer. It's another minute touch, but you'll be glad to do without that icy blast up the backside of your arm.
The Pearl Izumi Thermal Arm Warmers come equipped with reflective elements to keep you visible in low level light. They're available in Black and in sizes X-Small through X-Large.
P.R.O Thermal fleece material makes these the warmest in Pearl Izumi's line
Nylon outer keeps light rain and snow from getting you down
Left and right sleeves for optimal fit
Unique upper-arm cut allows for perfect jersey-sleeve synergy to keep you warm and looking sharp
Love these for chilly aerobic workouts when I don't want to layer up too much. I use them for running and cycling - they work great in both instances.

They keep my arms really warm without adding bulk to my torso. If I get hot, Ijust take 'em off, roll them up like a pair of long socks, and put them in my jersey pocket or shorts pocket.

Buy a pair of these instead of longsleeve jerseys and shirts!
I can't believe how these keep my arms warm but don't overheat. I wear the PI arm and leg warmers and they are the only parts of my body that stay completely warm. A must have for cold weather riding. The fit is pretty good if you take measurements before buying and use the size chart.
I own this pair and the non thermal for the less 'biting' weather. Having these two pairs of warmers, I don't need to buy long sleeve jerseys in addition to the short sleeve jerseys that I already own. I save money and then I can stuff these in a back pocket instead of sweating the rest of the ride. Win win. I've got very skinny 34/35 length arms and the mediums suit me well.
These are super soft with a fleece lining, and do a great job cutting wind and keeping in warmth. If it is really cold (below 40F) I pair them with a winter jersey, and they make a huge difference. I am 5'8" and ordered a medium. They are tight enough, but they are very long. They cover my entire arm, from shoulder joint to wrist. But they stay in place, so once I got used to them, they provide a lot of protection from the cold. I recommend them for sure, but they may be a strange fit if you have very short arms.
Write your question here...Do your order...
Write your question here...Do your order a "left" and a " right" or are the left and right the same sleeve....I just order 2???????
This comes with 2 arm warmer's. There is an anatomic left and right arm specific fit.
I found these to be the perfect balance between form and function. The anatomic fit was comfortable and everything stays in place without squeezing you like a sausage. Compared to other arm/leg warmers, the thickness of the material was enough to be warm and wind resistant without being restrictive. I think sizing might be a challenge if you have long/skinny arms compared to shorter/thicker arms. The fabric wicks nicely and cleans easily, and I like how the upper edge extends well up under the cuff of my jersey (no peeking!).
Works well just wash separately!
They work incredibly well keeping me warm in 50s until it warms up. Surprising how these alone keep me warm without the need for a vest or jacket - at least for now. Really warm because of inner fleece lining.

But there lies my only issue. Before I used them I washed them with my jerseys. I had no idea that fleece like lining inside would bleed dye. I spent at least 90 minutes hand washing my favorite jerseys to get all the black out. Luckily it came out but only after repeated washing by hand. There is no warning on the label. Now I just wash them separately.
I am 5'4" and female. I ordered the XS, it was way too big.