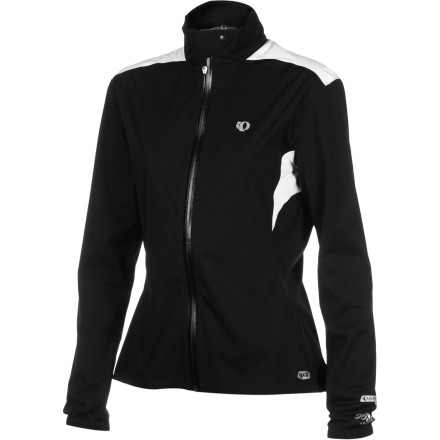 Rain can be a real damper to your weekend ride, let alone your commute to work. However, there are people working diligently to thwart the abrasive attitude of Mother Nature -- people like Pearl Izumi. For over 50 years, Pearl Izumi has been advancing winter fabric technology and construction so that we can ride happily in the rain. And with the new Select WxB Women's Jacket, nature's foul mood no longer has to effect on yours.
To make the Select WxB women's jacket a winter all-star, Pearl Izumi pulled out all of the stops for its construction. Starting with the fabric, the Select WxB is made from a material of the same namesake. Featuring a breathable two-layer knit, Select WxB is both wind and water-resistant. And aside from just the material, Pearl went as far as to fully tape all of the jacket's internal seams. This eliminates the possibility of water seepage, and creates a dry environment inside of the jacket. Even further along these lines, the Select WxB also includes a retractable drop tail to protect the rear of the jacket from wheel-spray. Additionally, this jacket is compatible with Izumi's snap-on hood system, however, a hood is not included with the jacket.
Obviously, these attributes make the Select WxB jacket ideal for stormy conditions, but the soft, malleable, and breathable characteristics of the fabric provide protection in cold weather, as well. Given that it's meant to perform in humid, stuffy weather, Select WxB provides a light insulation layer without running the risk of overheating. The fabric breathes incredibly well, and just as importantly, it wicks moisture away from the skin to the quick-drying surface. So, you'll stay protected against any moisture — whether it's Mother Nature's doing or your own.
And just for the sake of being overcautious, Pearl included a full-length, watertight front zipper. For extra protection from the elements, it's also been given an internal draft flap. To store any of your valuables that need to remain dry, the Select WxB has a zippered rear pocket. The jacket features reflective accents throughout for added visibility in low-light conditions.
The Pearl Izumi Select WxB Women's Jacket is available six sizes from X-Small to XX-Large and in the colors Black and Screaming Yellow.