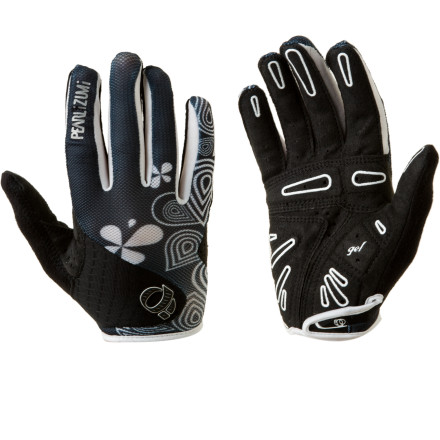 Detail Images
The interface between rider and bike needs to be as seamless as possible. The shape of your hand, while holding onto bars, is round. If you take a look at Pearl Izumi's Select Gel Full-Finger Women's Glove, you'll notice that the fingers and palm are articulated, it wants to naturally arc when off your hand.
This ensures there is no irritating and control-compromising fabric overlap between the grip and palm. It also provides a consistent platform for Pearl's designers to place gel padding. A few millimeters off and padding can be worthless -- even detracting from its intended purpose.
Pearl's Comfort Bridge Gel Padding is deliberately located to relieve pressure to the ulnar and median nerves. This support prevents numbness and fatigue on longer rides. And, because the padding's placement, Pearl could make it lower profile. Instead of massive, gelatinous pads, Pearl's gel allows terrain and bicycle feedback while efficiently transferring rider input.
To complement the padding and to enhance grip, Pearl uses a durable and tactile Clarino synthetic leather palm on the Select Gel Full-Finger Glove. This is combined with an In-R-Cool mesh lining to wick perspiration and keep the palm cool. Along the back of the hand, pearl Izumi's stretchy Direct-Vent fabric ensures breathability and unrestrictive movement.
For those long exposed rides, you'll appreciate Direct-Vent's UPF 40 protection as much as the glove's soft, perspiration absorbing thumb patch. Pearl Izumi gave the Select Gel Full-Finger Women's Glove extensive silicone grippers along the fingers and palm for enhanced control when braking and shifting. And to avoid pinching while enabling simple and painless removal or donning, the gloves hook-and-loop closure is located under the wrist.