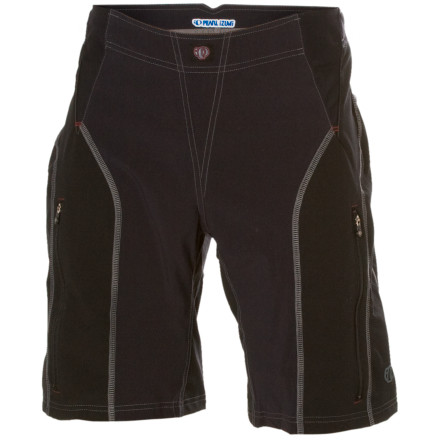 Pearl Izumi PRO versa bike shorts
Best shorts I have. Fit well, don't look like plum snugglers. Nice pockets that don't get in the way. Little steep in price but that is the only demerit
Great with original liners on warmer days and throw on my wool Ibex tights underneath on cold days. Vents are easy to use. Keep my cell phone always in the rear pocket for easy access while I'm supposed to be at work. But alas the pocket doesn't zip/unzip that easily with one hand, but better than digging it out of the Camelbak. Gets hung up on seat much less than other PI shorts I've had, but much more than just tights. With that said I've used them on about 200 rides and will continue to do so. Very little wear and tear, only slight sun bleaching on the lower legs. All stitching and fabric seems to be holding up, even in spots I've crashed on. The lack of a belt or drawstring hasn"t been an issue for me (5'10 155lbs 32" waist wearing the medium shorts). I used to be a just tights guy, but rarely ride without these ever since I got them. Yeah, a little pricey, but they seem like they're going to last forever.
PI stuff fits me well. not super long or super baggy. good for XCers who dont want to go tight and dont want to wear something past the knee. vents arent great (wish they were a touch bigger. they could also use a pocket. but i have worn them in the mostly in the woods and have even done a few centuries on the road with no real complaints.
I loved the material - breathes and dries quickly. Pockets are a bit of a disappointment, my old pearlies have cargo pockets to pack a picknick for four, these pack a few raisins. I'm fairly overweight and sorely missed a belt, these shorts fall down below my gut at innoportune moments.
These are not my 1st pair of MTB baggy shorts (I own product from most major brands) and I reach for these on most of my rides.

I've had them for nearly one year and they have proven to be durable as well as comfortable. The vented liner is great in hot weather (I live in the Southeastern US) and the front ventilation zips in the outer shell also assist in keeping things cool. The shell has stretch panels that keep the waist snug, which I was skeptical about at first, but has proven to work. The shell and liner wick moisture and dry quickly. The chamois pad is a very nice unit.

My only gripe with the shorts construction is the pocket placement which is a little to far up the leg and to the rear. The smallish zipper also makes it a little hard to get into.

They are not a cheap short but if you ride in hot climates it is one of the best options I have found.
I purchased these shorts with the hope that I could find a pair of rugged yet functional baggy shorts. Unfortunately, I was sadly disappointed and returned them immediately.

Pros: materials and overall build quality seem very good.
Cons: Pearl Izumi built these shorts without any elastic, drawstring, or belt in the baggy short! I prefer to have my shorts stay "up" while I'm riding. The plastic clips that connect the outer baggy short to the inner liner were the only things keeping these shorts from falling to my ankles (slight exaggeration).

5 stars for backcountry's service, 2 stars for a poorly-designed bike short.
This is my first pair of MTB-specific shorts. I like the fit and the stretchy outer-short material ... definitely nicer than throwing board shorts over a liner. There's actually three zip vents and one zip pocket behind the right leg. The liner is well made and comfortable, but oddly, Pearl Izumi doesn't carry a comparable liner in their catalog if you want extras. I'll probably remove the plastic clips that fasten the liner to the shorts as they're unnecessary.
I am a new recumbent cyclist and am looking...
I am a new recumbent cyclist and am looking for wet weather gear. How do these pants perform in wet weather?
Ideally these are not for super rainy conditions. However the fabric has a slight water repellent coating that helps.
Can you get additional liners to go with...
Can you get additional liners to go with the baggies?
Yes, but 99% of the "extra liners" are totally junk. I would recommend a pair of regular lycra entry level shorts as a liner. You'll thank me some day. Most "comes with liner" shorts are not really ideal for long term comfort. (Suggesting the Descente Prologue Bike Short - Men's or the Pearl Izumi Attack Bike Short - Men's. I know I know these are more expensive then cheap liners. But for long term use - I found this method ideal) The main draw back is the breathablity issue - this combo is not super ideal for 95+ riding weather.