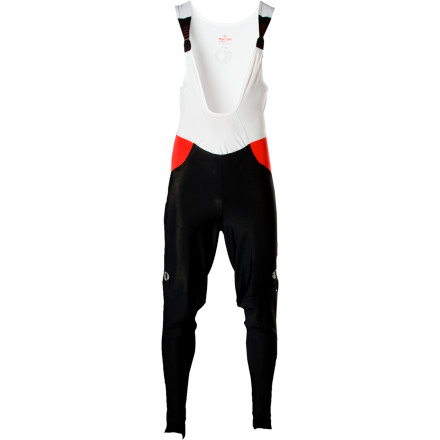 Detail Images
Cycling in the cold and wet is so much more difficult than, say, running in cold and wet. Not only are you getting wet from falling rain, but the mechanics of riding a bike means you're suffering from wheel spray: yours, your buddy's and from the passing cars. Add some near freezing temperatures and you have one rugged -- or unfun -- ride to get through. A quality rain jacket is important, but what about serious protection for your legs and bum? The Pearl Izumi P.R.O. Softshell Cycling Bib Tights have been created to give you the ultimate in lower-body protection from the worst a wet and cold winter can throw at you.
This is possible because Pearl Izumi has engineered these bib tights around what they're calling their Aluminum thermo-regulating laminate softshell. Adding the aluminum element to the three-layered P.R.O. Softshell fabric makes this material not only well insulated, but it also offers amazingly effective waterproof protection while still remaining breathable and supple. Included in the mix are layers with the P.R.O. Transfer fabric with Minerale, as well as the P.R.O. Thermal fabric. The former sits closest to the skin working to wick all sweat and moisture buildup away from the body, while the latter is Pearl Izumi's best fabric for providing breathable insulation.
But more impressive than the protection against inclement weather that these bib tights can offer, is how well they fit. The bib straps are easily adjustable so that you can slacken the fit when you're driving in the car to a race or training ride, but then tighten up again to offer a sufficiently snug fit once your ride kicks off. The suppleness of the softshell fabric means that you'll never feel like you've been sealed in a tin can for the ride; no painful tugging or pressure at the knee with every pedal stroke. And the stirrups at your feet will ensure that there will be zero slippage up your leg.
Perhaps the most thoughtful addition to the bib tights is the hidden quick-access panel for pit stops. Designed as a panel opening where the bib upper and lower portions intersect, it means that you won't have to unbundle for a nature break mid-ride.
The Pearl Izumi P.R.O. Softshell Cycling Bib Tights are available in Black/Black and come in Small through XX-Large.
P.R.O. Softshell stretch fabric wicks moisture, repels water, and keeps you warm
Aluminum thermo-regulating technology keeps you at a comfortable temperature
Minerale treatment neutralizes odor
Adjustable bib straps dial in the fit and won't pinch your waist
Quick-access front panel facilitates pit stops
360-degree reflectivity helps drivers see you in low light
Share your thoughts
What do you think of the
Pearl Izumi
P.R.O. Softshell Bib Tights
? Share a...
Nice Tights
Gender:

Male

Familiarity:

I've used it once or twice and have initial impressions
These tights are great and seem bulletproof. Note that the description is a little misleading -- there is NO CHAMOIS PAD in these tights. In spite of that, I am very pleased with the fit and versatility of the tights. I wear a pair of PI summer-weight shorts under them and find them comfortable. Like all PI products, these tights are well designed and durable.
I normally wear an XL PI Bib Short so I picked up a pair of there tights on clearance in XL and they were WAY to big. Not sure if they just run big or were labeled wrong. There was no way I could wear them as the waist and entire leg were just cut way too roomy and fit terrible.

Never got to ride in them but I liked the idea of the adjustable bib straps. I read elsewhere that some of these bibs had strap clips that broke easily and that PI would replace them for free with a heavier version clip.

The fabric is not at thick as their AMFIB tights but seemed heavier than their Select Thermal tights line. I would guess 40+ degree weather.
Outstanding Bib Tights
Gender:

Male

Familiarity:

I've put it through the wringer
I have been using these bib tights in 35 deg., rainy weather, and they are Superb! The cover over your knee keeps your knees warm, and they are Absolutely Waterproof. I have used them in 50 deg. windy conditions, no wind gets through and at all temps they have excellent wicking, so your legs do not get cold and sweat wet. I am Super Pumped with these tights! I wear Specialized BG RBX Chamios shorts under them.
Very quality garment and very warm. The deal here is that they are not as bulky as other Winter tights yet they keep your nether regions quite warm. They are also true to size.
NOT waterproof and NOT warm
These are made out of waterproof material, but do NOT have waterproof construction (not seam-sealed or taped) - leak readily at the seams and behind the knee. Upper thighs got wet and lower legs got very wet inside these on a 20 minute ride that had 15 minutes of light rain and 5 minutes of heavy rain. Also, this is a laminate that does NOT have interior fleece or any other interior thermal material. Just a very thin fabric webbing bonded to the waterproofing. Therefore no air is trapped and therefore litle thermal protection. The interior side therefore gets just as cold as the exterior side which is very very uncomfortable on the private parts at freezing or below. This problem will be alleviated a bit in the version that does not have a chamois by the shorts you wear underneath but no solution for the version that has the chamois.