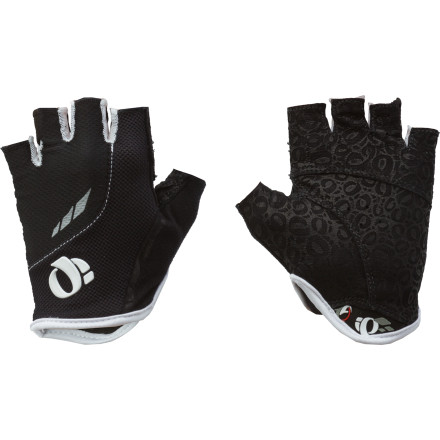 Detail Images
Anyone who has seen or read "Gone with the Wind" knows that you can always tell a lady by her hands. Although most of us don't worry as much about the appearance of our hands as 19th century southern belles did, we do want to protect them from road mishaps and environmental exposure. The Pearl Izumi P.R.O. Pittards Women's Gloves gives your hands the protection they need and the comfort they crave.
Pearl Izumi has turned to expert advice from an orthopedic surgeon to make sure that the padding in the P.R.O. Pittards Women's Gloves will protect the nerves in your hands by carrying the pressure away from sensitive spots. This innovative 1:1 Glove Padding technology, which re-directs pressure to the hand's bony structures instead, eliminates numbness and tingling that can be so uncomfortable.
In addition to smart padding, Pearl Izumi has lavished its most advanced fabrics and materials on the glove. The Pittards WR 100X Natural Carbon Leather gives you luxurious softness along with durability and a great feel for the bars. For the palm mesh lining, Pearl Izumi has employed its In-R-Cool mesh to keep the hands cooler and manage moisture levels as you perspire. On the back of your hand, stretchy mesh with Minerale technology wicks, dries quickly, and prevents sunburn.
The P.R.O. Pittards gloves have been anatomically shaped to optimize the fit when you are grasping the handlebars, methodically fitting around every curve, knuckle and crease of your hand. You won't have to worry about fabric and padding bunching up under your hand on the bars, or sloppily sliding around as you change hand positions in a hurry.
The Pearl Izumi P.R.O. Pittards Women's Gloves come with a nose-wiping surface on the thumb and an easy-off removal tab so you won't have to wait for your hands to cool down after a ride before taking these babies off. They are available in Black and White, and come in sizes Small through XX-Large.
1:1 Glove Fit minimizes bunching at the palm for superior grip comfort and handlebar feel.
Minerale polyester on the stretchy back enhances evaporation and sun protection
Low-profile wiping surface on thumb lets you clear your face of foreign or human-generated debris
Pittards WR 100X Carbon leather palm enhances longevity
In-R-Cool mesh palm lining provides optimal skin-cooling effect and moisture management
Easy-Off glove removal tab helps you peel the gloves off without a struggle