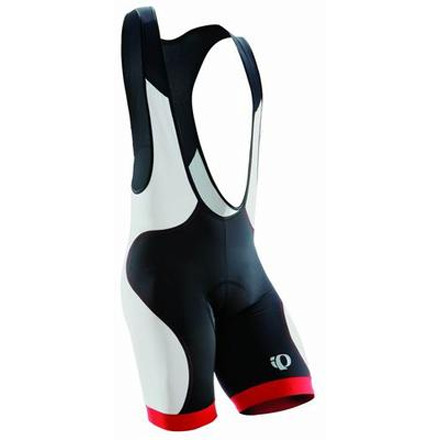 Detail Images
The Pearl Izumi P.R.O. Octane bib short is one of a handful of bibs we've encountered that can rival Assos or Giordana for their quality of fit, materials and chamois. As great as we thought Pearl Izumi's Fieldsensor bibs were circa Marco Pantani with hair, these bibs are far superior.
The key to making a killer set of bibs really begins with the chamois. Pearl Izumi's 4D Chamois® features four layers of padding (13mm thick) sculpted according to Pearl Izumi's PRT (pressure relief technology) to increase comfort and blood flow, while minimizing pressure on sensitive tissues. The pre-shaped pad features a dramatic curve to it in order to follow the natural contours of your undercarriage as closely as possible. The breathable pad also features four-way stretch technology to make it follow your movements with no binding or chafing.
The next most important element in making bibs fit in as anatomically accurate a fashion as possible is to throw out patterning that includes rectangular panels. Assos proved that there is more to making a great short than just more panels. Cutting the panels in such a way as to put stretchier material in areas of high movement while positioning firmer, more supportive fabric in areas that require less stretch results in garment that not only fits better, it lasts longer.
In the front panel of the P.R.O. Octane bibs, Pearl Izumi's P.R.O. Transfer fabric wraps around the quads and inside of the thigh and runs upward past the hinge point of the pelvis to the top of the short. The side panel flows from the back of the hamstrings up through the glutes and into the front of the bib for stretch exactly where it is needed, while two inside panel form the inside and back of the short—the areas that ultimately receive the most wear. P.R.O. Transfer fabric is made from 78 percent nylon and 22 percent Elasthane, which has an SPF of 50+. The bibs are cut from a microfiber of 86 percent polymide and 14 percent Elasthane for a lightweight, soft feel that doesn't add bulk to your kit.
Red compression gripper bands wrap around the bottom of each leg and include a bonded gripper elastic to keep the 9 3/4 inch inseam leg from riding up. They are seamlessly integrated into the short to balance a snug fit without sacrificing comfort. Quality control on a bib short this advanced is paramount; as a result, these are made by hand in Italy.
The P.R.O. Octane bib short comes in four sizes: S-XL, and feature two color schemes: black and white with red accents and all black with red accents.