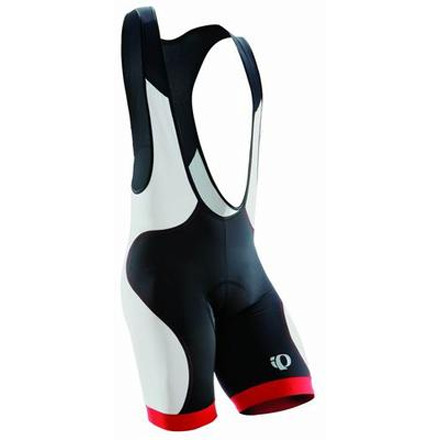 Detail Images
The Pearl Izumi P.R.O. Octane bib short is one of a handful of bibs we've encountered that can rival Assos or Giordana for their quality of fit, materials and chamois. As great as we thought Pearl Izumi's Fieldsensor bibs were circa Marco Pantani with hair, these bibs are far superior.
The key to making a killer set of bibs really begins with the chamois. Pearl Izumi's 4D Chamois® features four layers of padding (13mm thick) sculpted according to Pearl Izumi's PRT (pressure relief technology) to increase comfort and blood flow, while minimizing pressure on sensitive tissues. The pre-shaped pad features a dramatic curve to it in order to follow the natural contours of your undercarriage as closely as possible. The breathable pad also features four-way stretch technology to make it follow your movements with no binding or chafing.
The next most important element in making bibs fit in as anatomically accurate a fashion as possible is to throw out patterning that includes rectangular panels. Assos proved that there is more to making a great short than just more panels. Cutting the panels in such a way as to put stretchier material in areas of high movement while positioning firmer, more supportive fabric in areas that require less stretch results in garment that not only fits better, it lasts longer.
In the front panel of the P.R.O. Octane bibs, Pearl Izumi's P.R.O. Transfer fabric wraps around the quads and inside of the thigh and runs upward past the hinge point of the pelvis to the top of the short. The side panel flows from the back of the hamstrings up through the glutes and into the front of the bib for stretch exactly where it is needed, while two inside panel form the inside and back of the short—the areas that ultimately receive the most wear. P.R.O. Transfer fabric is made from 78 percent nylon and 22 percent Elasthane, which has an SPF of 50+. The bibs are cut from a microfiber of 86 percent polymide and 14 percent Elasthane for a lightweight, soft feel that doesn't add bulk to your kit.
Red compression gripper bands wrap around the bottom of each leg and include a bonded gripper elastic to keep the 9 3/4 inch inseam leg from riding up. They are seamlessly integrated into the short to balance a snug fit without sacrificing comfort. Quality control on a bib short this advanced is paramount; as a result, these are made by hand in Italy.
The P.R.O. Octane bib short comes in four sizes: S-XL, and feature two color schemes: black and white with red accents and all black with red accents.
Nice bibs. Good styling. Not Italian race fit, so don't size up. Only thing keeping this from getting 5 stars from me is the inseam length. I wish it was a bit longer as these ride mid thigh and I like a little more coverage. I am 6'2" and wear and XL.
Step one. Hand made in Italy. Step two....
Step one. Hand made in Italy.
Step two. Send to China.
Step three. Send to USA.

Seems right!
These bibs are actually made in Italy. While many of Pearl Izumi's products are Asian made these are not. Looks like a typo in the Spec's.
The PI PRO cycling bib short - my personal experience...
I read the other reviews of these and the Girodana Forma Red Carbon shorts as well before ordering one of each. Everyone is somewhat different anatomically so your own experience will likely differ from mine. These PI shorts are certainly functional and that may be all one can hope for when it comes to biking attire. They didn't give me a totally different level of biking comfort as I thought they might at this price point. Was not disenchanted enough with them to return them to RealCyclist but a reorder is not in the cards. On to the next more comfortable clothing adventure!

Stats: multiple rides > 50 miles each with last 78 miles
rider wt. 176 lbs, age 52 yrs
hardware: Orbea Zeus riding on American Classic 420 wheels and kevlar tires
terrain: Blue Ridge Parkway, Skyline Drive tar and gravel road surface
Cycling's Version of a Golden Diaper
Is it possible to fall in love with lycra and not be related to Richard Simmons? For I believe that I have. These P.R.O. Octane Bib Shorts are the absolute most comfortable piece of clothing in my sporting wardrobe, bar none. I wore these bibs for my first two longer rides of this year-- Saturday and Sunday at 2+40 each day-- and my backside feels completely unmolested. Not a sore spot, not a chafe mark, not even any saddle soreness! Absolutely remarkable. Did I mention that these were my FIRST long rides of the year?! Previously, I couldn't sit on a saddle for more than a 1+30 in my old, run-of-the-mill Pearl Izumi Attack shorts before the chamois stitching would start to chafe and rub me arse raw. Those shorts are now in the trash! These P.R.O. Octane Bibs are more expensive, no doubt. But they have improved my biking experience a hundred times over. You will NOT be disappointed that you spent the extra $$$. Size wise-- I am 5'9" and have a 31 inch waist. These bibs fit PERFECTLY and the straps are completely unnoticeable-- no digging at at all. Great performance incredible fit. Throw down!
I just thought that I would drop a quick review for these. This is not your fathers typical Pearl Izumi. These are by far heads & shoulders above "normal" PI bibs. Trust me on this one, if you order these up & for any reason don't think that they are 100% amazing, backcountry.com will take them back, no worries. The OCTANE apparel from PI is totally new & very impressive! These are very svelt, if you like the Italian brands, this may be a fit for you.