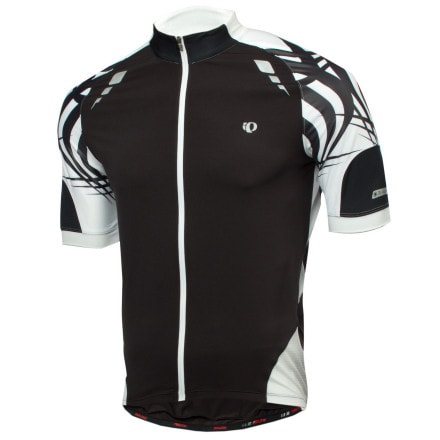 Detail Images
Description
Ride like a pro.
Those who live climates that are especially humid know that riding on some particularly hot, sticky summer afternoons can be more painful than a sub-zero winter base-training outing . Yes, humidity can lay us low faster than ten tequila shots in a row. Pearl Izumi has taken into account that not everyone lives in a wonderfully dry, warm climate like that found at its headquarters in Colorado. With that in mind, they developed the Pearl Izumi P.R.O. In-R-Cool Jersey to keep you cool and collected on the sweatiest of summer rides.
Pearl Izumi has accomplished this by integrating both the Minerale and In-R-Cool technologies into the Transfer fabric that is used for many of the best Pearl Izumi jerseys. The Transfer fabric boasts 15 times the surface area of typical poly weaves to facilitate the wicking and evaporation of moisture. The Minerale treatment that is permanently added to the Transfer fabric utilizes natural volcanic minerals to boost the evaporative cooling and offer odor protection and UV protection. On top of that, the In-R-Cool technology keeps you cooler by reflecting the sun's rays and effectively reducing the surface temperature of the fabric by up to 35 degrees Fahrenheit in direct sunlight. So you can be wearing an entirely black kit and still feel like you are lounging in the shade by the pool.
Who doesn't fantasize about climbing an historic Alpine pass when hammering up a local 'cols?' A fully unzipped jersey is de rigueur for the image to be authentic, and Pearl Izumi has made easy the very pro all-out ventilation by including a full length zipper. But don't worry about image-shattering struggles to get a reluctant zipper up and down -- this one moves like a silky dream.
Three back pockets have been provided on the P.R.O. In-R-Cool jersey so that you can bring along your whole repair kit, wallet, gel packs and CO2 cartridges . A fourth sweat-proof pocket has been included so that you can keep your phone accessible and safe from damaging moisture. Extra support at the back pockets will keep them from sagging when fully loaded for a five-hour ride , and an elasticized gripper on the back has keeps the jersey fully in place.
Sublimated graphics ensure that your P.R.O. In-R-Cool Jersey will look as slick and snazzy after a couple of seasons as it does the first time you try it on. The usual well-placed Pearl Izumi reflective elements will keep you visible in the dawn and dusk hours.
The Pearl Izumi P.R.O. In-R-Cool Jersey is available in five sizes from Small to XX-Large and in the colors Black/white, Safety Orange/white, True Red/black, and White/black.