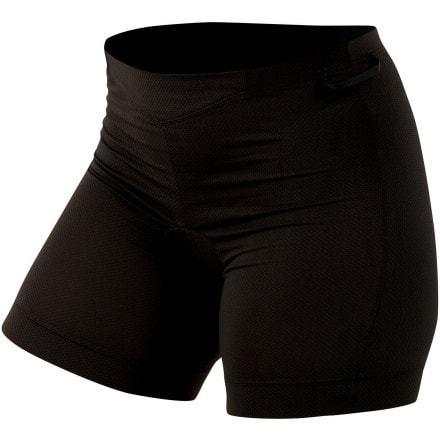 Detail Images
Description
Make any shorts trail-ready.
As much as we might hate to admit it, we're all creatures of habit. This trait might reveal itself in your morning coffee ritual as easily as it does in your mountain bike apparel selection. And if your go-to riding shorts are absent a chamois, your ritual is sure to be a painful one. It's for this very reason that Pearl Izumi created its Women's Liner Shorts. This way, you gain the benefits of both support and padding to critical areas, all while retaining your favorite pair of riding shorts. Who doesn't love options?
For construction of the Launch shorts, Pearl Izumi used a blend of polyester and elastane. Why combine these two fabrics? Well, the polyester fibers dramatically lower the overall weight of the fabric, while also retaining a high-level of breathability of comfort. And, just as importantly, these fibers are quite adept at managing moisture. As a result, you'll remain relatively dry over the long course of a day. As for the elastane, these fibers provide a natural four-way stretch for the fabric. This means that the liner shorts remain malleable, following your movements in and out of the saddle.
In terms of fit, Pearl Izumi designed the liner shorts to fit like a second skin. They feature a six-inch inseam, and a minimally seamed construction. As a result, the risk of abrasion is nearly eliminated, and chafing between your mountain shorts will not occur.
As for the insert, Pearl Izumi went with its lightweight, Minerale-powered W MTB 3D Chamois. This insert features a variable density construction, which means that it places a focus on supporting the areas that need it and not the ones that don't. Additionally, the Minerale treatment at the surface layer of the chamois ensures that moisture is transferred away from the insert, leaving you dry and comfortable.
The Pearl Izumi Women's Liner Shorts are available in the color Black and in six sizes from X-Small to XX-Large.