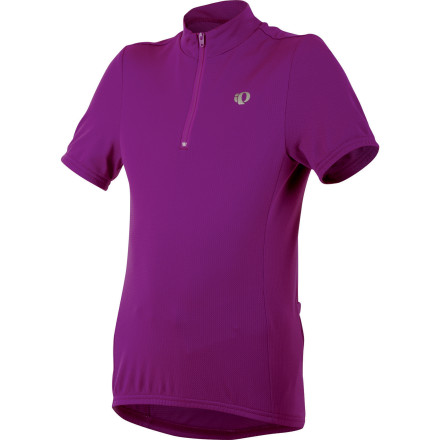 Detail Images
The stubbornness of a young girl is notorious, as in, there have been countless angst'y young adult novels written about the subject. However, we've found that a youngster's reluctance to head out on a family bike ride has less to do with rebellious hormones, and more to do with being uncomfortable. After all, you wouldn't ride in t-shirt and jeans, and you certainly wouldn't sign up to wear a skintight jersey in your adolescent years. Not surprisingly, your little girl doesn't want to either. Lucky for you, though, Pearl Izumi has remedied both of these issues with the Junior Girls' Jersey.
This jersey guarantees comfort through both a relaxed cut and a fine fabric selection. In fact, you'll find that the material used here, Pearl's Select Transfer, is found on many of Pearl's adult jerseys. It features a strong ability to manage moisture, meaning that your girl's jersey will remain soft and dry on hot days. Overall, this will minimize the threat of chafing, making the act of riding both fun and comfortable.
To further this concept, Pearl Izumi has also incorporated a 1/4-length front zipper. And to hold their essentials, the jersey also includes three rear pockets.
The Pearl Izumi Junior Girls' Jersey is available in the color Orchid and in five sizes from Small to XX-Large.