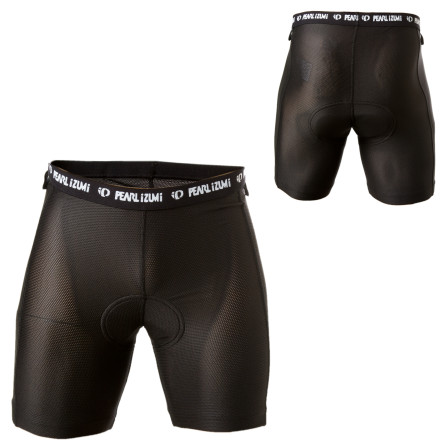 Detail Images
The Pearl Izumi Liner Short wicks excess moisture and heat away from your skin, and the MTB 3D chamois helps keep you comfortable as you blast your way down the trail. The short inseam and low profile mean you can throw these on under your baggies and no one will even know that you're getting a little extra comfort from a liner.
I'm new to road biking. Been riding 15 to 20 at least every other day for several weeks. The shorts help out a lot. They work well. Rode three days in a row this week with the shorts and feel like I can go the rest of the week. Again am new and hopefully I can keep this review five stars in a few months. I am a little sore but that's to be expected with any shorts. If I didn't have the shorts I would be hating life. Would recommend these shorts, especially to the new people. Affordable so that if you don't like them no harm done. That's why I originally bought them.
Mine came with a pair of pearl izumi baggies and I bought another pair for wearing other older baggies, work well and great price. The $100 models may feel like riding on cotton balls but I'll never know it cause these work great and I can't justify the price difference.

I had a wreck that ripped a 6" hole in one leg last year and still wear them with no issues.
I have only had these for 4 days of riding thus far, but they have worked great. I am a 36" waist and the larges fit great. There is none of the sticky substance found at the leg hole of many bike shorts. I dig this, as that stuff generally annoys me and seems like over-engineering.

The longest day I have done in these was 35 miles. Three quarters of that was paved road riding, the rest was on forest service packed dirt/mud/snow roads. They stayed comfortable through the day, I am looking to pick up more of these once they are in stock. These are great bike shorts that should work for road or mountain biking.
poor quality stitching design
bought these liners for replacing caneri ones I used the past 2 years for mtb riding and winter riding with tights. I always had problems with pearl izumi chami. Found they haven't changes their stitching habits since 90's.



Rode 2 rides and felt price was a bargain on here. Bought 2 more. After about 20 rides start getting sore in area below (mtb riding). Since I move around alot mtb riding here in north east usa you get more fritchen.



They have a stitch right down the middle of the short liner and when it wear down from sweat the stitch digs into you and rubs like a rope. I get sore after 3 hour rides. Found if I wear short (descente) instead don't have problem so know it the design of these liners.



I wouldn't buy these again.
Killer price and the pad makes long rides much more enjoyable. I use them with my Nema Podium shorts and they work as if they were made for them. PI makes very high quality products so when you see them on sale BUY THEM!!!
These shorts have literally saved my...
Pull the trigger you wont regret it.
Perfect for extra comfort under your shorts. You just can't beat the price. The positioning of the padding is perfect as well as the fit being true to size. I'm a 32" waist and the medium fits great.
These shorts fit great. Nice lightweight material keeps the boys cool under your baggies! Nice comfy chamois too.
I bought these for my husband. He said these are the best and wanted more, so I just ordered another pair.
He says 3D chamois is very comfortable, and no numbness at all during the long ride. He is normally medium with most clothing, and medium fits him perfectly. Bargain price for the top quality.
excellent product, very comfy
breathable cloth liner and padding is great, much better than stock fox chamois. Took already took a 5hr xc ride with no problems, still comfortable. I used these with DH shorts too. True to size.
Great chamois pad. These are a bargain. 3D chamois is comfy and this breathes well.
Medium fits my 32" waist perfectly.
shorts have ample padding, just curious how it wil hold up over time. Been riding with them for a month, so far so good. Only wish it had a little more space in the front.