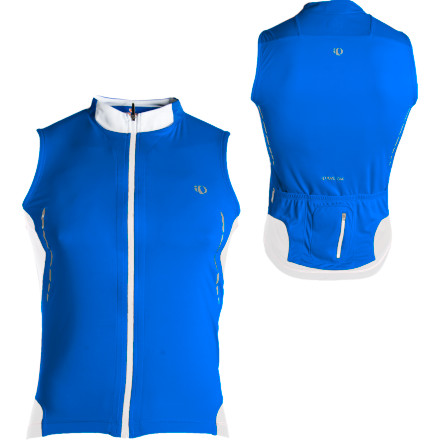 Detail Images
For years we thought that high-contrast tan lines at our upper arms were visible evidence that we were serious cyclists. We also toyed with the idea that the yokels out there with sleeveless jerseys were just victims of their own vanity, not wanting to go out in public with two-tone arms. However, in our middle years we have recognized our own particular vanity and softened our views, to the point that we, too, find many an occasion during the summer to slip into the Pearl Izumi Elite Sleeveless Jersey.
Perhaps we have realized that your significant other doesn't like to have to explain away their bizarrely shaded mates as cyclists and not freaks. But you won't have to give up any of the high-quality fabrics to which you've become accustomed in your bid to stay cooler on the bike and look less freakish on the beach. The Elite Sleeveless Jersey features the lightweight Elite Transfer fabric that offers exceptional moisture management, while the special In-R-Cool technology acts as a reflective element to reduce surface temperatures on the fabric and provide UPF-50-rated protection. In addition to its wicking abilities, the Elite Transfer fabric dries quickly for maxiumum comfort.
To further ensure your comfort, Pearl Izumi has also welded stretchy mesh Direct-Vent panels under the arms to offer extra ventilation and prevent sweaty build-up. Easy all-out cooling has been made possible by the full length zipper. And don't worry about struggling to get the zipper up and downthis one moves like a silky dream.
Although sleeveless jerseys often don't have the same storage space as their sleeved counterparts, three back pockets have been provided on the Elite Sleeveless Jersey so that you can bring along your whole repair kit, wallet, gel packs and CO2 cartridges . A fourth sweat-proof pocket has been included so that you can keep your phone accessible and safe from damaging moisture. Extra support at the back pockets will keep them from sagging when fully loaded for a five-hour ride , and an elasticized gripper on the back has keeps the jersey fully in place. Sublimated graphics ensure that your Elite Sleeveless Jersey will look as slick and snazzy after a couple of seasons as it does the first time you try it on. The usual well-placed Pearl Izumi reflective elements will keep you visible in the dusky hours.
The
Pearl Izumi Elite Sleeveless Jersey
comes in five colorways. Choose from Black/Black, Black/White, Orange/Black, True Red/Black, or White/Black. It is available in men's sizes Small through XX-large.