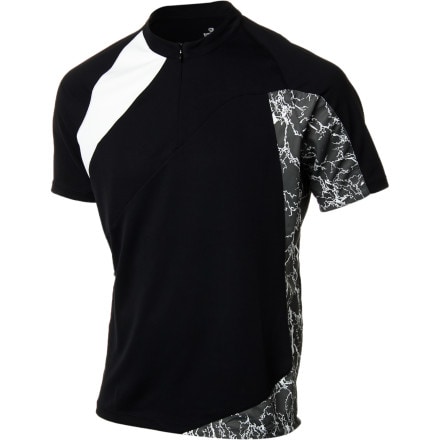 Detail Images
Description
Not a road-jersey-gone-mountain.
The Pearl Izumi Canyon Jersey is well-sorted; it has all the things you need and nothing that you don't. For example, a mountain jersey doesn't need back pockets–you wear a pack. It doesn't need a gripper hem–squirrels don't care if your posterior is popping out. However, it's nice to have a zippered pocket for your keys and a front zipper to let a little air in. In these areas, the Canyon delivers.
The Pearl Izumi Canyon Jersey is made for warm-weather riding. The breathable, moisture-wicking polyester fabric pulls moisture away from your skin to keep you dry and comfortable. It also dries quickly, so it remains lightweight, even during intense riding. Simplicity is a big part of what makes the Canyon one of our favorites. This is a welcome departure from many of the jerseys that are popping up these days, which are strewn from collar to hem with bells, whistles, doo-dads, and–let's face it–gimmicks. There are really just a couple of features that set it apart from a plain tech shirt–a 6.5-inch zipper that allows you to dump heat in a hurry when needed and a zippered side pocket that ensures that you get home with your keys.
The Pearl Izumi Canyon Jersey comes in sizes S through XXL. It's available in White, Fairway/White, Black/White, Black, White/Green Flash, OJ/Black, and White/Black.