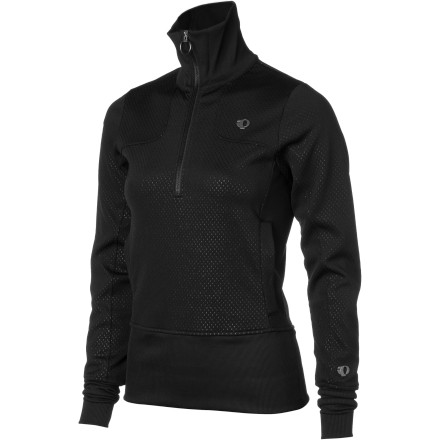 Detail Images
Pearl Izumi developed its Bellinger Jersey as part of its Front Range Collection. This line of apparel was created with versatility in mind, as the Bellinger was built with fabrics and a cut that work on the bike as well as it does off of it. Whether you're out for a spin in the country on a cool morning or shopping at your town's farmers market, the Bellinger keeps you shielded from the elements and representing your cycling addiction in style.
Pearl Izumi's Bellinger Jersey is made from the exclusive Thermal Fleece fabric. This material was selected to create a hand-in-hand system of consistent warming insulation and effective moisture transfer. The selection provides protection in near freezing temperatures, and is aided in warmer conditions by the half-length internal draft flap. When not in use, the draft flap features a zipper garage to seal in warmth. If you need extra ventilation on-the-fly, the Bellinger's large ringed-shaped zipper-pull makes it an easy single-handed affair.
Pearl Izumi cut the jersey to a semi-form fit that moves with your body when you get in tucked cycling positions. Pearl even lowered the bottom hem slightly to ensure that your back is completely covered, insulated, and protected from wheel spray. The contoured sleeves have also been shaped to allow full articulation and freedom of movement.
But Pearl also knows you'll be wearing the Bellinger while off of your two-wheeled machine, which is why it blended the functionality of the jersey with a pullover style. The jersey was built with extra-long cuffs and hem to seal in the warmth, as well as the same kangaroo pocket you'd find on your favorite hoodie. Additionally, a sealed envelope pocket within this pocket keeps your valuables protected. Pearl Izumi also included interspersed reflective elements for visibility.
The Pearl Izumi Bellinger Jersey is available in four sizes from Small to X-Large and in the colors Black, Peacock, and True Red.