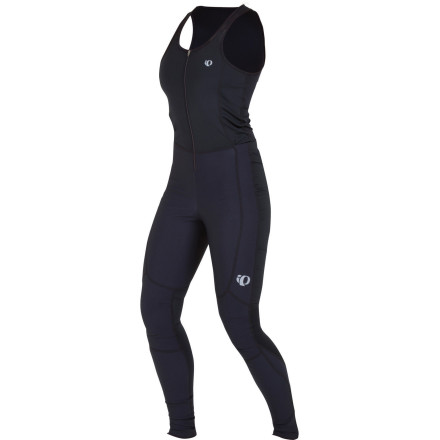 Detail Images
It's the dead of winter, but the roads are clear and the sun is shining. With Pearl Izumi's AmFiB Drop Tail Women's Bib Tights, you're able to say goodbye to the all-day shivers. Made from a proprietary blend of warming and weather-resistant fabrics, the AmFib Bib Tights will keep you dry, comfortable, and toasty on the nastiest of winter days.
Pearl Izumi's AmFib Drop Tail bib tights are made from a blend of Pearl's Elite Softshell and Elite Thermal Fleece fabrics. These fabrics were selected in order to ensure a hand-in-hand system of consistent warming insulation, effective moisture transfer, and protection from wind and water. The Thermal Fleece fabric picks up the slack in regards to thermo-regulation and wicking, and the softshell material has been interspersed in key exposure areas in order to eliminate element intrusion. The two fabrics coordinate effectively, so much so that Pearl Izumi gives the AmFib tight a thumbs up for weather conditions as low as 15 degrees Fahrenheit. And, in case you're concerned of the tights getting too balmy at the upper end of its 40-degree recommended usage, you're able to ventilate from a drop tail opening at the top of the waist -- although its main intention is for easy nature breaks.
Knowing that sub-freezing riding is hard enough, Pearl Izumi wants you to have a comfortable and precise fit. To ensure this, it designed the cut to allow full articulation during cycling. The lower-leg also follows a contoured shape that leads to a gasket which allows the tights to be worn over a shoe. Not only does this streamline and secure the fit, the design retains an uninterrupted insulation layer. Additionally, the AmFib uses a breathable, but warming, mesh upper and bib straps.
The Pearl Izumi AmFib Drop Tail Women's Bib Tights are available in six sizes from X-Small to XX-Large and in the color Black. Please note that these tights do not include a chamois.