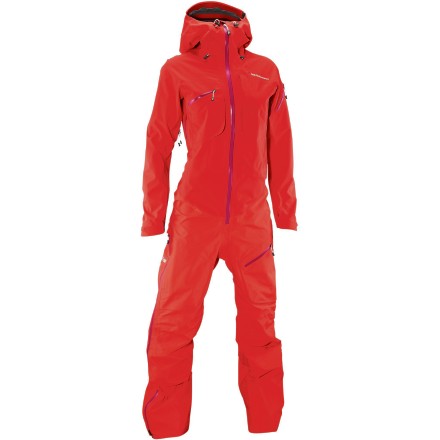 Duck down—you don't need to, but it's involuntary when the blades of the helicopter are scything the air a few feet above you, their heavy strokes pummeling the silence into submission as the bird pulls its runners off the ground and points its nose down, falling away parallel to the slope below you. As the silence gathers itself and settles around you, you notice the massive, craggy peaks stretched out in every direction, the jagged ridgelines, the massive cliffs, and the endless, ceaseless, almost incomprehensible lines. And then, after a moment, it dawns on you: you've got to ski this shit to get down.
Take a deep breath and let your knees stop knocking. You've got this covered, and the Peak Performance Women's Heli Alpine Suit has you covered, so all you've got to worry about is skiing your line like you can. You know you won't have to worry about wind and water in the Heli's 3-layer Gore-Tex Pro Shell, which uses two separate nylon fabrics, a heavier one for the legs and a lighter version for the body, to keep you comfortable in the deepest, wettest, gnarliest conditions around. It has articulated knees and arms so it won't restrict your movements, and underarm and leg zips that let you cool off if you're sweating just thinking about what you're about to tee up.
In a touch that would make any old fogey jealous, the Heli has detachable internal suspenders to keep the pants from slouching down and tripping you up, along with a 3-way adjustable, helmet-compatible hood with a silicone print to keep it in place. Since you'll be shredding serious pow, there are boot gaiters to keep the snow out, too. Toss in an audio pocket, hem reinforcements, and a Recco reflector, and the Heli is as tricked out as they come, so you can be totally calm as you step into your bindings, slide to the edge, and flip snow off your ski tips and into the air as you visualize your line and disappear over the rollover.

3-layer Gore-Tex Pro Shell
Heavy nylon lower fabric, lighter nylon upper body
Underarm and side zips
Articulated arms and knees
Detachable internal suspenders
3-way adjustable, helmet-compatible hood
Reinforced hem and boot gaiters
Recco reflector