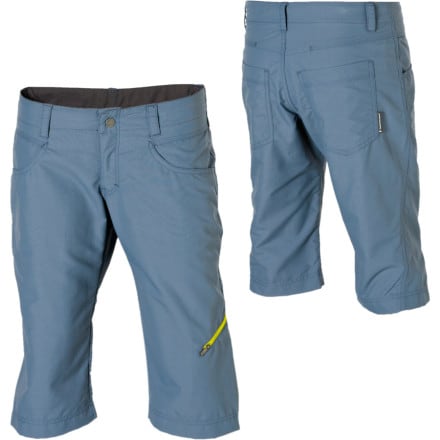 Detail Images
The adventure-ready Peak Performance Women's 3XDry Short never met a trail it didn't like. Thanks to the fabric's comprehensive 3XDry treatment, this short wicks spectacularly and repels water and stains like a champ, so you look and feel good no matter where your travels take you. A multitude of pockets , including leg pockets with eye-catching contrast zips, hold your trekking and travel essentials.
Backcountry.com is the exclusive US retailer for Peak Performance products
Share your thoughts
What do you think of the
Peak Performance
3XDry Short - Women's
? Share a...
Posted on
fit alone makes these awesome
I agree with catiecoo on the "not for curvy chicks" part. Which is FINE because curvy women can find enough stuff that doesn't fit the rest of us. My sides go straight down from my ribs with little waist at all-- these shorts are super comfortable for me, when I usually find myself upsizing so as to get waste-bands to fit below my belly-button. I'm not saying I low-ride- I just don't like hiking with a tight waste-band that causes me to suck-in when I'm stepping up onto a boulder. These REST nicely just below the waste without being baggy in the butt. FIT ALONE on these shorts makes them worth buying. However you couple that with great fabric and long-lasting make= they're awesome active shorts. The fabric is great. It washes super well, it's lightweight and soft=making them non-chaffing for long hikes... The pockets are pretty nice too- for one reason or another women's clothing never seems to have efficient pocketing- these are functional deep-enough pockets for stuffing - say- golf balls and some T's if you want to play golf in them.
Posted on
Swiss fabric and Swedish design, close, but no cigar
This is my first piece from Peak Performance, a Swedish company with refreshingly bold design that can be found in typical European brands (like Norrona or Mammut). I'm kind of impressed, although not completely. First off, the shorts fit awesome!! When I pulled them on, I was half afraid that they might be a bit too small. But once on, they fit perfectly (I got a small). They are definitely NOT designed for curvy chicks. For reference, I'm 5'6", 110 LB with not a whole lot to spread around on the bottom. I've had problems with other shorts/pants that at my normal size, the hip is too big but if I go down a size, the waist is too tight. They sit just below the belly button. The leg length on these is perfect as well. They hit just below the knees. The legs are just a little on the skinny side, so if you have super thick cyclist legs, these might pose a problem for you. But for us runners, they are perfect. The shorts have a very polished look - I got the grey, pretty universal but at the same time not boring with the contrasting colored thigh zipper. I only counted 1 leg pocket, not 2 per the spec on this site.

Now on to the fabric. The 3XDry treatment is developed by the Swiss brand Schoeller, which started the whole "soft shell" trend. It's very stain resistant. I accidentally spilled some hot chocolate, and it wiped right off with no residue. I can't attest to the water resistant part yet, but I have other pants with 3XDry, and water beads right off when hiking in the rain.

Finally, on to the super annoying part. Now ladies, if you would please turn your pants inside out and take a look at the crotch area - where about 4 pieces of fabric meet, what do you see? Yes on most reputable brands, the seam there is flat. Now for these shorts, the seam is not, and it's standing up on the inside. Imagine when you put these on, you feel something poking in your crotch area. How annoying that feels. I almost considered it as a deal breaker. But on a second thought, I wonder if my talented local seamstress can flatten the seams, because I like the shorts very much.

One more point. These are unfortunately made in China. Now, I am one of those who don't judge the quality by countries of origin. I think there are some terrifically high quality garments that are made in China (Arc'Teryx comes to mind). However, in addition to the annoying crotch seam (which I don't know if it's the Swedish designers or the Chinese manufacturer who mess it up), some of the seams on these shorts are not straight, and the tag is missing half of the threads. Not fatal because there is no holes, but something to consider.