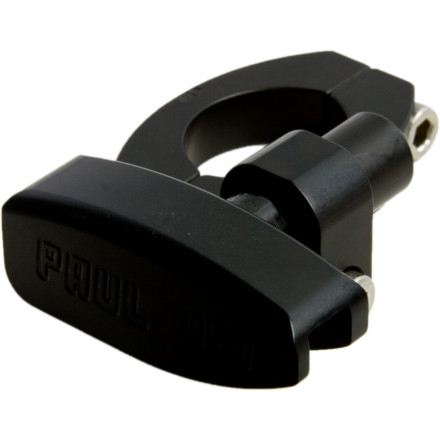 Community Images
Ditch your front derailleur for the no nonsense Paul Chain Keeper, and mash on your pedals without worrying about dropping the chain. This highly adjustable chain-tamer works great on any single-ring application—whether it's a polo-pony, a barrier-hopping CX rig, or an errand-running townie.
Sweet, but could be better
This thing works as advertised: it keeps your chain on. I haven't dropped a chain since I started using it. It's also lighter and smaller than any other guide out there. My only complaint would be that since it is SO simple, the bolts you use to tighten the clamp are the same that keep the guide in position, meaning you have to reposition it any time you want to move it or remove your cranks.
This is perfect for converting any geared bike to a 1 by setup! Single-speed ring the crank and slap this on over the top and you are set!
I got the Paul Chain Keeper when I went 1x9, and it is a bit of a pain to set up. And I didn't set it up perfectly the first time, so I got a nice turkey gobble sound each pedal stroke. However, once I got it set up correctly it has kept my chain on over everything I've ridden through. So. Good product, was cheaper than MRP or e*Thirteen, and I like that it's very low profile.
Unanswered Question
on the paul comp chain keeper #pua0004 ...
on the paul comp chain keeper #pua0004 how wide of a chain can you use mine is 7/16" (415 chain) also what would be the dimension from the center of the mounting to the maximum all the way extended center of keeper
It works but it's really fiddly
This is much more fiddly than the MRP 1.x or the E13 XCX single ring chainguides. Adjustment on those is achieved by spacers whereas with this it's a clamp and post. So while you can set it once and get the other chainguides right, this will require adjustment every time you remove your crank. Kind of a hassle.

On the other hand, it works really well because your chain literally CANNOT come off your ring. It just can't. Unpossible. The only issue is that if you pedal backwards with the chain off the bottom of the ring it can get jammed in this, but unless you really crank it like that a simple forward pedal fixes. If you do really crank it like that you can also pull it out of alignment, and have to deal with the fiddliness on trail.

In addition, when I bought this it was the only seat tube clamp chainguide out there, which was an issue for me. Sure, E13 and MRP have since introduced seat tube clamp mount versions of the XCX and 1.x, but the charge almost $100 for them. It actually costs more to get their pared down front derailleurs than an actual front derailleur! That is ridiculous. This thing works ok and is half the cost, well worth the fiddliness for me!

One thing to watch as well: on bikes with fat down tubes, it can be hard to fit this perfectly to a 32T ring. It'll work, but the edge is kinda jammed into the downtube and it's not ideal (see my picture). It's better with a 33T or bigger ring (I'm going to a 34T partially because of this, partially just to man up).

In the end I really liked this, but am going to try the MRP 1.x because I got sick of fiddling with it.