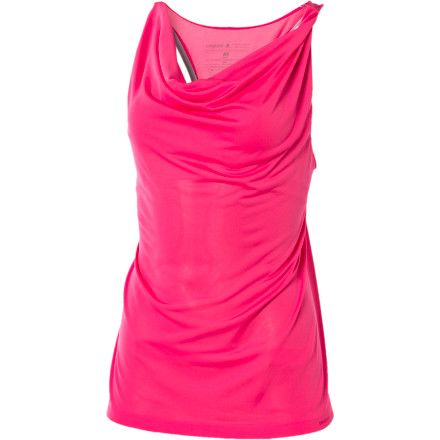 Detail Images
Hmmm ... the Patagonia Women's Umbra Tank Top looks like the perfect thing to wear to your yoga class and to your wine-tasting class later on that evening. Its cowl-neck gives you an air of elegance while the Umbra's built-in sports bra supports the girls when you practice your yoga moves or go for a hike. Plus its flattering, slim fit makes it easy to wear both at the office and gym.
What do you think about this product?
Have questions about this product?
My go-to dress up, dress down top
I agree with the other reviewer that it is a bit confusing as the sports bra is only attached by a few points to the top, so it does get tangled up, but for me its worth it! The sports bra is sooooo comfy. I like it better than the standard patagonia active mesh sports bra. I'm smaller chested that most women, but I feel like this sports bra is less constricting but still really supportive compared to the active mesh bra. The cowl neck is awesome esp, for that dress up look, but is not made of the flimsy dressy material that you can't climb or be active in it. The top is fitted, but loose.. not at all tight and clingy and I got the XS. I'm pretty tempted to buy this in all the colors it comes in!!
The built-in bra on this top is needlessly complicated and difficult. It took me several minutes to figure out the multiple inter-threaded straps and I had to twist things around and around multiple times to get the thing on. Too much for a top I just want to pull on and go. Plus, once on the bra kept twisting around and was very uncomfortable. I actually ended up cutting out the bra altogether after about 30 minutes of wear. The top is now silky and super comfortable and looks great. It's just not the same top.