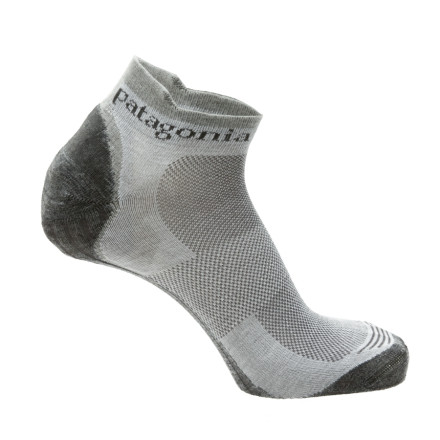 Detail Images
As the lightest, lowest-cut socks in the Patagonia line, the Ultra Lightweight Endurance Ped Socks work well for runners who take a minimalist approach to all their gear. The below-the-ankle trim allow as much of your foot to ventilate as possible without doing away with socks all together. Patagonia used a combination of merino wool, Coolmax, and other materials so the Ultra Lightweight Socks keep your feet incredibly dry and comfortable.
Comfortable, light-weight, but frayed on first use
These socks looked like exactly what I wanted, light-weight and comfortable. However, they were already looking worn and fraying after the first use.
Patagonia Ultra Lightweight Endurance Anklet Sock
I have worn these trail running, at the gym, playing soccer, hiking, around town, and lounging at the home. If I wasn't unemployed at the moment I would add to the one pair I have. Seems as soon as it comes back through the wash it is the first pair I grab to use.

Ultra-comfy, fast drying, excellent wicking capabilities, breath-ability beyond competitors socks(my feet sometimes feel clammy in similar socks while walking around town), and durable; hope they never change the design of these!
Unanswered Question
When handwashing this sock, in a humid...
When handwashing this sock, in a humid environment, does it dry fast and easy?
they're alright...they peel
i ordered pretty much every patagonia sock known to man to find my liking...they all have an issue with peeling other than the mountaineering sock and the lightweight hiking crew sock. they're great breathable socks other than the peeling.
Love them!!! - One comment on sizing
These socks are fantastic for running. Very very comfortable and they breath. I get very sweaty feet when i run and these wicked away the moisture and didn't feel damp like most of my other socks after a run. They are thin, which I prefer too, but strong in the important places. I bought 3 pairs, and plan to buy more! Only comment is the sizing. I wear a woman's size 9 and purchased a medium. I found that the heel didn't fit right and bunched slightly in the back. Not enough that it was bothersome, but it made me think i might have been able to get a small.
good wrap around the arch but the extra bit of material on the heel is at a weird placement to do any good (or bad).
This is my fourth pair of these bad boys... Not because of any quality issues with the previous three pairs, but because they are suck awesome socks! They feel great while running and hold up well. With the first pair I had, I found myself favoring them when heading out for runs. So I added two more pair and then decided to snag another one in that they were available in white. Try 'em, you love 'em!!
My only complaint is that these socks are very thin. I prefer the lightweight Patagonia instead of the ultra lightweight. Still good thin running socks.
All kinds of sweetness. Very thin, but durability is not an issue. Very soft and comfy.
i often have a problem of excessively sweaty feet while hiking / sports. i bought these ankle socks, and was not disappointed! they are really light weight, and comfortable at the same time (unlike a thin pair of cheap cotton socks that you can buy at the store, which may be light, TOO thin...)
these did not disappoint! great buy.
I love these socks :-) I bought a pair last year and I found myself always selecting over other socks them when heading out for a run :-) Very comfortable, great for running!
Socktastic - great for everyday wear, the Patagonia Ultra Lightweight Endurance Ped Sock excels when used for running/hiking with its supportive cushioning and fast drying/wicking fabric.
These are excellent socks. They are perfect for performance sandals or shoes that do not require bulky socks. Great for travel !!!!
and they perform really well... they have not caused me any issues... I love that they are comfortable, light weight, and dry easily. Definitely my favorite socks.
Great for backpacking, hiking, or Mtn Biking!
I used these on a desert backpacking trip, they held up well. No blisters or badly placed seams that create hot spots. They are not too tall and not too short. I was wearing low-top Montrail Vitesse shoes and Chaco sandals during the trip and they were fabulous! I got four pairs and am thinking about getting more. I have since used these socks for other hikes and several Mtn Bike adventures, they are awesome.
I have a big problem when I purchase socks because I do not want them to be bulky inside my sneakers. The Patagonia socks are light weight, wick-away sweat and dry quickly and are very comfortable. I purchased 2 pairs of these.