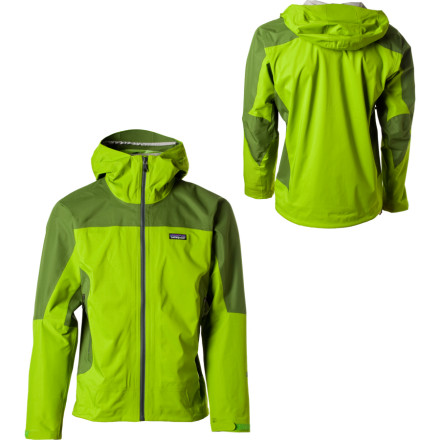 Detail Images

Community Images
The more times you plan on using the word 'epic' to describe your next alpine adventure to your friends, the more likely it is that Patagonia's Stretch Ascent Jacket needs to be part of your expedition kit. Whether you're tackling Aconcagua in the Andes or Chaukhamba I in the Himalayas, Patagonia made this versatile alpine climbing jacket to be both lightweight and to stand up to the most brutal high-alpine conditions.
Shell fabric provides both flexible stretch and storm protection—waterproof and breathable H2No barrier and Deluge DWR (durable water repellent) finish keep the wet out without feeling restrictive
Slim, athletic fit
Stretch-woven polyester is 100% recycled to help reduce landfill waste
Stitch-free construction reinforced with flexible tape reduces weight, keeps seams drier, and reduces abrasion
Water-resistant AquaZip zippers included for increased wet-weather protection
Includes a helmet-compatible, roll-down, three-way-adjustable hood
Jacket contains two watertight front hand pockets that feature coated zippers and zipper garages
Lock even more cold out with the dual-adjust drawcord hem
How is the hem cut on the jacket? I would...
How is the hem cut on the jacket? I would like to wear it with a climbing harness.

Also, does it ride up whenever you raise your arms? Or is it fitted to prevent that?
hi there, thanks for the question. The Patagonia Stretch Ascent Jacket here is designed specifically for Alpine Climbing, and to be used with a harness. the arms are gusseted to keep the jacket from riding up when reaching. The pockets are raised so they can be accessed above a pack strap or a harness, and the waist itself contours in a bit to minimize bulk when strapped in. Hope that helps!
I am 5' 6"", 70 Kilos (155 lbs) & am...
I am 5' 6"", 70 Kilos (155 lbs) & am planning on using this over a base layer & a Fleece Jacket. What size would be suitable?
Best Answer
VV,

A Medium should fit you very well and give enough room for your other layers.

Happy trails!
light, bomber and moves very easy
This jacket is, bar-none, the best shell I've ever owned.

On a recent solo mountaineering trip in Colorado I encountered serious bush whacking through sharp scrub on the approach and ripping winds on the summit which the Ascent handled superbly.

Coming down, the Ascent, with me in it, took a 3-roll tumble down a scree slope which I thought would have shredded the jacket. But, other than a few minor scuffs the Ascent was unscathed.

Once again, the designers at Patagonia, did their homework!
This jacket has minimalist features in three mesh pockets, a hood, one drawstring and pit zips. As everyone has said, this jacket is extremely waterproof. The most striking feature of this jacket is its lightweight. It weighs about as much as a windbreaker did 7 years ago, but this jacket is a full on alpine jacket. Highly recommended. As with most patagonia stuff, the fit is slim. I am 6'3 210 pounds (and I guess I am on the slim but not skinny side), but I could layer a heavy fleece underneath and maybe even a down jacket with the size XL. Broader bodies would be able to fit a thinner, technical layer underneath but not much more. However, this is great for high output activities like climbing.
I am 6' 1" and 175 lbs. This jacket fits well with a t-shirt and a fleece underneath, though it gets snug if I add a couple of baselayers. The design and quality are very good.
Has anyone compared the fit of the Stretch...
Has anyone compared the fit of the Stretch Ascent against Arcteryx Beta Ar? I just received the Stretch ascent and seems constricted in the arm pit with my Rab Xenon under neath. I am 5'9" at 180 lbs. I bought the large with the intent of layering.
The Arcteryx Beta AR has a more generous cut while the Stretch Ascent is more of an athletic fit. I'd also generally advise you put the Rab Xenon on top of the patagonia jacket for when you're not moving. Of course, if you are using it, its probably when its cold enough that precipitation is in the form of snow, so you shouldn't have to worry about it getting too wet.
Is it good for down hill skiing? Windpro...
Is it good for down hill skiing? Windproof?
Best Answer
The Stretch Ascent is a great piece for downhill skiing for sure! Totally windproof, and totally waterproof as well.
Its a great piece for downhill skiing, I have used it for 20+ days already this season. It is very light weight so plan on layering appropriately
I'm looking to replace a Patagonia White...
I'm looking to replace a Patagonia White Smoke Jacket used primarily for skiing, both backcountry and lift served. As I was going through my jackets, I also have an Arcteryx Alpha SL which I've used mostly for milder spring, summer and fall wet weather. Never really considered it for winter because of it's light weight. Is the Stretch Ascent a burlier jacket, or is there too much overlap between it and my Alpha SL. Is the fit similar?
Best Answer
This jacket is definitely burlier, and much stretchier than the alpha sl. Also, I'd say that the fit is quite similar to other Arc'teryx products. Its a great shell. My go to for everything. Hope that helps!
Hallo, I'm 6' and weigh about 70-75 kilos...
Hallo, I'm 6' and weigh about 70-75 kilos (155-165 pounds) and I was wondering which size would be most suitable - I'm thinking medium at the moment though. Thanks for any help you folks can give me
Best Answer
You sound like you are built very similar to my climbing partner, and he wears a medium in this jacket. Also for further reference, I am about 6'1 190, and I wear a large in this jacket. This is both of ours shell of choice. I'm sure you will love it! Hope that helps.
Thanks a lot, medium it is!
I'm 6'1 and 170 and I wear a medium, using this primarily as a warmer months rain shell. If you are planning on using it for the winter month over heavier layers, the medium might be a little constricting and you may want to size up to a Large. It is cut pretty slim, which you may find great for your build, depending on your intended use.
This is an amazing jacket. Its super light and has great weather protection. I'd put it up against Gore-Tex any day. The most amazing part of this jacket though is the stretch. Its like wearing a rubber band. No matter how you contort your body ice or rock climbing, this thing performs and never rides up out of your harness. I'd recommend this for everything alpine.
Looks Great, Protects Better
Just got this jacket in the mail and took it on a overnight in the Whites. With a light baselayer and light fleece underneath the shell did a great job protecting from the elements in temps down below freezing. The hood adjustment works well. Even cooler are the drawcords on the hem are routed through the pockets, so that you can cinch the waist without taking your hands out of the pockets. The pockets are huge, plenty big enough to fit a map without having to bend it and are high enough to allow them to function even while wearing a pack.

Fits well, I am 5'9" 210lb and the large is a great fit. The slim fit means that there is plenty of room in the chest and shoulders but the waistline is slimmer. This seems like a good feature as it helps keep out the cold air.
I'm 6' and 135lbs. Right now I'm thinking...
I'm 6' and 135lbs. Right now I'm thinking medium for this jacket but is it an "athletic fit" to the point that I'd want to size up to get an insulated layer underneath?
The fit is pretty standard in the chest and arms. It narrows quite a bit in the waist. If you are not wearing a tremendous amount of insulation I would probably stick with the medium. I am 5'9" 210 and wear a sweater underneath.
I'm 6'1 190 lbs, and I wear a large with plenty of room for a down midlayer and fleece underneath. My climbing partner is nearly the same size that you are (6' 145 lbs), and he wears the small with plenty of room. If I was you I would definitely not go larger than a medium. Its a great jacket! I'm sure you'll love it!
I have R4 jacket size M. Can this jacket...
I have R4 jacket size M. Can this jacket and R4 jacket layering smoothly?
Best Answer
It might be a little snug, but you should be just fine layering your R4 with the Stretch Ascent here. It'll be a very warm combo for sure!
You might bump one size up from your normal Patagonia size if you want to get an R4 under the Stretch Ascent. It is cut pretty slim, and the R4 is a bulky jacket. At 6'1 and 170 I wear a medium in the Stretch Ascent and start to feel a little claustrophobic with my R2 underneath. I would move to a Large if this were my primary winter months shell. Hope that helps.
Patagonia Stretch Ascent product brief
I'm looking for a shell that will function...
I'm looking for a shell that will function both as a rain shell and mountaineering/snowboarding shell - will this fit the bill?
Best Answer
Nick, the Stretch Ascent here or the Patagonia Stretch Element would be great choices. If you're going to be in heavy rain I might go with the Stretch Element since it's a 3 layer jacket. The Stretch Ascent might be a bit better for mountaineering and Snowboarding as it's a little more breathable and the fabric has more stretch to it
Will this fit well over the patagonia down...
Will this fit well over the patagonia down sweater? I have a small down sweater and want to know if the small in this would fit over it...
Best Answer
I had to go up a size to get mine to fit over my down sweater with a layer under that. If you went the same size, it'll probably be a bit tight, restricting movement.
The stretch ascent large fits beautifully over the same size down sweater. I would caution about using the right temp mid-layer though - I use the R4, R3, Down Shirt, and Down Sweater at various temps to avoid collecting perspiration inside the shell. The powder bowl jacket has a mesh inner layer that helps to avoid the thermal bridging that happens with this coat sometimes due to its lack of a liner as a capillary break. That said, when you are looking at the powder bowl expect a much heavier outer layer that is not really suited for much beyond resort skiing/snowboarding. Hope that helps.
How does the Patagonia Stretch Ascent...
How does the Patagonia Stretch Ascent Jacket (women's) compare to Mountain Hardware's Typhoon or Lyra jackets? I'm looking for a solid rain jacket for backpacking and wet snow conditions.
Stretch Ascent is going to have more stretch, and a slightly different cut (more roomy) than the MHW. Also, the material is different (GTX Paclite vs H2NO). In my extensive experience with both materials, both are just as waterproof, yet I found that the Paclite breathes better (for me).

For me the Stretch Ascent will be more comfy (stretch), has an internal pocket (a must have) and is cut slightly longer.

Don't get me wrong, my dedicated rain/techinical shell remains my MHW Xenon (now Amalgam), but for something a bit less technical, the Stretch Ascent is the bomb-diggity.

Either way, I don't think you can go wrong. Just see which fits best in the arms, torso and hood.
Looking at this jacket for backcountry...
Looking at this jacket for backcountry skiing... anyone know how it compares to the accensionist? They both look pretty good and similar. One is more stretchy!?
Best Answer
the Ascentionist and the Stretch Ascent offer similar stretch for mobility, and a similar fit. The Stretch Ascent is going to perform better in wet weather conditions since it's a hardshell with H2No waterproofing, and the Ascentionist is going to be more breathable since it's a soft shell, but does have a great DWR coating and does well in snowy conditions.