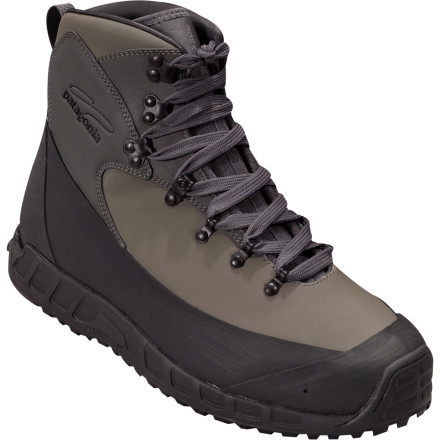 Colors

Detail Images

Videos

Community Images
Description
The easy way to prove that you're way smarter than a fish.
The Patagonia Rock Grip Sticky/Studded Wading Boots were designed to deliver solid footing so you can stay perched on top of the food chain. After all, slaying trout requires that you to maintain perfect timing, display impeccable technique, and understand the psychology of fish. And you have to do all that while balancing on slippery moss-covered rocks with a current that's wants nothing more than to see how well you can swim.
Sticky rubber soles keep you firmly attached to the river bottom
Easy-to-see lug receptacles let you attach removable studs for aggressive traction
Felt-free outsole cleans easy so you don't transport any aquatic hitchhikers between your favorite holes
Wide lasts give you room for neoprene booties
Compression-molded EVA midsole and polypropylene shank provide cushioning, rigidity, and support
Burly construction including abrasion-resistant toe bumpers, reinforced toe boxes, and heal counters give your feet durable protection
Padded ankle supports add extra comfort and protection while navigating rocky river bottoms
Pretty Good for a Cheaper Wading Boot
Familiarity:

I've put it through the wringer
I got these because I couldn't afford the UltraLight wading boots from Patagonia. They have certainly been adequate and haven't let me down at all. However, there are a few things I'd change in an ideal world.
First, they seem to be very roomy. To get a length that fit my foot, the rest of the shoe is very voluminous. I have to cinch them way down. This is a little annoying if I'm hiking in to a spot for more than a short distance.
Also, they haven't fallen apart yet, but they seem as if they are on the verge of breaking down. Granted, I've used them a TON and taken a lot of steps, but it's worth noting.
But as I've mentioned - they haven't let me down yet and have been quite dependable. You're definitely not making a bad choice if you go with these.
Not comfortable, Ripped seam.
Gender:

Male

Familiarity:

I've used it several times
I thought I was getting into a quality it boot by going with Patagonia. This is not a quality boot. Although they held tight on steep hiking terrain, logs, moss, rock. They are poorly constructed. The cuff around the ankle is extremely uncomfortable, it does not flex well and bruised me to the bone above my ankle (even when loosely tied). The seam on the side of this boot¸came apart after 4 full days on the river. I have questions about the long term durability of this boot
Not for narrow feet
Gender:

Male

Familiarity:

I returned this product before using it
I wear a 10.5 US Nike tennis shoe and have a somewhat narrow foot. The 11 in this boot was enormous even with 3mm wading socks. The 10 was perfect in length as my toe was just shy of touching the end in either the wading socks or extra thick hiking socks; however, there were two issues that still bothered me.



First, and less substantially, the forefoot area was highly voluminous. Strangely, it was not especially wide, rather it provided excessive height which when attempting to cinch the laces down caused a buckle at the first lace and toe pocket while never actually coming anywhere near my thickly socked foot.

Second, and of much greater concern, the scree collar at the top of the boot was especially firm. While there is the possibility that it will break in to the shape of my ankle, I simply couldn't afford the pain and suffering it would have caused in the meantime as I expect to do a fair amount of approach hiking in my wading boots. The design and material of the scree collar creates a substantial and focused pressure just above the ankle which approached bruising even with the laces quite loose on the upper hooks.



The upside is that the rubber soles reminded me of the good old C4 Stealth rubber that used to be common on climbing shoes. I have the utmost confidence in their potential grippiness on dry rock as such and trust they'll perform as well underwater as others suggest. That combined with the impressive lightweight attribute really made me want to like these and keep wearing them around the office much longer than I would normally.



Just make sure you try them on if you have a low volume foot and ankle first!
Love them
Familiarity:

I've used it several times
Patagonia rocks!



Love these boots, super grippy and they fit great. I have some concerns about durability but so far they still look brand new
Great boot, no flaws.
Gender:

Male

Familiarity:

I've used it several times
I purchased and use this boot with my Patagonia Watermaster waders, size large, for fly fishing and dip-netting here in Alaska. I wear a size 10.5 street shoe and I wear a size 11 in this boot. The fit is fantastic with the wader booties. The booties do not bunch up in the boot, and it feels like you are just wearing a normal hiking boot. The boots dry out quickly; they are light weight, very supportive, and easy to lace up. I particularly like the boot's tongue because it extends out a bit to allow you to easily slip the boot on and off while you have your waders/booties on. Overall, the boot is very comfortable, keep in mind, you will have to break these boots in just a bit, but quite honestly, they're comfortable right out of the box.
Great lightweight wading boot
Gender:

Male

Familiarity:

I've used it once or twice and have initial impressions
I've only used these a couple times so far. Seem to be very well made and fit me well with my stocking foot waders (normal width foot, got my normal shoe size). I spend a lot of time hiking to get to remote trout streams and these work well for combined hiking/wading trips. I did not expect the rubber soles to grip amazingly in rocky stream beds, and they don't, but I've been using rubber soled wading boots for a while now so no surprise. Haven't screwed in the studs yet but I will. Overall -- well made, light and comfortable so far.
Light/Reliable Wading Boot
Familiarity:

I've used it several times
The light weight and overall quality construction make this a great boot. Rubber bottoms make for easy traveling from bank to water. No problems with waders or neoprene socks; fit is comfortable. Remember to shuffle in deep/fast water vs. walk for best footing.
Really solid boots
Familiarity:

I've put it through the wringer
Bought these boots mid-summer and have already put some serious time into them. They were really comfortable from the first day on the river and have only become to feel more like an extension of myself as they get broken in more and more. They're light and comfortable enough that I've put 10 hour days in them with no problems whatsoever. The only real ding is that they don't have super glue on the bottom of them. The studs work really well but I've definitely still slipped around on a couple of the more slick and mossy rivers.



All in all, I'd buy these boots again in a heartbeat.
Patagonia Rock Grip Wading Boot
So far so good!
Gender:

Male

Familiarity:

I've used it several times
Finally got my Patagonia Watermaster waders and began my search for boots. I had previously used Orvis Clearwater bootfoot waders that had a felt bottom and never really had any issues other than they were about 15 years old. I decided to look for boots that had a felt bottom, but ended up getting the Patagonia Rock Grip Wading Boot-Sticky/Studded. After two all day hiking/fishing in rocky/brushy terrain I am satisfied. I had read somewhere (maybe a previous review) that you need to go up a whole size from what you would normally wear. I wear an 11.5 and ordered the 13's. For me they fit great and the one thing that I don't like is being uncomfortable. The one thing for me, was getting used to the sloshing in the boots from the neoprene booties. And by the way reason I decided to not go with the felt bottom boots was the fear of transporting some foreign aquatic life to another body of water.
Light and durable
Gender:

Male

Familiarity:

I've put it through the wringer
I really like these boots. I have been using them since March of 2012 (6 months). They did take a couple trips to wear in, but I don't even know that I'm wearing them after the initial break in. I have worn these literally all day (6am-10pm) and they are still comfortable. The trick is to not tighten them too tight like you do with some other hiking boots, or wading boots.

These boots are light and they hold up. I will say I was slightly disappointed in the stickiness of the boots, but I am using the studs in them now and they seem to do a better job.
I'm a big fan of these. Maybe the negative reviews here were not sized correctly? I originally ordered a size 10 which is what I wear in every other shoe, boot, etc., but was swimming in those even with neoprene booties or waders on. Swaped em for the 9s and they're perfect with a midweight sock and the neoprene booties. With the correct size these offer great ankle support, the bottoms are sticky good sticky rubber for wet rocks (haven't encountered much slime yet), and they seem nice and light in the water. Definitely keepers!
I have used them one day (~4hrs), so not a ton of experience but my initial impressions are I am underwhelmed. The sticky rubber sole is a big improvement over felt for climbing around on rocks, grass and gravel on the bank, but other than that I am not overly impressed. They are marginally better than felt in the water (no studs). The benefits of the rubber sole are pretty much negated by the weird fit. The standard last is very wide, has too much material on the upper, creating a fit that is not snug, does not conform naturally and bunches up over the top of the foot. Yes this is even with neoprene wading booties on inside the boot. I have skinny feet but my previous wading boots were normal width yet fit very differently: snug width-wise and over the top of my foot, and much better. In addition, the suede-like upper is too rigid which contributes to the boxy feel. I will probably return these for the River Walker as they seem lighter, more flexible, and hopefully more comfortable. Maybe I got lucky with my previous boots, but regardless, for the money I expected much better out of Patagonia.
Bart Bonime is Patagonia's director of Fishing and takes us through the features of the Rock Grip boot
The boots are built well (but) the boot digs into the back of my ankle and the soles do not grip at all even with the studs in place. I have worn them once and will be looking for a better boot that grips the bottom of the river. they work great on the bank just stay out of the slippery stuff.
High quality wading boots. Keep my feet comfortable when I'm in my waders. Comes with metal studs.