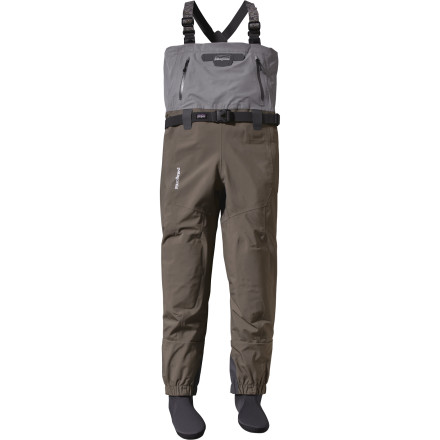 Description
Durable waterproof waders that won't weigh you down.
If you're guilty of missing family functions, forgetting piano recitals, and neglecting to rake the leaves in the yard all because you're standing chest-deep in a river waiting for a fish to rise, it's probably time to invest in the award-winning Patagonia Men's Rio Gallegos Wader. The waterproof and breathable H2No Performance Standard fabrics keep you bone dry without feeling like you're trapped in a sauna, and the easy chest-to-waist conversion allows you to quickly relieve yourself when nature calls.

Durable waterproof and breathable H2No Performance Standard fabrics keep you dry without trapping sweat inside
Heavyweight fabric in the legs provides tough durability where it's most needed while lightweight fabric in the chest allows for greater comfort and flexibility
Innovative single seam construction leaves only one seam up the back of the wader for less abrasion and improved durability
EZ-lock suspenders allow you to quickly adjust the waders from chest to waist height, which means you can quickly relieve yourself when nature calls (without having to remove your jacket)
Stretch Wading Belt adjusts for a snug fit
Heavyweight fabric gravel guards have a drain strip to expel water and abrasion-resistant scuff guards that lend even greater durability
Anatomic right and left neoprene booties have a merino wool grid lining for warmth and comfort
Anatomically curved knees increase comfort and freedom of movement
Hypalon utility keeper provides quick access to tools
Chest pockets and a waterproof interior TPU pocket keep gear and electronics safely stowed
Includes field repair kit
Awesome, but a bit big.
Gender:

Male
This is my first pair of 'high end' wader and can honestly say they are worth the extra cash. The construction, materials and comfort blow my older, cheaper waders out of the water (wow, bad pun). I'm 6 foot and 180lbs and the large fit well, but they were huge in the chest. That my be how they are designed, but I ended up opting for a medium and love them.
Haven't found a better pair yet!
Familiarity:

I've put it through the wringer

Fit:

True to size
Like Cardopski I'm on my 2nd generation of these. I had "last seasons" model and they wore badly in the areas you'd expect (knees and crotch). I repaired them several times myself with the included Seam Grip but they got pretty bad. Patagonia sent me the new updated version of the wader (this pair that is being sold now) and I am much happier! The seams are more consciously and creatively located located to avoid significant wear like the older model.



Recently after my first year with them (at least 75+ days a year of use) I noticed that there a minor leak in the crotch at the seam (only reason for not getting 5 stars). This is a much easier fix though, I've reinforced it with seamgrip and aquaseal and haven't had a problem since. I'm tough on waders to say the least so I wouldn't fault the waders, I doubt there's a pair out there that would take more of a beating than these and still hold up as well as they have.



I love that Patagonia will work with you to repair the waders if you can't do it yourself too, gotta give them a lot of credit for their customer service. Every time I've ever dealt with them they've left me with a positive experience and have taken care of me and my gear.



For example, had a fishing trip coming up last May. With two and a half weeks until my trip I realized the severity of my leak in last year's model Rio Gallegos, I sent them back to Patagonia 2nd day air with hopes of getting them back ASAP. After a week of not hearing anything I was a bit nervous so I called them and explained I was going one a big fishing trip in a week and was curious if there's any hope of getting them back in time (otherwise I would've had to buy another pair of waders). She assured me she would talk directly to the guy in charge of wader repair and I would have my waders back in time. Three days later I had a brand new pair of Rio Gallegos waders at my door with a few days to spare until my trip. They rock!!



Note: These are the old model Rio Gallegos my picture but you get the idea.
Love em?2x.
Gender:

Male

Familiarity:

I've put it through the wringer

Fit:

Runs large
This is my second pair of RioGs. I had the first generation and wore the inner thighs out. That's because I'm on the shorter stockier side and no pair of waders fits me perfect leaving extra material to stack up and cause friction. Patagonia warns against this so I don't knock them for that. That said the RioG's scored very high in the latest wader shootouts in comparison to Simms. The materials are pretty darn tough. The kneepads are indispensable for kneeling in freestone waters, the reinforced inner leg prevents premature wear out by boot scraps. They DO tend to run roomy which I don't mind because I layer up. The convertible (drop front) suspension system does come in handy and I'm glad they kept it in the 2nd generation. The addition of the zippered and tricot lined chest pockets were the biggest complaint I had in the 1st generation of these waders. I did send the first pair back after 1 year (that was after 50+ trips on rivers and spring creeks, through brambles, scrambling down and up scree) and Patagonia did an awesome repair. I bought the new generation soon after, figured if you're gonna have a great pair, why not have 2? I wear these nearly all year long. Even after dropping the chest section down to the waist they (like all higher end heavier duty waders) are too hot for temperatures in the 80's. I switch to wearing lighter wading pants when fishing spring creeks in the late spring and through summer.



One odd thing is after synching the top you end up with an long drawstring that you have to just tuck down in the waders?hasn't happened yet but I can see that getting in the way.



I have yet to wear a pair of Simms waders. I find the fit and features in the RioGs (for a short stocky guy) fine for me and no reason to move on.
Pops Approves
Familiarity:

I've used it several times

Fit:

Runs large
I purchased these waiter for my father as a Christmas gift here is what he has to say "I bought my first pair of Pastagonia Rio Gallegos waders this winter. In the past, I have used various brands of light, supple, breathable waders with mixed results. Rio Gallegos are much heavier, and beefier than my past breathables. I have been very pleased so far. On the positive side, they have built in gravel guards, padded knees, lined neoprene booties. I particularly like the suspenders that allow me to slide the waders down to my waist, but keep the supenders over my shoulders. Conversion to waist high's is quick and easy. They have lots of pockets, and one is waterproof for phone and keys. My big complaint about my old lighter waders was longevity. I seemed to have leakage after about a year. In fairness, I'm hard on waders. The Rio Gallegos have been solid. I have only owned them since Xmas so we are early in the cycle. They aren't as supple and light, but I buy waders to stay dry and warm in the water. These also have padded knees which should help with leaks. All in all they are a quality product with features that are thoughtful."
It's not you, it's me.
Familiarity:

I returned this product before using it

Fit:

Runs large
I wanted to love these waders. My body type is short and skinny. I'm 5'8" and 150lbs. I have a pair of Redington Sonic Pro waders in Medium now and they are a little baggy so I thought going with something higher end, and a size smaller would solve the problem. It was the complete opposite. I bought these in size small and they were humungous! My pant inseam is 30-31 inches and these had to have been 32-34 or somewhere in there. The waist/chest area along with the legs were all for someone twice my girth. BUT the booties on the small fit perfectly... size 8.5/9 shoe and these fit snug as a bug.



Needless to say, if you have a slimmer body type then I would stay away from these. If you have an athletic build and/or bigger frame then definitely go for them... and here is why I would choose them if the fit worked:



Adjustable Suspenders - SO convenient. The adjustability is easy to use, but a little awkward just to put them on. Either way, awesome feature.

Knee Pads! - Yes removable soft foam knee-pads. Awesome feature again for when you have to kneel in the river to get your Grip n' Grin shot, or sneaking up on a spooky hole.



Waterproof Pocket - many waders claim to have water resistant or waterproof pockets for your phone or keys, but this one is legit. After losing one phone to this feature on other waders, i'm happy this one was bombproof.

Booties - insulated booties are nice, plus the anatomically shaped booties for left and right. They were awesome. but don't expect softness and plushness... they are not either.

Materials - bombproof materials and awesome construction. Great construction in the crotch area. weird, but nice feature when you're bending down a lot.
Will last a lifetime.
Familiarity:

I've put it through the wringer

Fit:

Runs large
These are super durable waders that are built to last for many years. While the suspender buckle system isn't the easiest to use, you do get used to them after a few wearings. They tend to run larger than the sizing chart so if you're between sizes, I recommend going down. The booties are definitely the best I have ever worn. They are very comfortable insider my Korkers boots and allow me to stand on uneven river bottoms all day.
Rio Gallegos Wader
Familiarity:

I've used it several times

Fit:

Runs large
I am relatively new to fishing and I am pumped to prolong my season with these awesome waders. The Merino lined booties are super warm and have a great feel, a real treat on those frigid mornings. The chest pockets are fleeced lined, which is nice feature to warm up the hands as well as a convenient way store your tippet, flies and whatever you can fit in there. The waterproof internal pocket is a great spot to keep the phone safe and dry and the waders are relatively light and have great mobility for scrambling over logs and whatever you may encounter. The sizing is a hair on the big side but that extra room is nice if you need to layer up.



All in all a great pair of waders and you can't go wrong with that life-time warranty.
Rio Gallegos Waders
Familiarity:

I've put it through the wringer
While I am relatively new to fly fishing, I recognize quality through performance on the river. So let me tell you what works with these waders. I love the fit, the wool booties, the H2NO feature to resist leaks, and the quality of construction. These babies are tough. If I were to be completely honest, I would say that one of the most important features is the the ability to slide these waders down for a bio break. The sliding straps make the waders unique. Many of my fishing buddies complain about the restrictions of their waders for this neccesity. Also, it is important to note that Patagonia's gear has a lifetime warranty. For an old fart like me this is an important plus.
sizing
Gender:

Male

Familiarity:

I've used it several times
I ended up with these waders after originally having bought the skeena. Beware of sizing in both models- I wear 32x32 pants and a small in these fits well. The mediums that I first got were enormous- I could easily have had a 36" waist and still had room. Great product, but Patagonia needs to stop sizing everything HUGE.