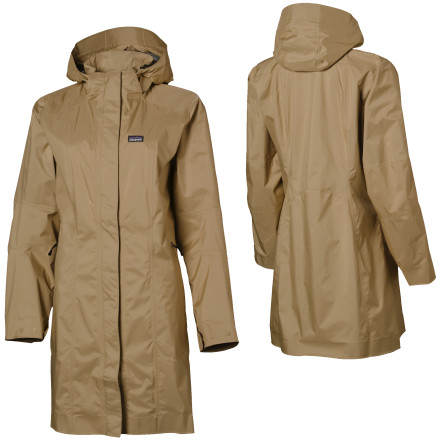 Detail Images
Torrents of water might be falling on Seattle, but you'll be dry as Spokane in your Patagonia Women's Rain Shadow Trench Coat. Patagonia put its proprietary H2No waterproof breathable barrier on the regular-fit Rain Shadow. Breathability is important—no matter how well a rain jacket protects you from precipitation, if you're sweating on the inside because your jacket doesn't breathe, then you're wet anyway. Remove the adjustable hood if the clouds break up a bit, and if the rain stops altogether, this jacket packs easily into your bag (after you shake the rain off it). Zippered pockets hold your cell phone and warm your hands. Princess seams and darts give this jacket a flattering feminine fit.
Share your thoughts
What do you think of the
Patagonia
Rain Shadow Trench Coat - Women's
? Share a...
Very nice jacket! I feel like I could walk in a downpour and be protected!
I am 5'6", 130 lbs, size 8 skinny jeans and arms on the short side of normal. I wear an M fitted coat and a 10 jacket because of my square shoulders. I don't wear hoods.

Without layers, I would wear a S in this regular fit coat. The sleeves are much too long (standard for Patagonia) and snap to adjust. It hits above the knees. Over my Uniqlo coat, the M is PERFECT, and very light weight (12.2 ounces). It is nicely shaped. I read a review article, which says that these breathe better than most.

I am in Europe in the Spring and Fall. Variable weather (40 - 65) is hard to pack for. I take a Patagonia Nano jacket, a Uniqlo ultralight down coat, a 3 ounce Patagonia rain jacket - and needed the lightest possible rain coat. This, at $100 off, is it. Together, all of this weighs just over 2 l lbs, takes up no room and I can mix and match as the weather requires.

I am delighted with this purchase!
Well-fitting jacket, but too technical for city wear...
I was looking for a trenchcoat-style rainjacket that I could wear to work and around the city, which would look a little nicer than your average raincoat but still keep me dry. I'm sure this jacket would do a great job on keeping-me-dry part, but it was a bit more technical than what I wanted. The fabric is quite noisy and it's definitely a rain shell (unlined), not a trench coat. If you want a casual piece that will keep you dry around town, this is it. Flattering fit is a bit fitted around the waist to give it a nice shape. But if you want a raincoat for more professional city use, this is probably not your coat.

Size note: I'm 5'8'', busty but otherwise fairly slim, and I usually wear a M or L in Patagonia (M if a relaxed fit, L if more trim fitting). The Medium in this coat fit me well, with room for a layer or two underneath. I'd recommend sizing down if you're in between sizes.
I need a warm raincoat and am extremely...
I need a warm raincoat and am extremely little (4'11") I have a marmot that is just too thin and only good for summer. Any ideas?
If you need a raincoat that'll last for fall and spring as well, and you want it for technical use, look at a Patagonia nano storm. Nice lightly insulated rain jacket. The first ascent BC microtherm jacket is also a great option, and it's on sale right now!

http://www.eddiebauer.com/catalog/product.jsp?ensembleId=40154&&categoryId=27586&categoryName=WOMENS-FIRST-ASCENT-HARD-SHELL&pCategoryId=28477&pCategoryName=WOMENS-FIRST-ASCENT&gpCategoryId=28475&gpCategoryName=FIRST-ASCENT&ggpCategoryId=1&ggpCategoryName=EB&catPath=~~categoryId=27586~~categoryName=WOMENS-FIRST-ASCENT-HARD-SHELL~~pCategoryId=28477~~pCategoryName=WOMENS-FIRST-ASCENT~~gpCategoryId=28475~~gpCategoryName=FIRST-ASCENT~~ggpCategoryId=1~~ggpCategoryName=EB&viewAll=null&pg=1
It keeps you dry for sure, except that the material is a bit thin that it feels like wearing plastic and wrinkle easily. The coat is slightly fitted, so not very forgiving if you are shorter than average, like under 5'2" and the sleeves are quite long.

I like Patagonia's quality on most of their products but fall short on this one. It seems the focus on this one is "light weight" that it looses substance in the material.

I really like the style of this one. Hopefully, in the near future, Patagonia would have Petite sizes and improve the material on this one.
I have had this rain coat. for about 8 months. I like it a lot. Slightly longer length is good. I wear it for work relate travel. Has a bit of a tailored fit, so looks a little more professional than many rain jackets. Very lightweight. I am 5' 5" and slender build, but broad shoulders. I ordered a size up (M when normally where a S), and it fits well over a blazer or sweater underneath. I agree with other reviewers that hood is too shallow, and it needs a loop inside at base of hood for hanging it on a hook. But, otherwise, a great coat.
Can't complain about the quality and style but I don't think this fits anyone under 5'2".

I ordered a size Small and the sleeves are too long, covered my hands. The coat has a fitted look, which means it is narrower where the waist is and wider in the hip area, so if you are like me under 5'2", the shaping of waist and hip on the coat will not sit where they should be.

Also, the material of the coat is very light but lack of body, which means very wrinkly (see picture). If you are looking for a more dressy looking rain coat, this is not it.

I was going to order an XS but decided to continue searching for one in Petite size with same quality as this one but in wrinkle-free material. Perhaps, Patagonia will come up with one next season.
I love this light weight coat but it is still a little too big for me. I am 5'2" and 145 pounds so I figured a small would do the trick since other reviews mentioned it is a bit roomy but after I tried on the small I realized I should probably get the XS. I'm going to return it for an XS and I hope to enjoy it more then. Also, I did not realize that the fit was not a slim fit so it looks a bit boxy on me since I am a lot shorter but the jacket does its job so it is definitely a keeper.

Overall, the jacket is great! I wore it on a rainy day and I stayed dry- an umbrella was unnecessary.
How small does this raincoat pack? How...
How small does this raincoat pack? How much does it weigh?
I asked this on the Chatline and it is the lightest and most packable out of the equivalents by Marmot (Destination) and NAU (Succint), and these others are approx 18oz. So this is pretty light!
(I was also told it was the most durable fabric of the 3.)
Is there a lining to the jacket or just a...
Is there a lining to the jacket or just a single layer?
This uses a 2.5 layer construction with a waterproof membrane, which does not have a hanging liner. Jacket feels like a single layer.
single layer only. It is a VERY lightweight rain coat. But, over a sweater it keeps you fairly warm. It is definitely a late spring, summer, and early fall coat depending on where you live. I have a warmer shell rain jacket that I can wear in winter over a warm fleece pull over - but this one would not be warm enough for that.
Unanswered Question
TO PATAGONIA: WHY IS THIS JACKET SHOWN PER...
TO PATAGONIA: WHY IS THIS JACKET SHOWN PER THE FOLLOWING PICTURE, OPEN UP THE PRODUCT AND ADD $75-$100 THE PRICE?

Patagonia Rain Shadow Trench Coat - Women's $90.00 new
Free shipping

Backcountry.com
Seriously this is the best raincoat ever! Not only is it light it breathes and isn't noisy. The hood is the right size for me (I kind of have a big head) and it comes down over your face a little so you are protected from torrential downpours that we get here in Marin in the winter months. Also it is fitted so you don't look like a block. I actually bought it and had a bit of buyer's regret due to the price but I have gotten over that it is so lightweight and water just shakes off of it. I am 5'8" and weigh 120 so bought the small and it fits perfectly. The only tiny flaw which you could possibly find is the length. My knees are exposed due to where the zipper ends but then again it would be a whole different jacket/coat if it were longer. And it wouldn't be as cute!
Here in Maine, it gets cold and wet-do you...
Here in Maine, it gets cold and wet-do you have any insulated rain jackets?? Is the Patagonia Rain Shadow insulated??
The Rain Shadow Trench is not insulated, but check out the Tres Parka, it's a waterproof shell similar to the Rain Shadow Trench, but with a mid thigh length coat that zips in for the warmest 3 in 1 insulated rain jacket out there.
Unanswered Question
Is this the same jacket that Kirsten Stewart...
Is this the same jacket that Kirsten Stewart wore in Twilight at La Push? If it is where can i order it in the same color as hers?
Love the name, love the style, except for...
I admit, I bought the Patagonia Rain Shadow Trench Coat (in ollaberry) because it was the closest one I could find to Kristen Stewart's purple raincoat in the La Push Beach scene in the movie, "Twilight." It's true the rain coat weighs no more than a shadow, and so far has done a spectacular job of keeping my torso dry. A couple of reasons prevent me from deeming the rain coat perfect: it's rather pricey (my friends and I call it the "PataGucci" rain coat) and I find the hood to be too shallow for any woman with a hairstyle other than pixie or bob. I don't have a large head, but if I have my hair in a ponytail, or even in a bun at the nape of my neck, the hood does a poor job of covering my head and sides of my face. At this point, the hood becomes a mere ornament. Since the hood can be tightened at the sides, I don't see why they had to make it so shallow. I just prefer deep, roomy hoods that offer my face more protection from the elements.
I live in Vancouver, and had been looking for a good rain coat that was super functional and cool looking. This is it! Love the colour (olallaberry), and the style is flattering, and keep me dry.
I found the size a little big, I am normally a medium, but possibly could've gotten away with small. I guess that is Patagonia sizing, as I went to try on a few of their jackets to see if i should return it for a small, but found some smalls perfect, others a bit tight. Stuck with the medium, can layer underneath.
Overall, versatile, good looking, functional jacket!
As others have said, this is a very comfortable and flattering raincoat. I was not expecting it to be so good for warmth, but it really keeps in the heat of your under layering clothes, so I was very happily surprised. I think the hood is a good one too, it looks better than most hoods - both when worn, and also when lying flat against your back. I am very happy that I got it!
Would buy it again on sale
The Chanterelle (real beige) color is very flattering, the cut feminine and on sale is this coat a steal.. It fits true to size. More of an urban than outdoor coat.... but that's what I purchased it for.
I boought this raincoat in black in December...
I boought this raincoat in black in December for my Mother for $180-If I want to order it for myself, would you honor the same price?
Get on Live Chat, but I doubt it. It was on sale then, it's not now. Bummer.
Great longer-than-jacket-length coat that really keeps you DRY. This is lightweight, easily packable and quite versatile. I too originally bought the carbon but found it was too dark - esp. for walking around at night. So I got the chanterelle and have received many compliments. The fit is great, slimming. The only "gripe" I have is that you MUST layer as this jacket does not keep you warm.