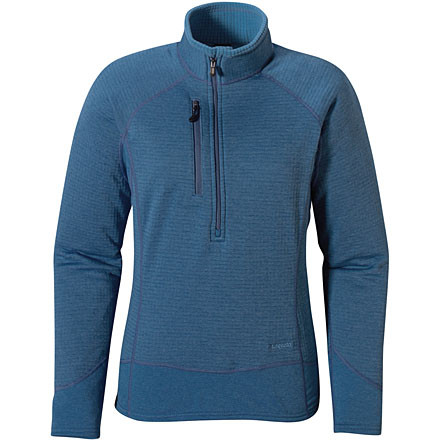 I always choose this top to throw in my backpack for day trips and camping. It's also sleek enough to wear around town when the temp dips. The cut is nice - at first I was a bit dubious of the active-wing cut of the armpit area, but have grown to love it. I'm 5'11"/135lbs. and I bought the medium. This top is long enough for my torso, as are the arms. It fits well over a tee-shirt; I'm happy I bought the medium (that is my usual size in jackets, so I'd say it's true to size). The waffle-weave is nice and the material is perfectly warm for summer nights, in between-season chilly days, and as a layer under my down jacket when it's really cold. Also, the black dries very quickly in the sun (useful for long camping trips).
I have used this more than my TNF fleece because it is warmer and easier to pull on - (and I love my TNF fleece too). But for backcountry and camping, the ease of stretch was the determining factor for deciding which one to bring with me, and I've not been disappointed. I'm a bit over 5'5", 130#, 34Bish, and the Small works well for me over layers (such as the Patagonia Mesh bra, a thin UA T-shirt, and a capilene 2 longsleeve), or in town I can wear it over a strappy tank for coverup and still looks cute. Buyer beware that the front half-zip is slightly off-center (it drove me nuts in the store when I was trying them on for size)- which actually works awesome when you need to layer another jacket over it (like the R3 or more) for more warmth when it's below freezing out.
I got this top for my sister for our week of trekking in Patagonia since she tends to always be cold. She wore it almost everyday and absolutely raved about how it actually kept her warm on the cool drizzly days. It is great as a next to skin layer or even with a light-weight top under (If you buy your regular size that will probably be all that will fit comfortably) the only issue is adding anymore layers over it, pretty much just a shell or windshirt would work. Still a great top, so thankful that I didn't have to spend the week listening to her gripe about the cold!
If you happen to have one of these in black...
If you happen to have one of these in black size M I'd love to take it off your hands.
The inventory is updated live, so if it's not in the list, it's not in the warehouse.
I love this fleece so much, I got it in every color. It is my "go to" for winter weekend wear!
how much does a large women's size weigh?...
how much does a large women's size weigh? Thanks,
258 grams (9.1 oz) according to the pata site
I have heard this runs small, is it...
I have heard this runs small, is it true?
, ☃bcs_badge_alumni_label☃
It is very fitted compared to most of Patagonia's products. It definitely hugs your curves but not in a restricting way. If you plan on layer anything other than a small tee or tank under this I would size up, otherwise you will be good with your regular size.
This is an opportunity to compliment backcountry.com on their super service and helpful chat agents because I had to return this pullover a couple of times. Cute style, technically advanced but it just didn't work for me.
How quickly does not top dry? I am hiking...
How quickly does not top dry? I am hiking in the mountains for 24 days (Upper Mustang, Nepal) and stuff just does not dry ... I hate to be smelly and dirty during my trip ... looks like it takes long to dry? Am I wrong. A bit pricey ... do you have a sale soon? Helga I just ordered a jacket which is on its way ($160)
this is exactly what you want! I've got one and I love it. It's got this grid in the fabric that helps it dry very quickly. you can drop water on it and watch the fabric move the moisture out and see it dry. One of the best fleeces I've ever owned!
I could wear this layer 365 days a year and be comfortable in it. It keeps me warm in the winter under a jacket and it is great for a summer night around a fire. Don't buy one of these, buy two. You will need to have one to wear while the other is in the wash.
Fasionable and functional
My husband has this pullover and he loves it because it looks nice even in the city and also very functional while hiking. It is not bulky compared with usual freece jacket but warm enough and comfortable for hiking in spring and fall. The tight shape is fasionable. I bought pink color which is cute and I love it.
Great fleece for any condition. My wife took this to South America for a 6 week trip and wore it literally every single day. It can be worn as a base layer, mid layer, or as an outer layer and it performs well at all these uses.
, ☃bcs_badge_alumni_label☃
get a few of these
really comfy next to skin and warm! i use mine for running and snowboarding as a layer. My only beef with it is that it is hard to put other layers over it because the fabric tends to cling to the other layers so i look for a more slippery layer or a heavy fleece to wear with it. I wear about 4 layers though. It's a top quality piece and I own at least 3.
, ☃bcs_badge_alumni_label☃
Spendy, but worth it
Great layering piece, it works well layered under a ski jacket or over a tee on a spring bike ride. The outside is durable poly, but the inside is soft fleece. It is very fitted, if you plan to put anything underneath it, I would bump up a size.
This pullover definitely runs a size small if you're not using it for it's intended purpose as a baselayer. If you get one size bigger it can be a great softshell/sweater. The fabric is very soft and the cut fits a woman's body nicely. You will be very toasty wearing it under another jacket. If you plan on using it for heavy activity i would recommend wearing it by itself with a scarf or zipped up all the way. All-around: a great product.
Man, I was so excited to get this fleece. plus Patagonia makes the coolest stuff. This particular item was tight. Really tight, which I think it's supposed to be, but it was a size smaller than what I normally wear in Patagonia.