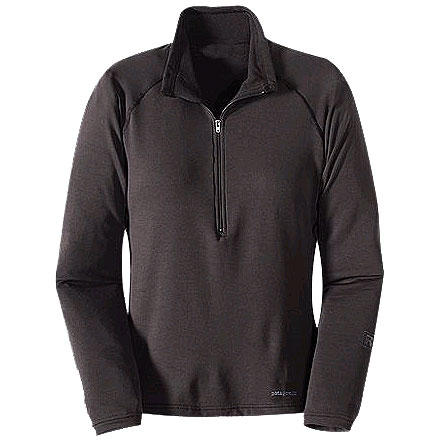 Great for aerobic activities
I wear my R.5 top riding to work and it feels great in both warm weather and cold weather. It's really breathable so even when the sun's shining, I don't get all sweaty and gross. Plus it has a really flattering fit--not boxy at all.
I totally disagree with the previous post. The r.5 is much better than the Capilene. The r.5 is extremely stretchable, more comfortable, and just all around much cozier. Plus, the Capilene, if you zip it all the way up the jacket won't cover your neck! The r.5 also is longer and will cover your torso much better (especially if you are tall like me).

I live in my r.5's.
The r.5 top is an extremely versatile shirt. It is appropriate for all activities in all seasons. I have used it as a mid layer or outer layer for running, skiing, biking, and climbing. The fabric has held up to many washings, is very breathable, and does not get easily damaged by rock abrasions. Oh yeah, it's flattering too.
Greatest Top in the World
I want two in each color: one for wearing all season and one for running in. These are great tops. They're lightweight, they go over anything and they are warm but not stifling hot. Easy to wash, but don't use fabric softener. They're well worth the price.
I love the Women's R.5. It's a great base layer in the cold or top layer for breezy whether. I rarely leave home without it. It's rapidly becoming one of my favorite pieces of clothing, up there with my Mountain Hardwear Tech jacket.
This lightweight top keeps you warm and dry. Zipper makes it easy to stay comfortable. So far I've worn this running - both under a jacket and on its own - and around the house on chilly mornings. It's trim fitting and flattering. Great for camping, hiking, mountain biking or climbing. Liked it so much I bought a second one in another color. Basic black is my favorite.
I love this R5 top SOOOOO much. This top doesn't only work as a great functional baselayer which wicked and dried quickly, it's also fascinating in color and cut that you can wear it as a casual sweater showing off female line. It feels great next to the skin and warm enough in winter mountain hiking. The XS size fits me perfectly and I believe this R5 is the best pick for petite size woman. Sometimes I really have problems to find fitting clothes. The other brand like Marmot, North Face might have quality outdoor clothing but their size is way too big. I get two of them in different color and thanks to the backcountry store great sale price. I can't find a better offer with this number one baselayer top in other website.
Don't get me wrong, the R.5 top is a good shirt, lightweight, warm, and comfortable. But so is the midweight capilene shirt. I bought both at one time or another and use them primarily on extended rafting and camping trips (so believe me, I put them to the test), and to me the midweight capilene and the R.5 are pretty much the same--except that the capilene's cheaper. Whenever I pack, the first thing on my list is that midweight capilene top. The R.5 is just an extra.
I put this shirt to the test--and it passed with flying colors. Perfect for running on a chilly day (it dried really quickly), and the ideal base layer for colder activities (it doesn't bunch at all under my other layers). I bought one for my sister and I am not sure if I can part with it!