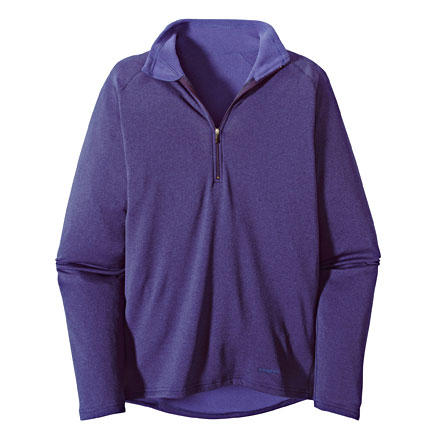 Great function/comfort/looks. But it's synthetic and will stink after an hour of sweating, and I don't mind body odor. I hiked for 30 minutes when too hot, just to see what'd happen. Sure enough, I passed the stink threshold, which takes about 2 weeks in a similar wool top. As awesome as Patagonia's capilene/synthethic stuff is, I predict a continuing trend toward naturals. All the new wool stuff is superior unless you shower daily and sweat minimally.
Every one should own one of these... especially if you live in MI.
R.5 - Don't leave home without it
Great top - suprisingly warm for its weight. Put it in your pack whenever extra might be needed. Small and light, it won't take up much room.
Great light weight top. Ideal for loads of different uses. I have a black and a deep blue. Interestingly, the black is a lighter weight material than the deep blue. If you want something roughly similar in weight to a 100g fleece, then go for the deep blue. If you want something a bit lighter and more of a base layer, then go for the black. Also, the R.5 is a slightly looser fit that the other Patagonia tops of the same size that I have purchased (R1 top, R1.5 jacket, MW Capilene Zip Tee).
It's warm and wicks well. This plus a 3-layer shell and gloves work pretty well to near-freezing temperatures. One reviewer thought this by itself was sufficient, not for me, unless I was constantly sprinting.
I mean, it's only a simple base layer, but this thing has become one of my favorite pieces instantly. It's super comfortable in nearly any temperature and I love the zipper feature...totally worth it!
I just bought this top a little while ago, and already I have taken it hiking in temps around 40 deg and while I was moving I needed to unzip the zipper and even contemplated removing it during the hike because it was a bit too warm. Good gear.
R.5 makes the grade in Patagonia
16 days in Patagonia (Chile & Argentina) and I wore the R.5 for probably 13 of those days. A great shirt!! Wicks well when it's hot, insulates well when it's cold, looks good even after 2 weeks, and becomes only moderately smelly after all that punishment. I would buy this shirt again in a second!!
Awesome quality and the perfect layer for anything requiring warmth or alone if you're gonna do something active.
Comfort and Warmth Winner!
In all but the worst winter conditions this is the only top I need. When moisture or winds arise, I just add my shell. It's extremely comfortable, versatile and well worth the extra money. I liked it so much I bought a second one.
All good, no complaints. I have 3 of these now and would like more.
Keeps me warm on the ski lift and cool when I am going down the mountain. It works great with a softshell jacket. I will be buying more of them.
I just tried the R.5 Zip Shirt on an all day snow/ice climb and it was awesome. The combination of Polartec Power Dry, grid interior, and smooth outer surface is a winner! I also have the bottoms. Power dry is just that - DRY when you stop. Well worth the price. I highly recommend them. Thanks goes to this site for the great sales, free shipping, and excellent customer service. Kurt
Highly functional base layer.
It's very light and wicks great. It keeps you warm above 30F by itself. If it's colder you'd probably need more layers.
Although Pricier than others - worth it!
I own three of the R.5 tops and wear them whenever I get the chance. They're very comfortable, and do a great job in maintaining warmth and wicking moisture away. I have used other base layers out there, but for me, nothing compares to the R.5.
Best top for wicking moisture
This is the best top I have ever owned for taking care of moisture. I sweat like a pig on my backcountry ski tours and this top is the ticket.
The size runs a bit small, I think it was meant to snugly fit, if you like your outer shirt/top to be a bit loose, get 2x bigger sizes... (ie. I wear a large shirt, but would order XXL to get the non-form-fitting feel... )
Just the right top to wear on the trail that keeps me warm when it's cooler than expected, and also breathes enough to stay cool when it's warmer than expected. If you have to take just one top to wear, this is "Le Top."
This top is unbelievable. I rode in mine almost every day this season, and I missed it when I didn't. I think it will also make a great pajama top for kickin around the house in the off season. It's crazy soft inside and really warm for how thin it is. It gets the sweat gone with a quickness and doesn't stink like roadkill after 1 use. I would give it 6 stars if I could afford more than 5.