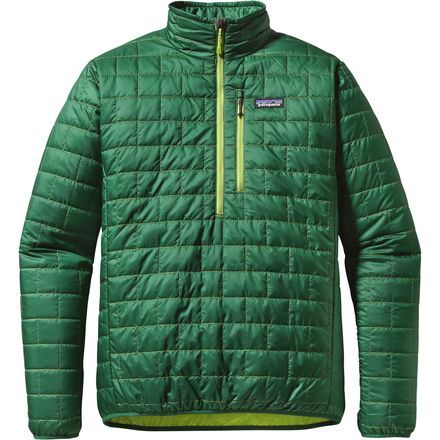 Detail Images

Community Images
Description
Add this puffy to your essentials list.
Alpinists obsessed with their gear's weight got their light-and-warm wish when Patagonia first released the Men's Nano Puff Pullover, and it is now a go-to layering piece in places ranging from K2 to Devil's Tower. The Deluge DWR finish on the 100% recycled polyester ripstop shell makes this lightweight layer both windproof and waterproof. The Nano Puff is constructed with compressible 60g Primaloft One insulation, which makes this jacket an ideal outer layer during morning belays or a midlayer while you head out for a cold backcountry tour.
The Nano Puff has become a classic item because it offers essential features in a minimalist design. The brick quilting pattern, with horizontal quilt lines on side panels, prevents cold channels and insulation shift. Additionally, the elasticized cuffs and hem seal out the cold. If you start working up some heat on your tour, venting is a breeze with the deep center-front zipper; the zipper also has a wicking interior storm flap and zipper garage at chin for next-to-skin comfort. When the weather warms up, you can compress the jacket into the left chest pocket, which doubles as a self-stuff sack, and then use the reinforced carabiner clip-in loop to clip it to your bag. Easy. Simple. Essential.
Ripstop 100% recycled polyester shell
Deluge DWR finish
60g Primaloft One insulation
Brick quilting pattern
Regular fit
Elasticized cuffs and hem
Stuffs into left chest pocket
Surprisingly warm
Familiarity:

I've used it several times

Fit:

True to size
Bought this for trail running. Although it is thin and light this jacket is amazingly warm, Highly recommend it.
FINALLY!
Gender:

Male

Familiarity:

I've used it several times

Fit:

True to size
For years Patagonia strangely assumed their target market was shaped like Danny DeVito. To people with remotely fit bodies, they were the GAP of the great outdoors. Their clothing was short and baggy. The fit absolutely SUCKED. I've always wanted to support them because of how environmentally conscious they are but I was never squatty or rotund enough.

THANKFULLY THOSE DAYS ARE OVER. I am now squatty and rotund. No, that's not true...yet. Patagonia has done their homework and probably fired a few squatty and rotund execs along the way.

As an athletically built man, I can honestly say this pullover is one of the best fitting garments I have ever owned. PERIOD. Thank you Patagonia for taking the time to make something that really fits. THANK YOU. You have my attention.
Great Jacket
Familiarity:

I've put it through the wringer

Fit:

True to size
I love this jacket. As a person with a larger waist, the pullover was a better option than a full-zip. I have used this backpacking in Olympic National Park in summer and occasionally skiing. The jacket has held up really well. On my backpacking trip, at night, sitting still and wearing the jacket, I was cold. But If I use this when I'm moving, I usually get hot. I have only skied once with this under a shell and I got hot fairly quickly. This jacket is not the warmest, but will keep you warm.
My Favorite Jacket
Familiarity:

I've put it through the wringer

Fit:

True to size
This is the best jacket. Of all jackets.
I've had mine for years (it's the older version than the one sold here), and not once have I been disappointed by it. It performs when wet, it breathes surprisingly well - given the fact that it's a polyester puffer - and it has an amazing temperature range.

I have worn this on breezy days in the 70s, and on long snow days where temperatures were in the 0 to 5 range. That is not an exaggeration, and I'm always surprised by how comfortable it is no matter the situation.

I'm an avid rock climber, and the Nano Puff has endured many scrapes against sharp edges. It's even survived a few blackberry bramble incidents.

I have slept in this jacket on multiple occasions, that's how comfortable it is.
AWESOME!
Familiarity:

I've used it once or twice and have initial impressions

Fit:

True to size
This Patagonia Nano Puff Pullover is incredible. It is light, warm and extremely packable. Being able to stuff into the single chest pocket, I find myself more willing to bring it along for trips, hikes and outings. I usually like medium in Patagonia jackets/synchillas but I find the large in the pullover is just right. I am 6" 2" and 175lbs.
My go-to sweater
Familiarity:

I've put it through the wringer
Every year I keep wanting to buy something to replace my trusty nano-puff. I can't. I just can't. This thing has been through countless ski days, hikes, bonfires, climbing trips, road trips, backpacking tours, and days in the cold office. It's showing some wear after five years of constant use, but it's still holding up and going strong. When it comes time to replace the jacket, I'll probably end up buying another one.

The pullover is a roomier fit that the zip-up jacket or the hoodie. Find the one that fits you best.
The Un-Puffy Puffy
Familiarity:

I've put it through the wringer

Fit:

True to size
I love this jacket. First off - I'm a huge fan of 1/4 and 1/2 zips. I hate the bunching of zippers when I sit. So this really is perfect. Super thin, but super warm. I can rock this with just a t-shirt down in the 20's, and all the way up to the 50's if need be. Fits great, is very packable, and provides great warmth WITHOUT taking up all the space I have, or making me feel like the Stay Puff Man.
Versatile Mid-Layer
Gender:

Male

Familiarity:

I've put it through the wringer

Fit:

True to size
The first thing noticeable about the jacket is how light and flimsy it appears straight out of the box. Pull it on and it's hard to believe it will do much at all. However, the Nano Puff Pullover is a garment that gives multiple options to the wearer. Paired with my Pro Patrol jacket, the Pullover keeps me warm and cozy in temps between 30 and 40 degrees Fahrenheit. Anything colder and it is paired with my Das Parka, for warmth regardless of conditions. Though winter has not yet released its grip on us, we have had some days of 40+ degree weather, and the Nano Pullover was the perfect weight to keep the chill off. Add a zippered chest pocket to carry gels or a phone, and this is a jacket that can take care of you on a cold morning run with no problem.
On Backcountry these run in sizes from...
On Backcountry these run in sizes from S-XXL, on Patagonia these run XS-XXL. Is Backcountry not stocking XS or does S on Backcountry = XS on Patgonia?
Hey Janer90,



It looks like we did not bring in any inventory in the XS size. I am sorry about that. If that is the size you are looking to purchase I would suggest looking to Patagonia directly.
best all-around
Familiarity:

I've put it through the wringer

Fit:

True to size
I wear this thing around town in both 15F weather as well as 60F weather, and I couldn't be more comfortable. The only problem is when you are active in it. I don't think it breathes well compared to some other mid layers I've had, and I tend to get it drenched by the end of a long climb. It stays warm though, that's for sure. While I wouldn't wear this in an outright blizzard, it is my go-to for 99% of life. I do have to wash it a bit more than other similar garments... it seems to hold odor.
addecuate for everything
Familiarity:

I've put it through the wringer

Fit:

True to size
this jacket is my bsolut favorite, i use it for everyting, fomr going to the grocery store to climbing in patagonia.

supper lightwheit, compresible and warm (considering tis size and weight)

the great thing about it is that it packs down to nothing and you can clip it to your harness and not know its even there.

most of the times i use it as an outer shell, but in many ocasion i wore it as a second layer when it was really cold.

the only downside is that its not the most durable. but it is the price to pay for a lightweith jacket.
updated fit is a major bummer
Familiarity:

I've put it through the wringer

Fit:

Runs small
so i have been a long time fan of the nano puff pullover. the older generation was pretty much my favorite jacket ever & it became a second skin whether bumming around the house, skiing & riding as midlayer or at work (where i tend to run cold).



you could say i "put it through the wringer". it was time to buy a new nano puff. i was excited about the new colors but didn't do my research, assuming the jacket was as dialed as could be. the fit was perfect, the weight very low & the warmth off the charts. why WOULD they redesign? (oh i'm sure they could give a million reasons ...)



the new jacket has a fatal flaw: it no longer fits. they stretched the nano longer while simultaneously narrowing the fit through the shoulders, chest & torso. while the jacket might perform as midlayer, it is no longer a single quiver monster capable of jack of all trades mastery. which is a huge bummer to someone who had it but can no longer get it.



it's still a quality product, but they ruined the fit. when someone like me (6'3" & 190, pretty damn lean) thinks the Large runs too small there is something wrong.



patagonia bricked it with this generation of the nano puff. they should go back to the older design for sure. beware!
Love my nano puff!
Gender:

Male

Familiarity:

I've put it through the wringer

Fit:

True to size
This is a great piece of insulation. Ive used it by itself over a tee climbing and as part of my layering at the snow skiing. In any situation it has always performed well and is really comfy and warm. I find in anything below -15C (5F) it works great paired with a thermal top, thin fleece, Puff and a shell. If you're hiking, touring or doing anything strenuous Id advise maybe dont use it on the way up as it gets toasty pretty quick!



Im 6ft, skinny and the medium is sweet. Its a bit roomy but thats definitely because Im like a stick and not the sizing of the jacket.
Couldn't be better
Familiarity:

I've used it several times

Fit:

True to size
I bought this jacket a few months ago and my initial impressions are great. I own the past years model that comes in black and apparently has a slightly different cut than the current model. I haven't had a chance to put this through many mountain situations but I am sure it will perform great.

I purchased the jacket used and the previous owner had it for about a year. The jacket had some minor holes from use but they were easily fixed with some patches. Would consider this a downside but the holes are very small and do not continue to rip because of the fabric and the insulation does not come out easily.

The jacket fits great. I have a medium and it fits me very well. (6'1",160lbs) It is slightly loose fitting but I wouldn't want it any tighter. My favorite aspect of the jacket it the weight, it comes in at around 10 oz and packs down to the size of 2 soda cans. It would be easy to forget I was wearing it. It is super soft and feels great against the skin. I find myself wearing this piece all the time around campus just because it is so comfortable.

Bottom line: If you want an insulation piece that almost feels invisible and that you can wear as an everyday piece, this is the one. Bomber jacket.


Stand-by. Standard-bearer.
Familiarity:

I've put it through the wringer

Fit:

True to size
Got this in 2009 as a gift. It has since been on three continents, through public high school, internships backpacking and snowshoeing, climbing, random trips to the woods, and everywhere in between. Takes the abrasion of climbing like a pro. Handles water well, and keeps you warm when wet. It's deteriorated a bit in the almost five years I've had it, but it's minor cosmetic things. Fabric wore thin in the wrists; I stitched them up and they were right back at it again. It is perfect for early summer mornings, fall evenings, and summit bids in July. Great layering piece. Really does pack into breast pocket. Doesn't get any better than this from the best company in outdoors apparel.



Photo shows me in the middle of thirty-six hours of rain while in Gates of the Arctic National Park in July 2012.
SICK!!!
Familiarity:

I've used it several times
Patagonia never fails! Wear this all the time. Can be worn cruising the brisk city or under your ski shell ripping the backcounty powder runs. BUY IT
I'm torn on what size to get. I normally...
I'm torn on what size to get. I normally wear medium in Patagonia but have heard this is a trimmer fit.
medium should be good, this piece was running a little big in previous seasons.
Medium will be good. Baggy is never a good look!