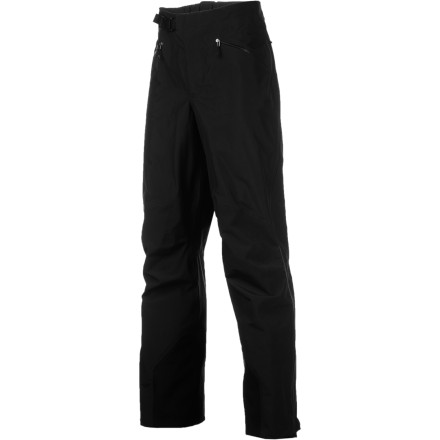 Detail Images
Slide the Patagonia Triolet Pants on over your favorite baselayer, give praise for the Gore-Tex Performance Shell, and go skiing. The Triolet has enough features to keep you happy for lap after lap of blissful face shots.
After a ten-year hiatus, Patagonia reunited with Gore-Tex to offer waterproof breathable fabrics and the earth-friendly technical simplicity you've come to expect from Patagonia
Three-layer Gore-Tex Performance Shell fabric is waterproof, breathable, and durable should you knick it with a crampon or ski edge
Articulated seat and knees move easily move with you through mountainous terrain
Ski-boot compatible lower leg with adjustable internal gaiters and scuff guards that protect against ski edges or crampon knicks
Watertight full side zips for ventilation and easy on/off with boots
Slim zips reduce zipper bulk and overall pant weight
Recyclable through Patagonia's Common Threads Garment recycling program
Great Burly Ski Pant
Gender:

Male

Familiarity:

I've used it once or twice and have initial impressions
This pant is not lightweight but it is tough and the full length zippers make it reasonable for the backcountry. Too heavy for the big tours but great for days with questionable weather. Side zips can also be used as vents. Good cuff guards to prevent cuts from ski edges and great articulation in the knee. Solid rubberized elastic on the inner gator with a tightening strap. These are a really nice pant for the resort or day tours. Blue color looks great! Gore Tex performance shell works fine but isn't as good as pro shell. I'm a 33 waist, 32 length and the M fits very well. Quite form fitting, no steez here. Waist is not elastic but belt works really well. Pockets are not very big. Cant fit much besides your phone and your pass...
Just used them for the first time in the Catskills on Friday Mt. Friday is a bushwhack peak, and these held up like a champ. These pants are super burly, and VERY easy to get on and off. The full side zips are absolutely necessary especially when wearing crampons or snowshoes. They fit me well, (I'm a 32x36) and wear a large. Only thing I didn't like was the zipper pulls on the lower section were nonexistent, which makes the bottom zippers (necessary for splitting the pants in half to put on over crampons) extremely hard to maneuver with liner gloves on. I made zipper pulls for these, and things are golden. They kept me SUPER dry, even in fresh powder snow, and getting covered because of dropping snow on me from the spruce trees.
If Only One Shell Pants
Gender:

Male

Familiarity:

I've used it once or twice and have initial impressions
If you're in the market for W/B Shell pants that will do it all, these are it. I love em. The fabric is tough, but not heavy or burly, they pack fairly easily. Gore Tex is hands down the most waterproof / breathable membrane in the market.. would have been nice if they were Gore PRO rather than Performance since its more waterproof and breathable, but not a big deal.. its still Gore Tex. I have used these for downhill, backpacking, climbing, camping and even clearing the driveway; perfect all around pants.



The weight and durability is just right for just about any outdoor activity. They are primarily for backcountry and alpine use... but as others have stated can be used for skiing as well. Full size zips mean boots, crampons, skis never have to be removed; and partially lowered side zips allow for drop seat.. when nature calls in winter, its great to keep pants on. Internal gaiters are low volume and do the job.



Only hang up is that I wish they had removable light weight suspenders to keep pants up. I am 5'10", 200lbs with a 36" waist and 31" inseam.. the large fit great but are a tad long at 32" inseam. Earlier problems with snaps have been fixed, now they are beefed up and backed up with velcro. You can't beat the price for this quality, brand and versatility.
Gore-Tex Pro or Performance? The first...
Gore-Tex Pro or Performance? The first sentence under the Description of these pants says they are Gore-Tex Performance shell. However, the second bullet point states they are "three layer Gore-Tex Pro". Which is correct?
good catch, they're actually Gore Performance (3 layer)
Best Answer
Exactly Gore Performance according to the Patagonia website: http://www.patagonia.com/us/product/mens-triolet-pants-with-waterproof-gore-tex?p=83440-0-155
Have them in hand. They are performance. Not quite as good as Pro...
Love them except for one problem.
Familiarity:

I returned this product before using it
I have not had a chance to use these yet, but they fit great, look awesome, and seem really tough. I am 6' 230 and got the XL.



My only beef is that the snaps around the waist pop loose WAY too easy. Patagonia said they would fix them for me and that new stock has been fixed already.
They work as expected
Gender:

Male

Familiarity:

I've used it several times
The good;

Super burly face fabric, smooth interior to slide over base layers. Sheds water as expected, sitting on a wet lift chair is no issue. All seams appear to be well done and reinforcements where needed. Went flying over rough patches with no apparent harm to the pants. Full side zips work ok, two zippers that work in either direction. I love the built in belt for waist adjustments, and the fact that it is offset makes it even more comfortable.



The bad;

The mediums fit me just fine in Height and Waist, but across the hips and front of thighs there was no way I would get a base layer on. I went up the large size and the length is a touch long, but the added room across the hips was perfect. I have the waist cinched down all the way most of the time, but it fits nicely. I primarily use these for skiing and its a tight tight fit around the boots. Forgot about the 2 pockets, very small, with how tight the pants are on me across the hips it makes it uncomfortable to put my keys in the pockets.



Overall;

I highly recommend these for 3 season use if you are looking for a quiver of one pant that you can layer under.
Do these pants actually separate? So you...
Do these pants actually separate? So you can put them on/take them off without removing skis? I just received some OR pants that claimed to separate, but they don't, and I want to make sure I get it right this time.



Thanks.
These separate all the way, including the gaiters. Two zippers so you can go top down or bottom up.
Totally bomb-proof. I use them 20 to 25 days this past winter for both skiing and playing in the snow. I really can't see these every wearing out at my rate of use. High value pants. Expensive but worth it. Fit is more slender than other pants by patagonia. easy to glide them on and off. they seal out the snow and cold. Best feature is that they breathe extremely well even in very warm spring days. I questioned the light gray when buying but it works well with most any color.
Triolet or MH's Quasar Pants? I'm trying...
Triolet or MH's Quasar Pants?

I'm trying to decided between these Triolets or MH's Quasar Pants. I probably won't be using either for skiing. Instead, I need a good waterproof alpine pant for general mountaineering that can also do double duty for backpacking and other outdoor activities. The Quasars are lighter but I'm concerned about durability too. Does anyone have any experience comparing the two?
Best Answer
I would go for neither, they will be very hot...go for an alpine guide pant or soomething similar
Triolet's your pant for sure. Gore Tex will far outperform Dry Q over the long haul in both performance and durability.
Hayden- Will an alpine guide pant keep me dry enough if it's snowing hard?
I can't speak to using these for mountaineering, but I purchased a paid in January 2012. I used them roughly 20 days for skiing and sleding with my boys. I never felt warm - even whent the weather was 40+ degrees in the spring. these pants are definitely top of the line in terms of quality. they have a fairly thick fabric - much so then other patagonia pants but that is good for durability. the breathability is incredible but if you are very active then these may be too thick of a cut for activities other than skiing.
For snow Alpine guides will do.. but if its wet, raining or warm then the water will get through. I say go for safety if you're out there for multiple days and go for the waterproof pants. They breathe fairly well and you should not over heat.


For an every day pant, you want a lightweight softshell. On top of that you want the ability to throw on a full side zip hardshell if completely necessary. I rarely even take hardshells anymore unless the forecast is poor. A good midweight softshell pant like the patagonia alpine guide, the arcteryx gamma AR or the many mammut offerings will do you very well and be the workhorse pant in your gear closet. They fit great, breath well and last a long time.
For what it's worth, I just got back from a 4 day trip in the mountains near Haines, AK. The snow was super wet. Our guides counseled against softshell pants and instead highly recommended hard shell pants. While hiking/climbing, I kept the side zips wide open. Zipped them up when we quit moving. Worked really well. I couldn't have done that with the MH Quasars.
Question about using the inner gaiter for...
Question about using the inner gaiter for mountaineering

How do you use the inner gaiter and a regular gaiter together? Let's assume that I start off in the dry morning wearing only my soft shell pants with gaiters over. Later, it gets windy and wet so I decided to put on my Triolet pants. Do I take off my gaiters, then put these pants on and then put the gaiters back on over everything? Or do I just stash the gaiters in my pack? Any help would be appreciated!
Best Answer
Matt,
For full protection you could easily run a regular gaiter in addition to the internal gaiter incorporated in the Triolet. If you were to pull the Triolet's on over your soft shell pants, personally I would remove the gaiters and stash them or pull them on over the top of everything. The built in gaiters offer good protection, but if things are really nasty, or the snow is the extra set of gaiters could come in handy. hope that helps!
Thanks for your input Ty. That's kind of what I was thinking.
I got a pair of these to use for backcountry skiiing. I really like how they're a slimmer fit than so many other pants that seem tailored towards snowboard style. The 3 ply GoreTex worked really well in the wet snow we had last year. My only complaints are that the boot cuff is very snug around my Black Diamond Factor boots, and the snaps at the waist can come undone, especially when wearing a backpack with a hip belt.
The Primo of Touring/Mountaineering
Anyone familiar with Patagonia's Primo Pants, or at least their reputation, know that they are pretty freakin' durable. These pants are the mountaineering/touring equivalent of the Primos, and are really quite similar. The stark differences are the fit, the Triolets being much narrower, the full sealed side zips that allow you to take off the pants without taking off your boots in place of the vents, and the elastic waistband with a built-in belt. I love the way these fit as I can't stand hiking backcounty with baggy fitting pants, but a huge disclaimer, they fit super tight in the cuff if you're wearing pure alpine ski boots and not touring or tele boots. Most of the fabrics are identical to the Primo, except the pants are sectioned such that the calf & quad quarters of the pant are a slightly lighter weight fabric than the shin and the butt/hamstring. The kick patch are made out of the same material as the Primo, but lack the inch-high cuff.
I like the narrower fit of these over the...
I like the narrower fit of these over the Primos, but am concerned that the cuffs on these pants may not be wide enough to fit comfortably over my ski boots. Will I have to unbutton/unzip the cuff of the pant if I want to unbuckle my boots with these?
Rush,
Tricky question - I would say you'll have no problem unbuckling your boots without adjusting the pants, but wouldn't want to make any promises. Personally, I've worn the Triolet pants with a 28.0 Tecnica AT boot, which is on the more alpine side of touring boots, with no problem, but never with a full alpine boots.
Best Answer
No problem fitting them over a size 29 Technica Agent 120 resort boot but it is tight. Dont have to unzip every time but it does make it easier. They are indeed narrow.