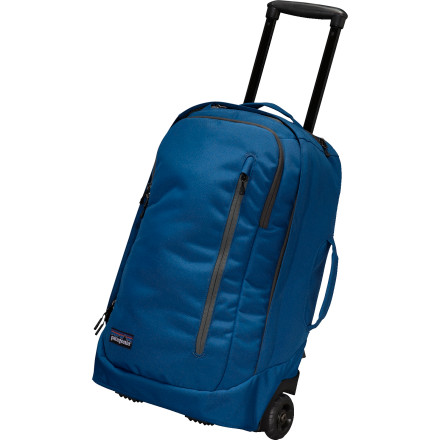 Stop bringing four bags on your three- to five-day trips. The Patagonia MLC Wheelie Bag is a toiletry bag, laptop sleeve, rolling suitcase, and backpack all in one. By the way—MLC stands for Maximum Legal Carry-On, which means you get as much packing room as possible without having to tap your foot at the baggage carousel.
Case dimensions are compatible with most airline carry-on requirements
Main compartment holds three to five days worth of clothes
Padded internal pocket holds electronics or toiletries
Laptop pocket protects 15-inch computer during travel
Easy-access pockets allow for easy access to your boarding documents, electronics, and eyewear
Hideaway backpack straps & top handle provide alternate carry options
PU fabric coating and DWR fabric treatment resist water and stains
Patagonia MLC Wheelie Carry-On Bag
very good!!
Gender:

Male

Familiarity:

I gave it as a gift but have feedback to share
Very good!! Thank you.
Overrated
Gender:

Male

Familiarity:

I returned this product before using it
I travel frequently for work and pleasure, and I pack light. I had planned on taking this on a two week trip along the West Coast in September. However, I ended up returning it at the last minute and purchasing a different roller en route to the airport. The bag is just too small. Not necessarily too small to accomodate two weeks worth of stuff for a light packer, but too small to justify the weight and the cost. A light weight backpack would hold just as much, carry well, and cost much less. Also, it just doesn't function well. The outer pockets are hard to get into when it's packed, the shoulder straps are difficult to put away when it's packed, and the bag will not stay upright on it's own when packed. Unfortunately, luggage is most useful when it's packed.

It does look good, and it's made of quality materials.While I am generally a Patagucci fanboy, I just couldn't see spending 250 bucks for a label tacked on a small, heavy, non-functional bag.
A very well-made, cool and functional bag
This is a great, functional bag for a 2-3 day business trip (which is the majority of my travel). It's a little smaller than I first had thought, but if you are a travel minimalist (like me) and pack tightly, you will appreciate the fact that this thing holds your laptop, clothing, and tolietries, and still fits under the airplane seat in front of you. And it is an easy fit in the overhead compartment.

The bag's material is very sturdy and well-made. It feels like a very solid/sturdy bag that should hold up well over time. The wheels are so well-made that I prefer rolling this baby. I've used the backpack straps a few times, but so far I've found that as long as this is my only bag while traveling - I prefer to roll it. And again, it rolls so smoothly -- like roller blade wheels. This week, I am traveling with the family/kids, and will have other bags. I expect to be wearing this puppy on my back, while I roll other bags. Again, it's a MAJOR convenience to have this option (roll it or backpack it).

Strongest feature I have found -- the wheels -- they are extremely sturdy / well-made. I feel like I could take this thing "off-road". This is exceedingly-rare in a roller-bag, with most other wheelie-bags sporting very cheap wheels.

Areas that could be improved -- (1) as others have stated, with a laptop in the laptop compartment, I have found the bag wants to tip forward. So far, I can live with this, but it would be nice not to have to. (2) as others have noted, the laptop compartment is not padded / protective of the laptop.
Write your question here...Will this bag...
Write your question here...Will this bag fit a large laptop with dimensions 15.4" L x 11" W x 1.4" T?
Not bad- small tweaks would lead to awesome
This bag is great for a 3-4 day business trip (assuming you wear clean clothes every day and you dress like some suit monkey).
If you have the main compartment stuffed to capacity, it is tough to get into the outer 2big pockets, but those pockets are sized to hold things roughly the size of the bag face (I can fit a laptop into one pocket- but there ain't no padding, so be careful!) And I like that there's a soft-lined sunglasses pocket in the top, but it's hard to get into if the main compartment is stuffed to capacity.

It's a great bag, but it would be my dream bag if the outer pockets didn't get squished by the main compartment (i.e. if they sat on the outside of the bag, like a bump, instead of being constrained by the base plate footprint). So- it's a not a bad substitute for the MLC non-wheelie, but it's perfect if you'd rather frighten people in the concourse by racing up behind them making noises like you're about to run them over.
Perfect Carry On Rollin' Bag!
Like butta, this thing rolls smoothly and fits perfectly even in the small regional flights overhead compartments. Its small but has a surprising amount of space. Also has some good little compartments. Plus I look like a smart traveler in the airport