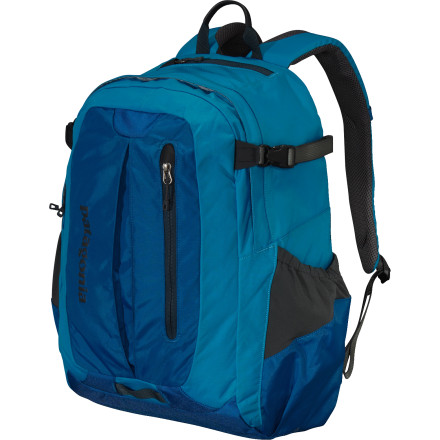 Detail Images

Community Images
Just because you trade chinos and dress shoes for shorts and hiking shoes at the end of the week doesn't mean you need to change the means to carry your essentials. Patagonia designed the Mate Pack to be your partner for weekday hustles through subway stations and weekend excursions through high-elevation hiking trails. Your casual or sporty eyewear is safe in the soft top zip pocket while the large internal pouch features ample room for just about anything you'd need in the city or nature.
Padded laptop sleeve doubles as a hydration sleeve when you trade the pavement for trails
Plenty of internal organizer pockets help you keep track of the daily goods
Microfleece-lined pocket store your sunglasses or fancy-schmancy touch-screen phone
Amazing Backpack for School.
First of let me say this is the nicest backpack I have ever owned! It is truly just a great product! For starters I am 6'0 and weigh 180 pounds. I ordered the paintbrush red color and it is no where near red but more of an orange/red color. It fights me very well and isn't to big or too small. Its size is 30l and it big enough for school(hauling around binders and textbooks). I also really like the side water bottle compartments because they aren't mesh with the holes in them and wont tear or break. The reinforced rubber handle is nice as well. The material is very sturdy and I can see it resisting some wear and tear. It is also very light however I wouldn't use this as a trail/hike bag as it is more shaped/sized for school in my opinion. I think i might buy the the yerba pack for that purpose. Overall this is an amazing backpack and I love it!
Stunning is a good word for it
Gender:

Female

Familiarity:

I've used it several times
I've been using this back heavily over the past week and so far I'm very happy. I wanted a bag that could lug around all my day to day stuff for school, that I could use while riding my bike, and that I could use for day hikes. This bag has everything I need for all those things and then some. First, the bag is huge. At about 1800 cu in (vs the more common 1500 cu in), it is big enough to hold it all: a large water bottle on one side, a can of soup and a thermos of coffee on the other side, either a 13 in or 15 in laptop, charger, a full day's worth of food for an average eater, three textbooks, two binders plus folders, a big pencil case, cell phone, wallet, planners, large calculator, an extra layer, and more. I'm a girl 150lbs 5'10"and the bag feels large but not too large that it's awkward. I got the red, which looks more like the pictures of the orange (sweet!) because it is so bright. I was worried that it would be more ski patrol red, but it's not. It's a bright orange-red, which I love! It will def help with visibility on the roadways. It's comfortable and padded enough to wear for long periods. I wasn't sure about the fit given that it doesn't have a chest strap, but the shoulder straps are shaped in a way that helps it stay put even while running to get to class on time. Obviously, it has only been a week for me, so I can't attest to the durability for sure, but it looks like it is built well. The fabric on the bottom is thick and more textured. The stitching is well done with lots of reinforcements in logical places. I?m in love!
It works. This bag pulls out all the stops, and is multi-purpose. It even goes as far as providing for a smooth sunglasses pocket on top, and a laptop sleeve that'll double to hold a water bladder. My only complaint is space. The contour design is smart, but sacrifices space. To give a comparison, less space than a classic Jansport. It looks slick at least.
stunning pack with good functionality
I am not a savvy user, backpacker or otherwise outdoors knowledgeable. I just wanted a backpack that I could use on my new bike that was brightly colored enough that cars wouldn't hit me on the road... I cry for road kill, including potentially myself. A friend of mine who regularly bicycles 80 miles in a day had me get the right kind of bike lights, but he said that what one wears on the bike is the most important thing for being visible. I think this one, which is 2 colors of burnt orange with attractive lime green and black details, is bright enough. I see the orange one isn't on the page anymore, but the red one looks as bright my orange one... or perhaps the light blue, which I see also has a nice color combination in a similar style to mine.
The pack is STUNNING. I love the pockets including the little ones inside the main compartment which hold a couple pens, a cell phone pocket with velcro tab closure, a few other smaller pockets and a bigger one with tab closure that looks like it would be the size to hold a pad of paper, or even an iPad, although it is up against your back and not padded. The big main compartment is big enough for rain gear, pocket book, camera bag.... It would probably hold my down coat in winter if I were that brave to go out at that time. (If I didn't mind the weight I could probably get my husband in there.)
I had no idea when I bought the pack what the 1.8oz weight would feel like, and there were other packs at the sight that were lighter, but I can tell you as a person who is not strong, it feels plenty light to me.
This is one pretty pack, and my friends on the road in my small town will definitely swerve around me with this thing on, even though they won't recognize me on a bicycle.
I do have one odd negative on this pack for me. In terms of how it fits, the back straps are thick and somewhat stiff, and are made in part with a rough material, and when the pack is on my back, they rub my neck a bit with the rough fabric. Not too badly though and I will keep the pack. I am narrow shouldered, so perhaps it is just how it fits on me. Maybe it was made this way for some kind of functionality that I'm not aware of. But I just think of it a kind of loofah that rubs the skin, and consider the exfoliation effect as part of the good health experience in my new bicycle life. I did spend days looking far and wide (from my desktop that is) for a bright, stylish, very light weight, backpack that could carry quite a bit of stuff, and this was the best that I found, and the price was right, so I'm sticking with it.