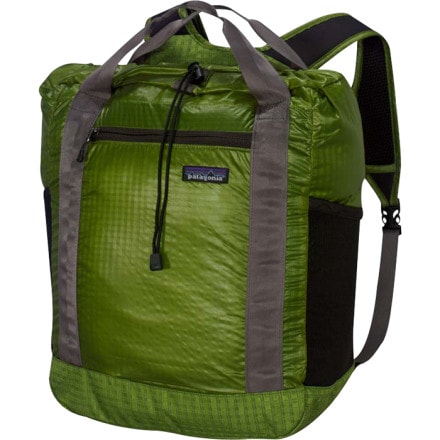 Description
The Patagonia Lightweight Travel Tote is one of the lightest, most compressible carry-on bags you can get.
The Lightweight Travel Tote collapses into its own pocket when you don't need it, making this Patagonia bag ideal for travel. The Lightweight Travel Tote is made of 30D silicone nylon and weighs only 11.5oz. FreeFlow shoulder straps make it comfortable to carry through the airport, and stretch mesh pockets on the sides give you a place to stash your water bottle or plane tickets. When you don't need it anymore, this Patagonia bag stuffs into is own pocket.
Share your thoughts
What do you think of the
Patagonia
Lightweight Travel Tote - 1350 cu in
? Share a...
Posted on
Write your question here...do the dimentions...
Write your question here...do the dimentions meet airline carry on requirements?
Responded on
Most airlines limit carry-on bags to 45 linear inches (ie. the total of the height, width, and depth of a bag). This bag is 14 x 12.5 x 7.5 and therefore is comfortably within the carry-on limits.

If you are looking for the largest legal carry-on bag, check out the Patagonia MLC
Posted on
Perfect Travel Tote
Last year, I purchased two of these Patagonia totes and yesterday, I ordered my third! I travel to Oaxaca, Mexico twice a year and detest how airlines take advantage of travelers by charging for what they consider excess baggage. With these totes, which fold into almost nothing, you can circumvent airline greed and actually pay for your totes by avoiding excess baggage charges by taking out one of your totes and stuffing it with heavy gear you can carry on. The airlines are shocked when I reduce the weight of the checked bags by using the Patagonia Travel Tote. In Oaxaca, I always carry one in my daypack and when I go to the market or bakery on my Downtube Folding Bike, which I also take with me, I take out my Tote, fill it up, and use it as a backpack. In my opinion, this is the perfect tote and I always have one handy at the university where I work. Get one--this is an item you simply can't do without.
Posted on
Right Stuff for City Travel
Got this travel tote/pack for trip to Europe and must say that I'm impressed. Though the ripstop material is thin, it seems very strong -- stronger than packable ripstop duffles that I've had (and these have survived incredible beatings during sailing trips).

The tote handles are wide and well fastened. The backpack straps hide away -- very hidden and flat -- they're thin but wide enough to be comfortable as long as the load isn't huge. The bottom is made of more rugged material than the ripstop as would be appropriate.

The whole tote/pack rolls up into a bundle a bit over 12" long and less than 3" round -- probably tighten down to 2" with a couple of compression straps.

Photos don't make this obvious, but the top does indeed have a zipper which runs down the center of a cover which is set down in the opening slightly -- so along with the draw string this would be pretty secure for city travel.

I got the black and it looks pretty cool, but just be aware that the ripstop has a *very* "wet look" finish.