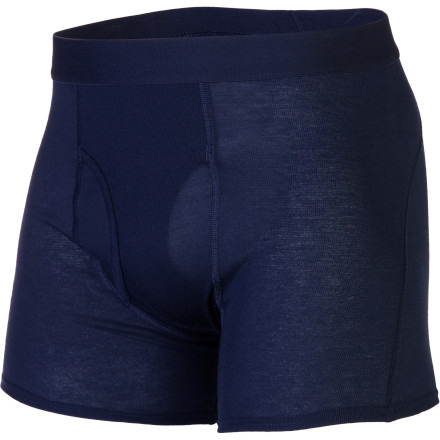 The Patagonia Men's Lightweight Boxer Briefs are formfitting, lightweight, and quick-drying. They feel soft and stretch nicely so you don't have to readjust halfway through your epic send of the day or your epic drop into bottomless pow.

Double-knit recycled polyester is soft and stretches with you so you don't have any restrictions while you climb, hike, backpack, ski, or ride
Man Panties for Phil and Annalee.
These are a great Man Panty.



I agree with Kevin below that they are kinda snug on the grapes. Though I don't mind it. I bought them because I wanted a supportive pair of undies for my front man Phil and his dirty sister Annalee.



What I like about these Man Panties is the fact they don't ride up when you slip into your other layers. Looser Boxers seem to ride up and I am always needing to slide my hands down between the undies and the next layer because they have ridden up and feel like they are in the front and rear pockets of the next layer. These things just slip right in and no issues whatsoever.



I wish I could say I get the Riverdance experience in these but alas the magic just isn't there. Don't get me wrong... You could still prance around the campsite in these and still be the talk of the outing and all. They just don't bring out the Celtic warrior princess in me.
Great boxers...a little tight
These boxers are a really nice product...although kinda expensive at 30 dollars for such a lightweight boxer. They do fit a little tighter than other patagonia boxers.