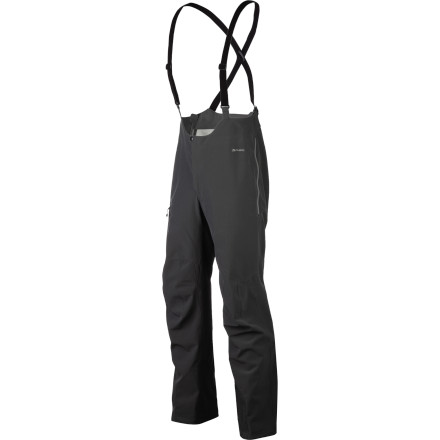 Detail Images

Community Images
For years, alpinists have desired a pant that would move freely like a softshell and protect from the cold like a hardshell, and Patagonia answered that desire with the Men's Knifeblade Softshell Pants. Made with Polartec Power Shield Pro fabric, these pants will keep you moving up the mountain while remaining breathable and protecting you from the intense cold at the same time. To add to the awesomeness, suspenders will keep the bib waist from bunching up in your harness so you don't have to readjust every pitch; just keep on climbing comfortably.
Polartec Power Shield Pro fabric blocks wind, breathes, and allows you to move freely while climbing
Fabric also wicks moisture so you stay dry
Mix of regular fit and fabric stretch ensures you don't get any restricted moments during a critical high-step
Elastic suspenders keep the low-cut bib from bunching up under your harness for comfortable climbing
Quarter-length zips on the sides offer restroom convenience (even with your harness on) without the weight of full-length zips
Pants weigh in at a modest 17.7oz so nothing holds you back during your ascent
Zippered cargo pocket holds essentials for the summit
Share your thoughts
What do you think of the
Patagonia
Knifeblade Softshell Pant - Men's
? Share a...
Late last winter (March 3, 2014) I purchased a pair of Patagonia Knifeblade pants from Backcountry. But because I purchased them late in the winter (for Virginia, anyway), I never got a chance to use them. This week we had the first winter weather here in Virginia so I tested them out.

I'm sad to say that I am disappointed in a product I paid $300 for.
These pants were advertised as inclement weather climbing gear (not summer gear).
Average Weather Conditions during my test were as follows:
Outside air temperature: 26 F
Wind: 10-12mph with gusts to 15mph
Precip: Snowing; blowing snow

Pros:
• these pants are moisture-resistant; they did not absorb any moisture and remained dry even though I got plenty of snow all over them for extended periods of time
• Ample room and length in the legs for layering and extended movement
Cons:
• No insulating capacity whatsoever; I wore light wool long underwear but my legs were cold. The weather conditions in my test were not severe or unusual. In my opinion these do not offer sufficient weather protection for several hours (or overnight) in a backcountry situation with variable winter weather conditions. They need at least one layer of wind block fabric or something to add minimal insulation. These are advertised as winter gear; not summer rain pants. Except for moisture resistance, a pair of cotton blue jeans over light wool underwear would provide more insulating capacity.
• The waist is too tight and the snap inadequate. I admit I'm 10 lbs overweight, and that's part of the problem. But when I bent over, like to re-tie a boot lace or pick something up, the waist snap unsnaps. Plus, it's too tight generally, unless a person has a 18-25 year-old physique. There should be some elasticity in the waist to accommodate different waist sizes, and allow for extra strain on the waist when bending.
Overall: Good quality in construction, but the two dings above make the product unacceptable in my view - This is not a garment I feel confident wearing in winter conditions.
I would like to be able to return these and get my money back, but I've gone beyond Backcountry's "return policy window."
5 star fabric, 1 star fit.
Familiarity:

I've put it through the wringer

Fit:

True to size
The Good: Fabric breathes well for a membrane soft shell, nice and thin so you can layer appropriately for conditions, quite weather resistant as others have noted, good pocket position, minimal design = light weight!
The Bad: Patagonia fit flub. Seriously terrible, terrible design for a supposedly athletic pant. I'm 6', 180# and 33 waist. I have a size M. They are not trim enough for climbing and they're not baggy enough to look good skiing. They are slightly baggier above the knee than below but not even remotely trim enough to be considered an athletic/european/climbing fit. As such, they look absolutely ridiculous. Go try on a few of the euro brands and you will see what true ergo oriented designers can do. Often they still fit over ski boots! All patagonia had to do was take their old alpine (or even backcountry w/o the vents) guide pant design and change up the fabric. They would have had a 5 star product right out of the gate. Too many compromises on this pant and the result is a pair of really really expensive hospital scrubs with suspenders....who wants suspenders!?!? They fall off your shoulders and just create more hassle. These aren't even a true bib that you could say significantly improves resistance to powder snow. Classic patagonia bringing a great idea to its knees with fit. My guess is this material is so expensive they had to give up on the features and design work to make them anywhere near affordable.

So get something else you might say? No, I'm sucking on the crack pipe of power shield pro and I want more. These have been resort skiing, backcountry skiing and alpine climbing in california and france and they're the only pant I can imagine taking on an expedition as my only pant (+ base layer). Plus, at 60% off from the patagonia outlet store, I suppose I get what I paid for in fit. Hopefully I can destroy them by the time a euro brand makes a decent competitor.
Excellent fabric, great for ski touring
Familiarity:

I've put it through the wringer
Myself, and a few of my ski partners rock these pants pretty much all the time ski touring. The fabric is beyond great for breathability, but also performs in wet weather. Though sitting around in wet conditions will leave you soaked right up, if your moving, these pants will perform in pretty much anything you can throw at 'em (save for downpores).

The sizing is snug, and the cuffs are hard to yank over ski boots if you go too slim. I size mine up for a little baggier fit and room for my boots, but that leaves the waist a little loose for sure. Lucky the suspenders work great.

The side zips are great for dumping loads of air, if you're really working hard, but designed for dumping other loads, which is a great feature when ya gotta go in the cold! Ha

The one pocket is easy to get used to, and though there's not much room for any gear, at least there's no fabric binding with each step, as is a problem with many cargo or overpocketed touring pants.
Super comfy
Gender:

Male

Familiarity:

I've put it through the wringer

Fit:

True to size
I wore these pants for almost 2 months in a row while in Nepal. The great thing about these pants for me were that I could sleep with them in my bag for alpine starts. I have found hard shells tend to get wrapped around important manly bits during the middle of the night. I found the leg pocket really handy and didnt interfere with my harness at all. I wished there was a pocket on the other leg as I used it all the time. Really liked the length of these pants. I wore them over LS Baruntse and they worked really well.
Awesome pants, minor tweaks needed
Gender:

Male

Familiarity:

I've used it several times

Fit:

True to size
I hate it when a harness, weighted with gear, drags your pants down with it.

The Knifeblades perfectly combat this problem with the high-waist and suspenders. Even compared to other pants I've had with suspenders, the Knifeblades climb the best under a harness.

So far I like the powershield pro and have been impressed with it's breathability and protection - although still not willing to commit to a jacket with this material quite yet.

The suspenders are poorly designed, at least for my body shape/size. To get them tight enough the "buckle" has to be all the way up by my shoulders where they sit under my pack straps and are extremely uncomfortable.

Also, the one and only pocket is just about useless as soon as you put a harness on as it sits directly under the leg loop.

Finally, as a pant that is billed as alpine climbing specific, I'm surprised that it has thinner and less reinforced material than the Alpine Guide pant, but I guess that's what Patagonia's incredible warranty is supposed to cover as far as replacement/repair (as long as the actually carry this line of pant for more than a season or two).

Overall, awesome pant but in need of a few tweaks, otherwise may be one of the best alpine pants available.
I've been eyeing these pants since September...
I've been eyeing these pants since September when they were released. I have high expectations for the Power Shield Pro. Has anyone out there used these pants yet? Thoughts?? I'm thinking either these, which I have yet to try on, or the new Black Diamond Dawn Approach pants, which I have tried on and which fit pretty damn good ... :-)
Best Answer
I've worn the Knifeblade Pullover extensively, and Power Shield Pro lives up to the hype. Haven't had it in full on rain, but some pretty nasty heavy snow conditions and it has performed incredibly well. The breathability is awesome, and it keeps me just about as dry as a hard shell.
(also, I'm not familiar with the dawn approach, but I might be inclined to buy a pant from a company who has been making technical clothing for several years over a first year brand?)
Did you mind not having hand pockets? I understand why Patagonia chose to eliminate them - to conserve weight & keep a clean, streamline approach, but I'm a big fan of pockets & using my body heat to take away the cold sting (barfies!)

Also, how is the fit in the lower leg area? I hate when manufacturers attempt to make pants fit mountaineering/ski boots at the same time. All that does for us climbers in leave crampon slashes in expensive fabric! What size do you wear?
Will these fit over my ski boots?
Will these fit over my ski boots?
Depends on the boot, the Knifeblade pants are designed as an alpine climbing pant and intended to fit over a mountaineering boot. Should fit some alpine touring boots though, might be a stretch for a full alpine boot.
The fit just fine over my Dynafit TLT 5s, however velcro catches the inside material. To fix this I put some tape over the power strap and voila! All good, not pretty, but it works.