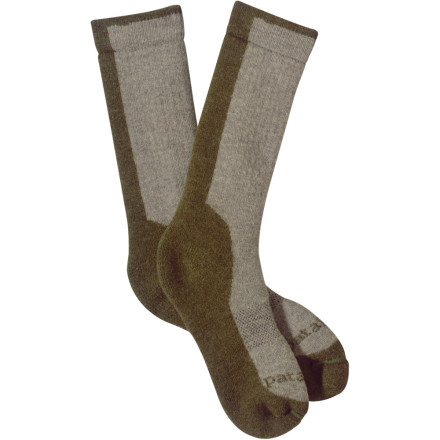 Detail Images
Are you tired of frozen toes whenever you head into the mountains? Keep you feet warm with the Patagonia Heavyweight Mountaineering Socks. Their merino wool material provides a soft feel and keeps your feet warm even if you manage to get them wet.
Thick, warm, and very cushiony. Great if you have narrow feet and need to fill up some space in your boots. The weave is nice and dense, so I expect these to last. Easy care--machine washable and drying has worked fine.
Incredibly warm and comfortable
Have two pairs of these socks and wore them interchangeably on a 14 day expedition in Antarctica. These socks are the best ones I own - they are comfortable, stay in place, are incredibly warm, do not retain odor, and will dry out pretty quickly for such a thick sock. Would recommend them to anyone doing high altitude or extreme cold temperature activities.
Yeah, just like everyone else said.....an awesome mountaineering sock. Dries super fast, great for sticking at the bottom of your sleeping bag at night for drying. Keeps feet warm, or warm enough on colder outings.
The one true mountaineering sock, warmer, drier and comfier than the smartwools.
Worth the cash (I bought two pair). I get cold feet and these things keep them toasty. Like John said below, you may want to take your shoe/boot size into consideration with these socks. They are THICK. My La Sportiva Glaciers still fit (they are my normal shoe size), but the fit is fairly tight. If you are buying new boots, I would buy these socks, and take them with you to try on boots. You may have to go up a half size or more over normal (that is common since you're planning to wear thicker socks). I also bought the white liner hiking socks for a liner. Bottom line, I love em!
These socks are so thick and plush and soft and warm that your feet will melt and fall in love.

I own mountaineering socks from Darn Tough (longest lasting) Smartwool (cheapest) and another few pairs I don't remember the names of - These socks kick all their asses combined.

Now for the bad news... they really are monstrously THICK and your boots may not fit you anymore unless you pullout your insoles.
These socks are fantastic. They were the answer to the many prayers from atop my cold, windy deer stand. I did not have to layer with these like I had to do with other socks. Just one pair kept my feet toasty, dry, and comfortable. They are the softest sock I have ever worn, they have unmatched warmth, and I foresee them lasting me a very, very long time. They are another item typical of the quality I have come to expect from Patagonia.

*Make sure to check the sizing chart before you order. They run true to size, but you don't want to end up with more or less sock than you need.
What else is there to say? They're super dry and warm in any condition. They're not stiff and itchy like other wool socks. I have skinny calves and these fit perfectly!
No more frozen toes at night.
Really nice and warm, even in wet, cold conditions of the mountains of Southeast Alaska. I kept these in my sleeping bag most of the expedition, and were something to look forward to after a cold wet day. When I did use them during the day, they kept my feet warm compared to other socks, but how warm can you get when you're constantly standing, sitting, walking. climbing, etc. on snow.
Where have you been all my life?
Got a pair of these in Ouray a couple weeks ago. I wore them all week. Best mountaineering socks I've ever owned. Period. Thick, warm, fit well, nice cushion for rigid boots. Buy some!
HANDS DOWN FAVORITE SOCK!
i have several pairs of nifty and fancy socks...columbia, smartwool, etc..THESE take the cake. SUPER comfy...super thick and WARM! unbelievable how much snow got into my boots and these kept my feet warm! i cant tell ya enough how you should invest in a pair of these! i think they'll last a thousand years.
I bought these socks for my husband. He loves them! They are pricey but his feet are worth it. He wore them all day in the cold and snow and his feet stayed warm all day. They are also cushiony and keep the odor and sweat down!! I couldn't ask for more!!
Planning a 7-day trip in March on the AT...
Planning a 7-day trip in March on the AT through Smokies from Fontana Lake to Davenport Gap. Will these keep my feet dry as well as warm?
, ☃bcs_badge_alumni_label☃
Best Answer
I think getting these socks for that specific trip is a tad extreme. You can easily get away with some Smartwool running/hiking socks. I personally love the Smartwool Adrenaline sock line, particularly:

http://www.backcountry.com/outdoorgear/SmartWool-Adrenaline-Light-Mini-Sock/SWL0009M.html

I'd personally recommend getting a few pair of those and some trail runner shoes, but everyone has their own hiking style. I've done most of the AT in the Smokies, along with many of the side trails there... beautiful area! Enjoy!
Great socks, the thickest socks i've found so far. And I think they are definitely more durable than smartwool socks.
Will they shrink if I wash & dry them with...
Will they shrink if I wash & dry them with the rest of my clothes?
Nolan, the Heavyweight Mountaineering socks are super durable, and definitely machine washable and dryable and should hold up fine in the wash with your other clothes.
I've washed them several times but never put them through the dryer. They seem to loose some of its original puffiness after the first wash and shrink just a bit.
I dried mine on low heat and noticed only a tiny bit of shrinkage. I actually wanted them to shrink, so tried drying them on medium heat which did shrink them.
I have problem that my feet never warmup unless I walk or exercise,
however with tese socks together with some protective eg very light covering, socks you are ready to face the extreme cold wether.
Aman
Very durable construction. Wicks and vents my feet. Super comfortable. Very warm. Use em for all types of outdoor winter activities. A+
How tall are these socks?
How tall are these socks?
About midway up the calf, so around 6-7 inches above your heel.
These socks are so warm and toasty. They do feel like there is a bunch of extra padding and softness with these socks. I would definitely choose these socks in the very cold weather..
Warm, high quality, too snug
I live in interior Alaska and walk or XC ski almost daily and these socks are comfy even at subzero temperatures. I find them difficult to put on because of the very snug upper fit around the calf.