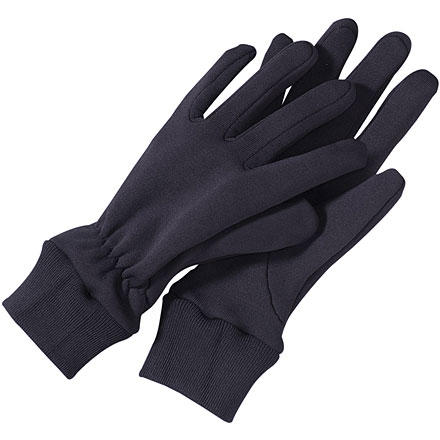 The Patagonia Expedition Weight Glove Liners are like plush thermal underwear for your hands. Write that down. These liners offer superb warmth with the moisture wicking, quick drying properties of Capilene fleece. To keep your digits moving smoothly, Patagonia mixes in stretchy, form fitting Spandex. Feel like you're wearing nothing at all. Wear the liner with your mittens or gloves for extreme protection from extrme elements. A ribbed cuff for arm closure and minimal finger bulk fit well inside your shells. Having a liner lets you take your gloves off to perform precise tasks in the frigid cold, like getting your PB&J out of the bottom your pack, while still protecting your hands.
I've used probably every generation of the Exped Glove. The current generation is one of the best, if not THE best. By themselves they supply needed warmth in milder conditions. Under mittens they supply added warmth, plus in serious cold they put a layer of protection between your hands and the brutal outside world when you have to do the fiddly stuff. I also wear these under shell gloves for ice climbing. Swap in a fresh dry pair each pitch of climbing, dry them in my clothes when at the belay.

Negatives. They tend to wear out quickly, usually one or both index fingers. For a light glove like this, used for handling rough objects, I suppose that's not surprising. Also, I find that for my glove size Patagonia's idea of finger length is a bit shorter than my actual finger lengths. Not a huge issue, but check the fit on your hands. Otherwise, designed an made with Patagonia's characteristic attention to detail.
I really like these liners. This is the second time I ordered them unfortunately I misplaced the first pair. They are a good fit for me. Thanks
I got these liners to replace a pair I had with some shells. I have large hands and the fit was spot on. They keep my hands warm alone in temps in the teens.
The stretchy fit is great and they breathe as well. I would by 10m pr. if I had the cash. I can tie boots and open pack with them on as well, so great fit, dexterity and warmth. Need I say anymore.
I got these for when I go snowboarding at night mostly because it's a bit colder than the day, and I wanted another layer when I took off my mittens to attach/detach my leash. So I've been wearing them under my gordini mittens---and it's been sooo warm!! such an improvement. I'd highly recommend for chilly hands. The only thing is that the right glove seems to be a little smaller and takes a little longer to get on, but not a problem in the big scheme of things. They are cold when worn by themselves since they don't have any windproofing, but help your hands warm up quickly and stay warm in another pair of gloves. And as far as I know, the size chart is accurate--it's what I based my order on and the smalls fit well for me. I'm overall really happy with the purchase!!
Worked great for me. My hands are the warmest they've been in years.
Worked great for me. My hands are the warmest they've been in years.
This glove liners are very good and warm, but not thin. And mine was something wrong. What I bought was XS size and the lengths of the little finger of each were different. They need more delicate finish when made.
how cold can I expect it to be before i...
how cold can I expect it to be before i start to lose warmth (if wearing alone?)
Depends how windy it is and how active you are. I've worn these alone for XC skiing in the upper 20s and been fine - on a still day. Breeze cuts right through them though, so if it's breezy Angus is probably on target, 40s.
, ☃bcs_badge_alumni_label☃
Great Buy - Nice and Warm
These gloves are great - My hands FREEZE when I am skiing so I needed to buy something to wear underneath ski gloves. I used to use the cheap glove liners that anyone can buy at Target, but spending the extra money on these quality gloves was worth it. They are very soft and warm.
Patagonia Expedition Weight Gloves
I used these underwater to 150' in 38F water (as liners to dry gloves!) and they kept my hands warms. Even through extended deco stops, my hands were warm. These liners replaced a heavy pair of woolen gloves. I wonder why I waited so long to try something new!?
I have pretty large hands for a female (generally don't find women's gloves that fit), but the large in these gloves were too big - I had to return them. Might want to order smaller than your usual size.
I bought these liners to use underneath my winter leather motorcycle gloves. For stop and go use in 30 degree weather they performed well. When I got on the highway and got up to cruising speed it didn't take long for my hands to get numb. I'm not saying they are not good but they just didnt keep my hands as warm as I would have liked. I don't know that anything out there can do the job when your riding your motorcycle in freezing weather.