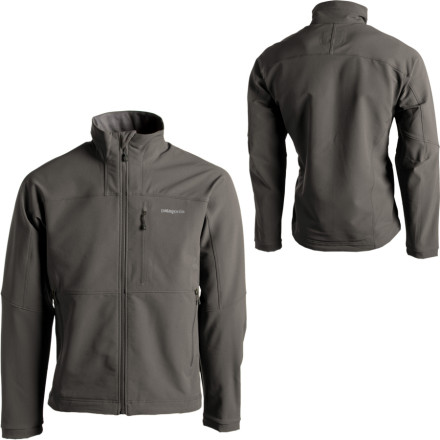 Detail Images

Community Images
Look to the Patagonia Men's Guide Softshell Jacket when you need a tough-as-nails jacket that won't even flinch in the face of cold, windy weather. Harsh weather shutters at the mere sight of this wind- and weather-resistant, breathable, stretchy jacket. A moisture-wicking brushed interior softens the feel, and this jacket's slim fit means it's easy to layer a waterproof shell on top when heavy storms roll in. After years of abuse, you can recycle this jacket through Patagonia's Common Threads Recycling Program.
Simple, functional softshell
Like other reviews, this doesn't have very many bells and whistles. Just a light softshell with a nice, soft lining. Very versatile, can be used in spring or summer, not quite warm enough alone in winter, but athletic fitting enough to use a layer (better off using synthetic or down sweater). Great for skinning in the backcountry or hiking peaks on a colder day in the summer. So breathable and yet slightly waterproof, seems to keep you at just the right body temp throughout the day.

Fit : advertised as "slim". I'm 5'11 185, 36" waist and the Large fit me perfectly. Not a ton of room to layer underneath, but I couldn't ask for a better fit, perfect mix between slim and regular.

Color : I was forced to get an obnoxiously orange color, since thats all REI had in my size at the time (used my REI dividend). I really liked the neutrality of the Alpha Green, just didn't work out with my budget at the time. I've grown to get used to the Orange (clementine) and at the very least, you don't have to worry about getting shot in hunting season. Truly, a multi-functional piece of gear.

Price : great deal for the price. There is a less expensive Light Guide, but that is good for nothing more than laps at the local park in the morning, too light. If this had an Arctery'x logo on it, it'd probably run you 2 hundo, if it were North Face, like the Apex Shell they offer, it'd be less, but it'd be much heavier and not as good of an overall deal for what you get.
Packs plenty of warmth for being so light. Sheds off light rain and wind no problem and is super breathable. Opening up the pockets dumps some heat if it starts to get too warm.
Another awesome jacket from Patagonia
I have several jackets and fleeces from Patagonia and I think the Guide is my most used after my R1. The only other jacket that I have that I can compare it to is my Arc'teryx Epsilon AR - except I think the Guide has a lot more function and purpose. The fabric on the Guide is not too thick and it is indeed stretchy. There is some fleece on the inside for light insulation but I would layer if I was wearing this on colder days. There are 3 pockets on the inside (1 chest, 2 hand) and they all get plenty use with all the stuff I carry. I think it has a very nice casual look so you can wear it around downtown after you hike. Overall, I love my Guide jacket and I would recommend it.
I am 6' 2'' 175lbs, with a long spine. I...
I am 6' 2'' 175lbs, with a long spine. I want a snug fit that won't ride up under a harness....question M or Large?
Best Answer
I'm about an inch taller and the same weight and have this jacket in the hooded version. The medium fits me well (and I usually wear a medium in most backpack frames as well, if that helps) and I've ice climbed in it several times without any ridding up.
Good quality for the price
I agree with most of the comments made in the previous review. Nice softshell, windproof, water resistant, relatively warm for a light jacket. Good Patagonia quality, great price for what you get. It doesn't have any technical bells & whistles like pit zips or wrist cinch but I recommend it. I also have an Arcteryx Sigma AR & the Gamma MX softshell in size XL. They are a little large but can take some layering.

I tried this jackets in large but decided on a medium. I'm 5'10" 165 with athletic build and I got the guide jacket in a medium for a snug fit and can still get a base layer and a Patagonia r1 under it. Nice jacket.
Hey, I was just wondering what temperature...
Hey, I was just wondering what temperature range this jacket is best for as a stand alone jacket. I'm looking for a good jacket to use in early winter before I have to break out the bigger coat. Thanks.
Best Answer
Chris,
I'd say with a long sleeve shirt on underneath the Guide Jacket would be good to about 50 degrees? It's not insulated, but it blocks the wind well and has a light fleece lining on the interior. Definitely a great early fall and spring jacket.