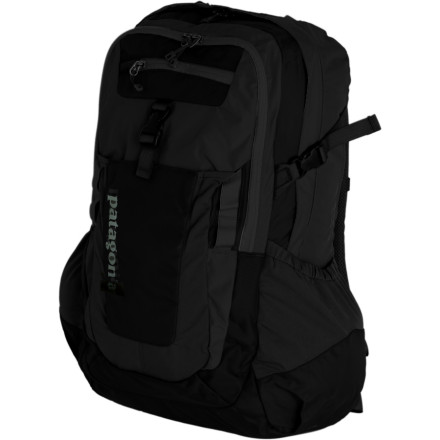 Detail Images

Community Images
When you need a little more room than a standard daypack and durability is a must, the Patagonia Fuego Backpack comes through with flying colors. Its beefy 32-liter capacity easily stands up to a day's commute, including lunch and your laptop, and the 840-denier ballistic nylon bottom will stand up to more punishment than a New York City subway car.
Padded, raised compartment protects your 17-inch laptop
Hydration-ready for hiking and cycling
Exterior zip pocket for your wallet and phone
Micro-fleece lined pocket protects your shades or MP3 player
Nice pack. Comparable to many north face packs
Awesome pack great for any activity
Familiarity:

I've put it through the wringer
Awesome pack, used for travelling with kids/business/hiking, works for all. Lots of space and comfortable
Awesome Pack!
Familiarity:

I've put it through the wringer
I love this backpack! I bought it looking for backpack i could use for school and for camping. It worked out great. It is very roomy and holds all of my school books and binders with ease. It fits great and keeps my from hunching over from the weight of my things like my old backpack did. I would recommend it for high school aged people and up. :)
I used this backpack this past school year. It held up wonderfully. Handled all the books and school stuff i threw at it, with none of the seams failing or bulging. Cool colors, carries weight well, nice backpack. My only grip is I wish the back panel vented better, because on hot days when walking to classes, it is easy to get some back sweat.
I researched backpacks for probably a month before finally deciding on this one and I am so happy with my decision! I've had it for about a month now, and I use it for school 4 days a week. This is by far the best backpack I have ever owned. I am a nursing student, so capacity was a huge selling point for me. I usually carry about two to three 2-3" books, plus my 17" laptop, one or two smaller textbooks, and a notebook, and there's still room to spare. The backpack doesn't look bulky when full and it is so comfortable to carry. It actually feels lighter carrying the same books that I would carry in my old backpack. I had a momentary panic when I got it and the tag said the sleeve fit a 15" laptop, but Backcountry was correct - it DOES fit a 17" laptop! The side pockets are nice and deep - I carry a 32 oz water bottle (not a Nalgene - it's taller and thinner) and there's only about a 1/4" of water bottle underneath the cap that extends above the pocket. I can carry a ton of pens, pencils, and office supplies in the pen pocket, which is also nice and deep for shoving other stuff in. I'm looking forward to using this backpack for a long time to come!
I carry a lot of stuff in this pack for school. usually 2-3 thick textbooks, 2-3 binders, lap top, pens, pencils, calculator, 32 ounce water bottle, big lunch, snow gloves, beanie, and i strap my coat to the side of it when i'm not wearing it. it's very very durable and the zippers seem to be durable when i overload the pack. I'll be using this pack as an overnight hiking pack once it warms up a little. totally satisfied with it. and it doesn't look too bulky or anything when it is full.
Good, but...
Gender:

Male

Familiarity:

I've put it through the wringer
I have been using this bag for over a year as a daily hauler for my laptop and some work files. It has been a good pack, the straps are comfortable and there seems to be plenty of pockets. It looks sweet and I get compliments all the time.



My complaint would be that because the laptop sleeve doesn't go to the bottom of the bag that it causes and weird fold in the lower back from being set upright on the ground. Granted this is only after being used daily for 6 months or so but still annoying. Also the strechy pockets on the sides are not very deep, my nalgenes pop out all the time
Great school backpack
Gender:

Female

Familiarity:

I've used it several times
I haul a lot of junk with me to school everyday, and this backpack fits it all! Laptop, books, binders, extra clothes, jacket, 1 million pens, etc... The lunch gets a little squished if I have all my books, but it still all fits! Lots of pockets, and the water bottle pockets are deep and secure. I bought Bandana Blue - the color is a little deeper than pictured, but I think it looks better!
I bought this pack on a whim (steep and cheap strikes again) and it's been one of my best purchases. I use it as a school backpack, and it does absolutely everything I need it to. The main compartment easily fits a computer, multiple classes worth of books, and still has room to spare for when I feel like throwing in a change of clothes and set of climbing shoes. It's durable, comfortable, and a lovely yellow color. What more could you ask?
My son needs a backpack to go outdoors...
My son needs a backpack to go outdoors from class to class in high school – a campus style high school. We would like his books/supplies, etc. to stay dry. What's a good waterproof pack?
The Patagonia Black Hole Pack is a great option. The fabric is waterproof and super durable and would make a great high school pack.
Most of the regular Patagonia day packs like the Fuego here will do pretty well day to day, and in light rain. If it's going to be an all out down pour, then the contents would get wet, but just going from class to class he should be fine.
I use the Fuego for walking around campus, and it works great for me. Plenty of room for books, light rain's no problem
How well will this pack fit under an airline...
How well will this pack fit under an airline seat
looking at the dimensions, its probably going to be a bit too long(tall) to fit under seats in most planes. Probably best to go with something smaller. I've used the Patagonia Half-Mass on many flights and it will fit under the seat, but it's a messenger style bag.
It'll work fine under an ariline seat - I've got the Chacabuco pack which is a tad bigger and travel with it all the time and always have it under the seat in front of me.
It'll work fine under an airline seat - I've got the Chacabuco pack which is a tad bigger and travel with it all the time and always have it under the seat in front of me.
provided it's not packed super full of stuff, it'll fit fine
I always use my fuego as a carry-on and never had a problem fitting it under the seat. Usually carrying a laptop, snacks, a full change of clothes, sandals and other electronics for the flight.
Good around town, good on the trail
This back-pack is a great size for my daily half-hour walks to and from the office. I've also brought it on a few short day hikes.

I toss it on the floor of my office every day and then on the floor of my home every night and I've seen nothing so far that makes me doubt it has all the legendary Patagonia durability that I've come to expect.

It may be a little bigger than the average day pack, but I don't find it awkward at all when it's not full. It adjusts nicely when mostly empty and then expands perfectly when full. I love the fact that the laptop pocket doesn't go all the way to the bottom of the backpack because that gives added protection to my laptop when I throw (er...I mean "place") my backpack on the floor.

Zippers seem very well made and I don't find them difficult to work with. Love the side pockets. Inner pocket holds a hydration bladder perfectly.

Overall a well designed, sturdy backpack. If it starts to show wear and tear or I find any flaws I'll be back to update you.
I'm looking for a backpack for college,...
I'm looking for a backpack for college, as my current one is ripping out where the straps meet the pack. I walk to school , and often have 3-4 classes a day , so lots of heavy textbooks plus a laptop.
Overall I'm pretty impressed with what I've seen of the Fuego ...however I keep seeing the negatives about the zippers, how big of a deal is it folks ? make or break? I will be stuffing quite full most days... Thanks!
Best Answer
Liam,
I'm a little biased as the rep, but I've got a Chacabuco pack that incorporates the same zippers as the Fuego here. I've put that pupy through the ringer for sure, packed to the brim, checked at the airport, and definitely some heavy use but haven't had any zipper problems. I'd give it a shot, and if you have any trouble Backcountry and Patagonia both fully stand behind the product for the life of the product.
Liam,
I have had no problems with the zippers. After I read your question I grabbed my Fuego and zipped/unzipped the two main compartments several times trying to figure out what the fuss is all about, but I just can't find anything wrong with them. Maybe my pack is newer (I've had it for two months) than the other packs being reviewed here. But I would say that it is definitely NOT a big deal. I think you will LOVE this pack.
Stephen
I've used this pack for a year at college, packing it full of heavy textbooks and a computer. I've never had any problems with the zippers, and love everything about this pack. It seems like there's a perfect place or compartment for everything I want to pack
I recently got this back pack and i love it. Its large enough to carry everything you need and very comfortable on your back. there is couple of things i really like about this back pack. There is a laptop case built in, there is a hole for an optional camelbak, and there's lots of little pockets to put stuff in. Overall i would recommend this backpack to anyone.
Purchased this bag a few months ago and has excelled at everything I have tossed at it or in it. I use it mostly for a commuting back to and from work and the gym on my bike. It carries my lap top in a padded sleeve and has plenty of room for other gear. The material is water repellent, as I had this tested the hard way in a rain storm to work and everything stayed dry. Overall its a great back comfortable to wear, and looks great too!! I highly recommend it.
Love the size! I took both camping and use around school! Can fit all of my books and it is very comfortable.
Excellent in all aspects!
This is a fantastic pack! It's everything you'd expect from a well respected company like Patagonia. Everything is well thought out and easy to use. As a student I ride my bike daily and do plenty of walking around all day long,and I fill this pack with books and my laptop and Kleen Kanteens and anything else I can think of and its still comfortable to wear and easy to carry around all day. I'm looking forward to doing some hiking with it when I get a chance because I know it'll make an excellent hiking pack!!! Great Product from a Great Company, buy it , you won't be disappointed!