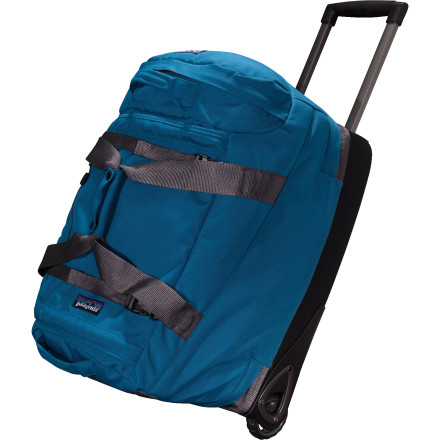 Detail Images
The Patagonia Freewheeler 4000cu in Rolling Gear Bag is a multifunctional, compartmentalized, wheeled gear bag built to haul heavy loads. We're not talking about lugging around catalytic converters, but it could probably do that too. This newly redesigned Patagonia wheeled bag features an intelligent pocket layout built to carry a week's worth of clothing, accessories, shoes, and excess gear. Patagonia knows you don't want your stinky walking shoes right next to your clean dinner clothes, so it separated their respective interior sections with a floating baffle that allows you to adjust the volume of each. Smooth-rolling durable wheels and a two-position handle makes the Freewheeler Rolling Gear Bag a smooth traveler.
What do you think about this product?
Have questions about this product?
this is my second one.....I had the 1st for 15 years of traveling. Lots of flights to EU with bag checked in. I have taken it as carry on as well. I bought a second to force more family members to use it..... very well designed. very durable. some updated tweaks that made real sense......
can this be used as a carry on? I cannot...
can this be used as a carry on? I cannot tell which of your dimensions is H, W or L. Alaksa klimit is 10H, 17 inches W and 24 le
If that's your limit, then this won't fit. This is 22L, 15W, 12.5H. It's possible, since it's not very rigid, that you could squish it to fit, but otherwise no.