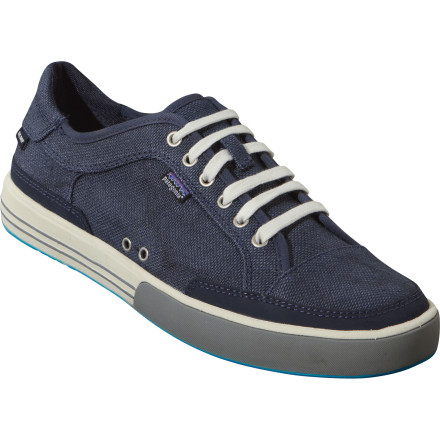 Detail Images
The Patagonia Whino Lace Shoe rocks an eco-conscious, vegan-friendly design to go easy on Mother Earth and mesh seamlessly with your lifestyle. The natural upper breathes well and is made from hemp, which grows quickly and biodegrades faster than synthetics. The PU footbed features 70-percent-recycled materials, and the partially-recycled outsole provides traction over slippery surfaces.
Nice casual shoes, but agree on sizing down
Really like these shoes - look good and are comfortable. Agree with the other reviewers though that they run big - normally I'm a 10.5, but bought the 10 and they're still quite roomy.
As the other reviewers have said, they are pretty stiff out of the box and can be a bit uncomfortable at first. However, as they have broken in, I have found myself wearing them quite a bit. They've got a cool style, look great with jeans, and let your feet breathe.
I really like these shoes! They are well made and lighter than I thought they would be. I have the dark burlap, which is really not very dark. It's a lighter grey. I wear a size 12 in all Nike and Adidas athletic shoes, but went with an 11.5 for these and they fit great. My only non-favorable comments would be that they take a little bit to soften up, especially around the front crease where the shoe bends when you walk. It was a not painful or anything, but just a little noticeable until they broke in a bit. Also, I think the laces are a bit too long. I don't tie my shoes super tight, but don't walk around with them flopping on my feet either. When I tie these a bit snug and/or normal, the laces are pretty long. They just about touch the ground unless I double knot them.

Other than that I really like these shoes. Being made of hemp and having partially recycled inner and outer materials is not a bad thing either. They also breath well and the hemp is thicker and so far stronger than other canvas shoes like Chuck T's. Plus, they are made by Patagonia, which tends to have a pretty strong track record for quality apparel and gear.
It took a little to get broken in. At first the tongue was causing my ankle discomfort, but that went away after a week. Like I said its a great looking shoe. my mistake was using regular shoe cleaner on it. It faded the color. It's made out of hemp so it was my own fault for not searching for right cleaner. I must say it gets dirty easy.