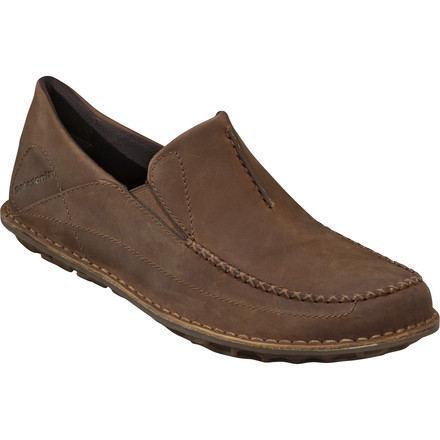 Detail Images

Videos

Community Images
The eco-conscious Patagonia Men's Pau Shoe is a sophisticated slip-on for earth-friendly feet. Patagonia's take on the laceless moccasin has a grippy outsole stitched to the upper for more than just around-the-house shuffling, and a wool footbed that's naturally thermostatic and conforms to your feet for support. Sounds luxurious, and it is, but this is not ordinary footwear. From the ISO 14001-compliant leather upper, to the 70% sustainable Havea milk latex outsole, the Pau is a casual shoe with an environmental outlook that's built right in, so you can go green without going barefoot.
I really want to like these shoes. So much that I have gone through 4 pairs of them since Patagonia began making shoes. Two issues here... Issue 1: The sole and lining in the back both wear through in about a year. By sole wearing through, I mean completely disappears in the heel so that water or anything else gets through and they need to be replaced. The first word in the product description is sturdy; this shoe is not sturdy. Issue 2: Each time I have needed to replace these shoes, the price has gone up about $10 (every year or so). Now at $140, I cannot justify another pair knowing that I will only get one year of wear out of the shoe. The price should be $90, but it's Patagonia. They are great looking shoes and very comfortable, just not durable enough to be worth the $140 premium. I would expect a more durable product from one of my favorite companies, but I just can't do it again.
Comfortable shoes, easy on, dig the simple looks. Toe is more rounded as others have noted, but I like it. Good for about 8 hours on your feet, but beyond that the dogs get pretty achy. Wore a hole in the heel of the sole after 1.5 years, but that is with a good bit of walking every day.
Patagonia Footwear Pau Shoe - Men's
I love the shoes! I do have to say they look a bit more clownish than the picture portrays. Regardless, I have worn them almost everyday since they have arrived. High quality, stylish, and comfortable. You can wear these bad boys up to the hill and to your meetings!
Nice shoe. Picture is deceiving.
So, let's start by saying these are fantastic shoes. The build quality is stellar. They are extremely comfortable. They look professional enough for casual Fridays. I have no doubt that these will be my go-to casual shoe for years.

HOWEVER, I am a little disappointed in a few aspects. First, the price. It's a very expensive shoe. Second, the photo on backcountry.com is not very accurate. Be sure to google these shoes first and check out the overhead view. These are much more rounded and clowny than the picture on backcountry shows. I was expect a driving shoe look, but I got a clumsy-looking leather slipper. Last, the leather stretches significantly during the first week of wear. I'm normally a 9.5 and the length/toebox of this shoe are perfect, but they don't have the tight fit I was hoping for around my arch.

So, if you are OK with all of those things, go ahead and buy the shoe. I'm learning to love them and wear big socks, but it's not ideal- especially after spending $130.
I bought a pair in October of 2009 and have wore them a minimum of 3 days a week ever since! I have been so impresed by there durability that I have started looking for a similar pair to have the comfort, but different look. The shoes have held up great and have alot of life left in them!
best looking slip on yet.
these are awesome slip ons. hands down the best looking ones on the market. the stitching around the box of the toe...could be a littttle more discrete, but the overall appearance looks great. very comfy and lightweight.
These are going to run the standard width for a male, which is a D width.
Comfy, but no arch support
These are great, durable, and pretty comfy shoes. However, after a long day on you're feet, these aren't the best. Its also difficult to replace the insole due to the last of the shoe. They are durable though and look great with slacks or jeans!
Unanswered Question
hi! Do you have Walnut size 7.0??
hi!
Do you have Walnut size 7.0??
Style and comfort are a beautiful combination and they come together perfectly in this shoe. Love 'em.