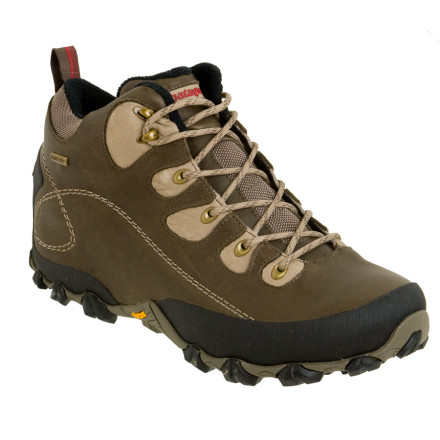 Detail Images

Community Images
The Patagonia Nomad GTX Hiking Boot is an earth-friendly boot with a Gore-Tex insert so a little rain won't ruin the fun as you hike, camp, and play in the outdoors.
Gore-Tex insert is waterproof and breathable to keep your feet dry
The Vibram Ecostep outsole is made from 30% recycled rubber so you can be mindful of your environment without slipping and falling
A Capilene lining wicks moisture from your feet
The full-grain leather upper is supportive for moderate loads, and the leather is tanned in an environmentally friendly manner
The 70% recycled synthetic cork footbed has a carbon component with antimicrobial properties to keep your boots from stinking up the tent
4 plus years and running strong!!
Familiarity:

I've put it through the wringer

Fit:

True to size
I wear these boots from November till around May for the Northeast fall/winter months. I also use them for day hikes all year round. After almost 5 years they're very broken in and still feel great on my feet. I cringe the day i'll need to replace them.
First Impressions
Familiarity:

I've used it several times

Fit:

Runs small
I stumbled upon this pair of Nomads at Gander Mountain on sale last week. After trying them on, I was sold on the spot, despite them being technically one shoe size larger than my usual, due to the rare comfortable but stable fit, for my fat, flat feet. So far they have been great all purpose shoes, both for the city streets, hiking trail and under the squat rack at the gym. Long-term toughness remains to be tested.
Here goes, I like this boot a lot, but I have to say I like its predecessor much better. This boot used to have the most cushion out of any boot I had ever worn in my life. It use to feel like a down mitten enveloping my foot. Well patagonia sacrificed a bit of padding and now we have the Nomad in front of you. It does seem like they are weaning the Nomad series out, but while they are still here lets talk about some pros and cons. I test a lot of gear for a lot of local and international shops and I tested this one out for a buddy of mine who was looking for solid hiker. So first of all this is a hiker, not a backpacker and not a trekking boot. Don't think about doing any mountaineering in this boot, don't even think about it, though it might work for some people so I will try not to generalize. What I like about this boot is well it is pretty light, but heavier than a traditional hiking boot. It does not breath incredibly well, but those of you who know the scoop on GT know that it does not breath as well as we would like. The full grain leather uppers soak up water and do take some time to dry out, but the GT propels the water from the inside like reactive armor. What I really like about this boot is the vibram sole. I love how aggressive the sole is. It wraps up the side of the boot allowing for more gripping ability. This bodes wells for scrambling and steeper inclines. The sole is incredibly grippy. I was really impressed with this, as they even preformed well on wet rock (granite, scree and sandstone). The rubber banding around the upper really protects the toe box nicely and the heal as well. The boot itself feels neutral to me with adequate room for toe flexion and expansion. The heel area fits snug (mind you I have narrow to medium feet). The lacing is nice and tight and the tongue really feels padded and adds a little extra comfort since the reduction of padding around the ankle has been reduced. The sole feels comfortable with a nice articulation of the foot bed and Overall this is a decent boot. I not a lot of pictures of heel injuries and boots falling apart. None of those happened to me so I guess that is a case by case, which is true with anything thats why there is chocolate and vanilla folks. I find some of the sizing reviews a bit confusing. I wear a 10.5 in most shoes and I fit perfectly in a 10.5 in these, so maybe those folks are in between sizes, but I feel they fit true to size not like other patagonia footwear. Again this is my educated observations after wearing them for a bit noting that what works for me does not always work for another.
Here is one for those who say this is a comfortable boot - the truth is that they don't come far enough up your shin to get a sung fit in the heel of your shoe (if you carrying any sort of weigh that is). After strangling my foot to try and tighten this worthless gear and the sole exploding of course, I will never buy another pair of Pat boots - or gear for that matter!
I know some people live and die by Pat gear. The truth is that they have started making cheap - outsourced gear. These boots feel apart on their maiden voyage as so many others have posted. They do look cool, but that is all that you are getting with this boot. The sole exploded on me in the Rawah Wilderness of Colorado - not even doing too intense of trekking! I had to use some legit footwear - my Chacos to get me out for about 12 - 15 miles in the backcountry with a 35 pound pack. You really should stay away from brands like this were you are only buying the name!
Most comfortable things I've ever worn on my feet.
I've loved these boots since the moment I tried them on. I hesitated at the price, but after a while I couldn't get the comfort out of my head. I've owned these boots for over a year now, and I never once regretted my choice.
If this is one of the boots you are considering, this is the clear winner.
I would be remiss to not mention the problem I had, which was a tear in the stitching, which allowed dirt to pile in between the liner and the upper.
However! I use my gear a bit harder than most, and it still took a year for that to happen. Luckily, Patagonia is amazing. I sent my boots to them to have them repaired, and I was sent a new pair of boots.
I look forward to enjoying my Nomad's for many years to come.
Yup... I have a question... Why did the...
Yup... I have a question... Why did the price go up $25? I bought these boots for $160 right here 2 years ago. Arggh Backcountry, don't make me do it.
Best Answer
That's actually an increase of $25, which I know isn't helping. What can I say man, Patagonia updates their product lines every five minutes and prices go up over time. If you don't want to pay the full $185 (understandable) you can probably find an older model but still new boots on Backcountry Outlet or even Sierra Trading Post, or you could return your old ones since they're still covered by the lifetime warranty. Otherwise you're just gonna have to bite the bullet. Such is the price we pay for fancy outdoor lifestyles.
Youre right... $25. Corrected. I must have been way more tired from my trip than I thought. I'm thinking that maybe the use of some construction materials went up. I see that the MSRP on Patagonias site is what went up. So I'm guessing BC moved up to match it. Patagonia released a new boot line called the P26, so why does this one have to go up? Oh well, They are mighty nice.
I wrestled with the price for a while, but now that i have them and have worn them for a couple of weeks, I have no regrets. Construction is obviously top notch and the level of comfort is astounding, even from the first day in them. I went a half size larger than my normal foot size, due to some of the earlier reviews, and i think it was a good call.
By far the best pair of boots that I have ever owned. I work over sea's and end up being extremely hard on boot. Great for quick movement. the break in is a bit to get over but any hiker knows this is the key to finding a great set of boots
First pair returned - 2nd pair also failed
Second Review: These are poorly madeI hate this - this is truly the most beautiful looking and most immediately comfortable boot I've ever seen and worn. But after my first pair disentigrated after minimal offtrail work (my primarily location) I wrote Patagonia, returned the boots and they cut me a check for the full amount. So I bought Pair #2 about 4 months ago.Sadly, I am having the very same problems only worse with the vibram - yes vibram sole coming off of BOTH soles near the toes - last time it was just one boot. This breaks my heart as they are still fully and as brand new - totally comfortable. And again - this is by far THE baddest ass looking boot style I've ever seen. But the sad truth is - Patagonia is using cheap materials in China (or wherever) to make this or my pair # 2 would not have self destructed even faster than pair #1.I would give this a one star but two is all I can go - and trust me, I'm not trying to diss Patagonia - I've never had such issues with any of their other gear. But there is simply no excuse for this. My only question now is - with how much I love the look, comfort but "know" the soles are going to shred off in just a few months, do I keep returning them, buy a new pair, return, buy, return...or just go with another boot? Problem is - there is just nothing out there that looks or fits the foot so well initially - these are IMMEDIATLY comfortable. But with the soles ripping off both pairs in just months - and with hardly any serious usage, I have to say that I'm shopping around.This is truly sad as again, there is just no better looking or instantly fitting boot I've ever worn. But I seem to have no other choice. Sorry shoppers - look elsewhere unless you get the lucky pair that doesn't tear up on you.
good, but i'd go a half size up...
i need to go a half size up on patagonia shoes cus i've noticed they run a little small and if you do a lot of descents then they can rub the tips of your toes and be painful. great thing about em is the lifetime warranty through patagonia..and through backcountry.
I originally bought these for use as hiking only boots, but they're just too comfortable and awesome to only use for that. I've had them for about a year now and they're still holding up well. I will definitely be getting another pair of these when mine wear out.
Great boot but pensive 2nd pair owner...
I bought a pair of these in July 2008 and have worn them primarily in the woods vs. pavement, but am now on pair #2. I have a mixed review, as these are instantly the f-ing hottest looking (minor) but most comfortable, grippy, and good-fitting, good-feeling boot I've ever worn. I've never had so many people ask about my boots...and super comfy. However - after only several months, some of the rubber sole 'tabs' (grip more on the sides of soles) began to seperate, as was the rubber hold on the leather around the toe. Still...it all ultimately held until a few months ago (Sept/Oct 09) when sole sections started to tear off and one of the soles split east to west, cracked wide open. My last pairs of boots were Vasque & Scarpas - each about the same cost, but each lasting about 5 yrs. So - I called Patagonia and they said "thats not right" so I returned them - but they had none in stock and to their credit, they cut me a check for the original amount plus tax...sweet! So - I picked them back up on BC.com and am now enjoying ride #2, same killer boot and hopefully a slightly better result. I'm hoping pair #1 was a fluke, and I'll largely agree with AJ3 and other good reviews below. These boots also feature a killer 'rocker' or front to back 'kick' I can't quite describe when walking - feels amazing. Overall, this is the best looking and most comfortable boot I've ever bought - but if this pair F's up, I'll send back to Patagonia and buy elsewhere. I've only had good results from Patagonia - these guys have ethics too - an this is so far the only item I've put so much $$$ into that hasn't lasted for years - yet. One more chance guys...and I hope it works out because I won't buy again if these fall apart - and I'll ask for my money back to get Vasque's again and never look back. Problem is - there's just no boot (I've seen yet) that even compares to this instant comfort & style off the cuff...takes months to get boots to feel like these do out of the box.
These boots are AWESOME!
GREAT ankle support, very comfortable, great grip. I couldn't ask for anything more! It was raining like crazy with 65+ mph wind gusts and these boots stayed dry and kept traction the entire time. I will buy these until they stop making them.

I'd give a 10 star review if it let me =\
The pictures of the boots on the website show a lighter brown then they actually are. They are a darker brown. So far, pretty impressed. Comfortable boots.
These boots have been great in my opinion and I am very impressed with their performance. I see that people have mixed feelings about the sizing but I find the sizes are right on with what I normally wear in other shoes. Width is a bit wider than normal to allow room for wool socks. So far these boots have kept my feet dry in six inches of swamp water, provided warmth in sub freezing temps and given maximum support on sketched-out rocky descents. Well worth the money in every way.