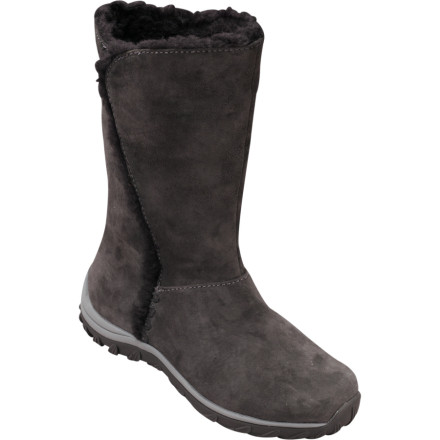 Detail Images
When you're headed out on the town in the dead of winter, and can't afford to sacrifice style or warmth, pull on the Patagonia Women's Lugano Waterproof Boot. This warm winter boot knows how to keep your foot toasty in icy conditions, and looks good doing it. Patagonia lined the Lugano's waterproof leather upper with soft fleece, and added 200 grams of Primaloft synthetic insulation to give the boot furnace-like warmth when you head out to shovel the walk or cruise the streets of Aspen. The multi-traction leaf sole comes from recycled rubber, and gives you a steady grip on slick sidewalks and icy hardpack.
Share your thoughts
What do you think of the
Patagonia Footwear
Lugano Waterproof Boot - Women's
? Share a...
Hard to put on / take off
Gender:

Female

Familiarity:

I returned this product before using it
These boots were extremely difficult to put on, and to take off. They are very tight around the ankles. They seem like they would be very warm, and are nice looking but I had to return them because of they tightness around the ankles.
They are warm and waterproof. I love these boots. I wear a size 7 running sneaker and that's the same size boot I ordered. It fits perfectly even with some thicker socks. I don't have trouble getting the boots on and off like some others have mentioned, but I also am somewhat petite with small calves. (5'2" and 115) Love these boots though.
do i need to spray these with any kind of...
do i need to spray these with any kind of treatment before wearing them?
You shouldn't have to spray these BUT Patagonia recommends for cleaning them to use "The footwear cleaning gel by Nikwax. Clean them by hand and then applying a suede/ nubuk waterproofing treatment made by Nikwax. As with any cleaning/ treatment product we recommend testing it on a small area first."
I've had these boots for 3 winters so far and only recently I started to spray them with some nikwax waterproofing since they've been through a lot!
do i need to spray these with any kind of...
do i need to spray these with any kind of treatment before wearing them?
No. The boot comes with a fully water proof leather upper.
They are cute and seem warm but the upper of the boot was too stiff for me and therefore uncomfortable. I do have larger calves so that might be part of the issue. I also found them difficult to get on and off. I ordered my normal size and that seemed fine fit-wise.
Do Not Order A Size Larger
Very impressed with the way the boot felt support wise, the sole traction, the appearance and the inside seemed like they would be super toasty for my COLD feet. But I wear a size 9 which was not available. I thought I would be fine purchasing a 9.5 since so many said that the boots ran small & you couldn't wear fuzzy thick socks with them. I'm returning the 9.5 because my feet slide around & will keep hoping a 9 pops up. These boots did fit my legs/calves well and I have thick athletic legs. Would only be able to stuff skinny's into them. Others with tiny legs would probably have better luck with that. I hate missing out on these boots for the price. Also the boots came off my feet better when my husband pulled them.
Bought these boots this January just in time for big NY snow. This is a great boot. Completely waterproof, extremely warm and very comfortable. I've worn these boots out walking the dog in below zero weather and I could not feel any of the elements. Good arch support as well. This is a true kudos to this product as my feet and fingers tend to suffer in the NY outdoor climate. The boot fits true to size. Only caution is that these boots fit snugly. Do not layer up with thick socks and expect to fit your foot in the boot. You only need a thin sock and you are good to go. You will not suffer in the elements, I promise! It is also tough to get jeans down into these boots. Good looking boots... you'll get lots of compliments.
I've had these nearly a year now and I do love these boots. I have them in khaki. I did end up ordering a half size up on the advice of the great folks at BC and I'm glad I did (usually a 7.5, got an 8). I have a skinny calf and ankle but they can be a challenge pulling off. Easy to step in to though. I am usually a cold natured person but these boots keep me quite toasty. A thin sock (even in super cold weather, like 0) will keep you plenty warm. My dark wash jeans did leave some blue marks on them but not a big deal. I have worn them in snow and rain and I don't have any water marks on them. You can tuck your jeans into them, but if you are looking for taller boots for fashion, they may not be tall enough for you. All in all they are awesome, comfy, stable with good traction, and super warm, and I have worn them a lot. Well worth the $$. I'm probably going to get them in black as well!
I'm a tiny person but i have pretty large...
I'm a tiny person but i have pretty large calves, like if you only saw my lower legs you would probably think i was a dude. Am I even going to be able to fit in these? I'm kind of worried after reading about the struggle some buyers are having with donning and doffing them. I'm normally size 8.5 so I guess i'd be better of purchasing a 9?
I am also tiny with average to larger sized calves. I have absolutely no problem getting these boots on and they are not tight at all around my calves. I went with my typical running shoe size and they fit great. I suggest ordering them Backcountry is awesome about returning items. I love these boots they are super warm and cute!
Love the boots, but I got them yesterday and there was a stain on them...Now I'm in the process of exchanging them..
Love the boots, but I got them yesterday and there was a stain on them...Now I'm in the process of exchanging them..
These boots are super warm and waterproof. I live in Mammoth Lakes where I occasionally wake up to snow up to my knees or more. They've always kept me dry. My only complaint is that sometimes I have difficulty putting the boot on or slipping them off. I got them a half size up, normally I'm a 5. I can't imagine how difficult it would have been to put on if I got my actual size. Also, pants only fit in them if they are skinny jeans/pants. Definitely more traction than Uggs, but I still found myself eating it on really icy days. Personally next time I think I'd rather get the lace up version.
UPDATE: These are now going through their third winter and they haven't fallen apart yet, still warm, and waterproof (though I did recently spray them with Nikwax since I've had them for 3 years.) Still plenty of tread on the boot and I wear them everyday.
Unanswered Question
My hiking boots are usually 7's with thick...
My hiking boots are usually 7's with thick wool socks, but I wear a 6-6.5 shoes size. I have slender feet and petite feminine athletic frame. Do these Laguna boots run smaller than the Patagonia Koyuk? I bought a pair of the Patagonia Koyuk in 7 but was not feeling so keen about the way it was rubbing up on the back of my ankles so I am waiting for the 6.5 to arrive. I would like a pair of apres boots but want to be sure I get the size right from the get-go. Can you enlighten? Thank you!
Sylish, Functional, & Comfy
Completely waterproof. Big enough so you can tuck your pants in. Impossible to slip - it's like wearing studded snow tires on your feet, except you don't look like a car. As long as I'm not wearing cotton socks, my feet don't sweat in them, and they stay very warm. This is saying a lot because I have poor circulation and my hands/feet are usually ice-cold!
These boots are awesome! They are VERY warm! You can fit your jeans in them or wear your boots under your jeans! They are great to walk in or do whatever you want! Patagonia shoes are always GREAT and a MUST! LOVE THEM!
These boots are super warm and comfy. I was looking for a boot that would double as a hiking boot and something that will still be good in the snow. It hasn't snowed yet, but I have hiked in these, my feet stayed warm and dry. I also like that they are easy on/off, this makes it easier at the front door. I typically wear a size 9 in regular shoes and a 10 in athletic shoes. Since I knew I would be wearing thicker socks with these, I got a 9.5-it fits perfectly.
Is there enough room in the boot to wear...
Is there enough room in the boot to wear your jeans tucked in?
There absolutely is. I don't have large calves, though. However, there is enough room to tuck my jeans in when wearing thicker socks, long underwear, and jeans and it still isn't tight
I was wondering how tall the boot shaft...
I was wondering how tall the boot shaft was! I am looking for a tall boot this Winter...
Hello- This is Owen from Patagonia Footwear. These boots come up to just below the knees.
Super cute and comfy but..
I'm a 9.5, so that's what I ordered, but I could barely get them on. There isn't a zipper or laces, and my foot got stuck in the ankle of the boot. Once I did get them on, they were super cute and comfy. I wish I could have kept them, but it was just too much of a hassle to take them on and off. I ordered a 10 in the same style from another website (backcountry was sold out), but had the same problem getting them on. I was afraid to go up any more sizes, so I inevitably ordered a different style of boots from another manufacturer.
These boots are amazing! They are comfortable for walking, very warm, keep your feet dry, and they still look cute. They aren't too bulky for just wearing out like some of the warm and waterproof boots can be. I haven't had any trouble with water staining. I would definitely would tell my friends to buy them!