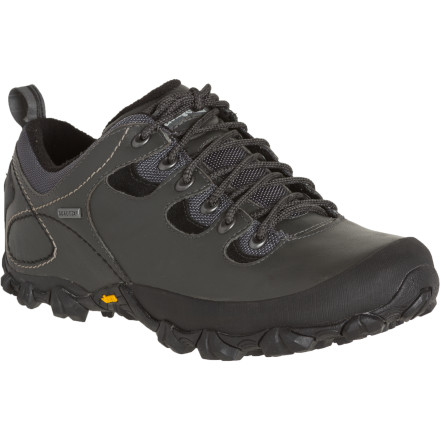 Detail Images

Community Images
The Patagonia Men's Drifter GTX Hiking Shoe is a Gore-Tex-lined, sturdy low-top hiker, manufactured under Patagonia's environmentally protective eye. While most companies producing earth-friendly shoes are sticking to the casual side of the line, Patagonia has produced the burly Drifter GTX from recycled components and leather tanned under environmentally stringent ISO-14001 standards. A full bellows tongue in combination with the Gore-Tex insert makes this light hiker fully waterproof and breathable, while the Capilene lining wicks away moisture from the inside. A grippy Vibram Ecostep outsole is well-suited to scrambling over rocks and wet roots that lay in your path.
I Loved it First so Bought 2nd Pair
Familiarity:

I've put it through the wringer

Fit:

True to size
It was great for the first six months so I bought another pair. Well, as many people experienced, it wasn't a smart choice. The innner lining began to rip and pull apart after a year or so. These days I don't wear them often. If I need rugged shoes, I tend to grab other hiking boots rather than these Patagonia Drifter Shoes.
I would buy another pair
Gender:

Male

Familiarity:

I've put it through the wringer
I bought these shoes with the hope that I would be able to do everything in them. I mean everything.



So after many moons (maybe a year and a half) I've decided to testify to their beastliness. . Not only are these suitable for winter commute rides in Wyoming but they stay on my feet after I get to school. I'm a teacher and spend most of my day on my feet and find these shoes perfect. The toe box is a bit wide which, for me, is a good thing.



Now for the outside part. I've used these with snowshoes just to test the warmth. No problems and plenty warm so long as you have gaiters and SmartWool. The tread wasn't so great when it came to staying on mountain bike pedals as they are pretty heavily lugged. The shoes shine on day hikes, scrambling, approaches, around the camp fire or even stomping the bar scene after skiiing. Cinch em tight and my foot stays put but look at the picture folks--these aren't going to give you any real ankle stability.



The shoes have been drowned in water, snow, badlands mud, Texas downpours, Colorado 14ers and Wyoming's worst and I have yet to see any signs of failure in them. The Gore does it's job and contrary to a past review the stitching isn't that bad. They're shoes you plan to get dirty so stop being precious and wear em in the dirt.
buying 2nd pair after 2.5 years
Gender:

Male

Familiarity:

I've put it through the wringer
I've finally worn these out after at least a few hundred miles bagging peaks in the Wasatch - they're a little heavy but comfortable.



They offer a lot of protection in talus on the instep, the soles are stiff enough to not let sharp rocks etc bother the bottom of the foot yet enough 'feel' for stability.



They're still together, just most of the traction is well worn & I like steep trails. Longest hike: Cascade-Paintbrush canyon in the tetons - 19.5 miles IIRC.



(I got the brindle brown, all leather, both times).
Full disclosure, I am a GORE-TEX MountainTech. I have worn these shoes around town and on the trail. They are WATERPROOF, and very comfortable. Not much breaking in required, but they are a bit on the heavy side, which is a trade-off with the leather. They aren't overly weighty, and knowing that you may get a longer lasting hiker with the leather option, I don't think you will be disappointed. Size is spot on; I usually wear 11, and 11 fits perfect.
So I tried these out about 2 months ago for a local gear shop and I have to say I think they are durable, like the design and they have some aggressive tread on them, but fell a little short in that they are a little heavy for me. I know they are a hiking shoe and should be a little more dense, but in the age of minimal shoes it is really hard to like a shoe that is so heavy, especially when I wanted to so much. The shoes as mentioned above have great tread and stick to rock and packed trail very well. The material is heavy duty leather and they they feel like a glove when putting them on. They do not breath well for being GT, but they are much more cushioned than their boot counterpart. I really like the rugged nature of them but when it comes down to it they are just to heavy for me. I have been running in minimal shoes for a while now and when I fast pack I even were a pair of heavier trail running shoes like the brooks cascadia so I think for myself I am ruined on the age of the traditional hiking shoe. They are however stylish and provide great protection. I do like how the sole creates a total coverage wrapping up the side of the shoe. Great for scrambling and approach. If you are in need of the classical style rugged hiking shoe this is the shoe for you. I wear a size 10.5 and know I have read plenty of discretion involving size, but feel the 10.5 here was spot on. I think you should stick with your normal size unless you are in between sizes and might have to actually try them out.
Unanswered Question
Does this shoe come in a size 7?
Does this shoe come in a size 7?
These are by far the best shoe I have ever worn. I am a stout 230 pounder, so I put a hurtin on my footwear. These shoes are not only versatile in style, they are built to last and super comfortable.
The innner lining began to rip and pull apart after I got the shoes completly wet..while caving... the integrity was comprmised. I expected more.
Don't have too much to say about these shoes other than that my experience matches the many positive reviews I read before buying them. They are super comfortable, not too hot and I've been using them solely in the Spring/Summer so far. I like the look and have worn them to work, but I'd prefer if they didn't have the stitched swoop. I took these on a hike in the Grand Canyon just after buying them and have no complaints. One thing, for me at least, is that I had to send my first pair back because they were too small. I'd recommend purchasing a 1/2 size larger than you generally buy in other shoes. Especially for hiking, it is good to have a little space between your toes and the front of the shoe, otherwise you can get some significant toenail bruising on major hikes with heavy packs and lots of downhill hiking.
Sturdy and Super Comfortable
Thought I'd give these a shot when I saw them. For reference, I wear a mens 9 normal width. I've worn Lowa, Merrell, Vasque and Asolo, so I know a good shoe. First impression was the way the footbed rolls forward easily. Laces bind well and don't come loose easily. Never had to re-tie due to the laces.

Top of the shoe is very thick. Ability to tighten front of the shoe while leaving the top loose would be hindered by the fact that the whole top moves almost as a whole. Not a bad thing. just know that it's not a flexible fabric. Attributes well when moving downhill and keeping your foot from slamming forward.

Lateral stability is rock solid. These shoes have the best balance between width and weight I've ever worn. Rubber rand wrap is well proportioned to the overall look vs function. Not overdone like the Keen. Heel stays firmly planted, no movement. For what it's worth, I like the loop stitching on the back. Some hate it, some like it. I think it's nice to not to take yourself or your product so serious.

The foot bed is adequate, nothing a Superfeet Green wouldn't upgrade. I like the low cut allows for a lot of foot/ankle movement.

No open ventilation ports, but feet haven't been overly sweaty on hot days. Good thing is you're not carrying the trail home with you. Not an issue for me.

Best of all is the gnarly Vibram sole. Super grippy and claws very nice. On one of my frequent trails with a steep and slippery downslope - No slideouts. I haven't had a pack on yet but plan to as the weather gets warmer. From the sturdy and solid foundation I've experienced so far I don't think a 25 pound pack is gonna be a problem.

I haven't had the opportunity to test inclement wet weather yet but I think the gore-tex lining should do it's job. Style is great and have been asked a few times what kind of shoes I have on. Not sure what the long-term durability will be but I'm sure Patagonia has a decent warranty policy.

Overall a B+ with the super comfortable experience so far and if these last me a couple years with consistent pounding like I usually inflict then it'll be an A+. This shoe has prompted me to take a look at other Patagonia footwear products.
I like these shoes, they are comfortable from the moment you put them on. They keep your feet warm in rain and snow.. and I also use them for walking the dog about 4 miles a day, plus hiking. They do not give very good ankle support and I have had injuries where my ankles are subject to turn over if I step wrong. It has a pretty wide base and that compensates for the lack of ankle support. I love the style and I also wear them with my jeans all the time and they look great. I have owned these for about 3 years and I still wear them. I was looking for a replacement insole for them but couldn't find any.. I found another brand the provides even more cushioning for the sole. The heal is wearing out but I've had them for 3 years.

I wear wear light to medium to heavyweight socks and you can always lace them up tight enough for comfort and fit. I will buy another pair. hope this helps.
This is my first gore-tex hiker and I really liked it. It held up on muddy hikes, rainy days and didn't leak at all through the snow. The look of this shoe is off the charts, one of the best looking hikers I think. Great for everyday wear as well. However, I did return it because the support is terrible. After having it for about 4 months I realized I would either need some really good insoles or just buy another shoe. I decided to return it and buy something not as pricey. I also need a shoe with better arch support.Pros-Great lookWATERPROOF/bombproofgreat toe boxConsinsole is terriblesupport is not very good at all if your on your feet all day
Got this shoe primarily for winter and love it. The couple cons I have are that they get a bit cold up here in MN unless you are wearing warm socks. However, my feet are always cold, so maybe that's a personal thing. This shoe rocks on the snow, but if you get inside on wet tile, or on metal, they are VERY slick - so watch your step!
laying around in Tikal Guatemala
After hiking around all day in the largest Mayan ruins of Central America, it was time to take a break. These shoes are AWESOME. I spent 3 months hiking around Central America in the dead of rainy season, rain, serious rain everyday! I was hiking and traveling everyday and put down some serious walking miles. These shoes always kept my feet dry. The traction is awesome and they are lighter then say a full on leather hiking boot. I wear a 10.5 and they are true to size!
How do I get this in size 13?
How do I get this in size 13?
Size 13.0 is currently available. Jump on it!
my friend has these and left em at my bro-in-law's and they love em. gore tex..water tight and great shoes..but lacking in style because of the goofy swerve stitching.
these shoes will keep your toes pretty dry even if youre hiking through wet grass all day and they fit great and last, BUT they have some unnecessary stitching in the back that i could go without.
U never want to get out of them!
I was a bit skeptical about getting these(price). Secondly, I dont review gear that much but I feel compelled to share my experience abt the Patagonia Drifter. I guess you know were I am going with this. This shoe is awesome! I work outdoors a lot, and the drifter just does what it was made for. Comfortable, keeps toes warm,good support, size fits true to size. I am a size 10 and it works just fine.
After a long days work, I usually want to take my shoes(the other shoes) off immediately when I get to my house, but with these drifters you feel like they just have to remain on your feet! You never have the urge to take them off. Trully designed for the feet.
For the most part-awesome.
I bought the shoes for my boyfriend for Christmas and they were a hit. He loves them. They fit very true to size and the style is very attractive. The only down side to the shoe that he's told me is the arch. He has very tender/sensitive arch's and they really hurt. We are hoping that they break in and the pain goes away. Other then that, they are amazing shoes. I would highly recommend them.
Are these are wide fit shoe? I have extremely...
Are these are wide fit shoe? I have extremely wide feet and require a wide shoe.
I wear a men's 7.5 wide and have no problem with this shoe. You should try and find them at a store to try them on because a size 8 was too large for me.