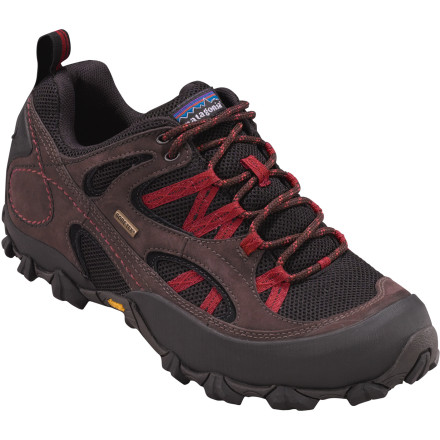 Detail Images

Videos
The Patagonia Drifter AC Gore-Tex Hiking Shoe has a waterproof/breathable Gore-Tex liner to seal out water and increase ventilation when you're hiking through wet and humid terrain. The durable Vibram Trail EcoStep sole keeps you upright on slick rock, muddy terrain, and sketchy scrambles.
Gore-Tex membrane provides thermoregulation by preventing heat and moisture build-up, while blocking out water
Waterproof Bi-Fit insole footboard provides underfoot stability, and is made from partially-recycled polyurethane
Recycled EVA anatomical footbed provides comfort and support
Patagonia air cushion absorbs shock
Great shoe!!
Gender:

Male

Familiarity:

I've used it several times

Fit:

Runs small
Good stable shoe, well made. Once the soles are scuffed a bit from normal use, there is no slipping on any surface. Really happy with my purchase. Does run about half size small.
Disc golf and hiking in PacNW
Familiarity:

I've put it through the wringer

Fit:

Runs small
Another Oregonian here...yep, I rock them all winter with hiking and playing disc golf. I play A LOT of winter golf (the courses are always empty!) and you always encounter every type of terrain. These shoes hold up great, and keep me dry. They're light, they grip, and when my current ones wear out, then I will probably be getting another pair.
Patagonia Footwear Drifter A/C GTX
Best Trail Shoes!
Gender:

Male

Familiarity:

I've put it through the wringer
By no means am I a expert trails man, but these shoes rock! Pretty lightweight and breathable, they've worked great this spring as approach shoes when climbing and I haven't had a close call yet. They hold real good to all terrain types, wood, dirt trails, rock slabs you name it! Gore- Tex comes in handy while facing the elements.And the Vibram recycled soles are sweet. A must for the adventurer
Best Answer
Yeah man I bought these a few weeks ago. Been wearing them for approach shoes when climbing and they work fantastic! Great in the woods, dirt trails and rock slabs.They have great grip,are water proof and pretty breathable.They fit true to size and dont leave your feet with hot spots after an exhausting hike. Best shoes I have had!
Great Shoes
Gender:

Male

Familiarity:

I've put it through the wringer
I received a pair of these shoes through a Gore-Tex testing program and have been very happy with them. After moving to Oregon from the high desert, I quickly realized I didn't have appropriate footwear for the near-constant rain. I've used the Drifter's for everything from my bike commute to backpacking trips and even spent a day hiking around in the snow. I have yet to pull them off and find wet socks - all the outside water is kept out and they still breathe well enough that my feet don't feel claustrophobic and stuffy (my largest initial concern with a Gore-Tex shoe).

While these are not light enough to use as a runner, they do fill a niche as a nice light hiker that is still supportive enough for backpacking. I did do a small amount (2-3 miles) of light trail jogging with a ~30lb pack on once and they felt fine.

Fit was true to Patagonia's sizing (I ordered them based on another pair of Patagonia shoes I own). So far they've held up very well with about 10 months of use, and if the other pair of Patagonia shoes I own is any indication they should continue to wear very well into the future.

My only two complaints (and minor ones) are that the right shoe seemed to have a slight rise under the hell. It's only noticeable when I rock back and forth from toe to heel and hasn't affected performance. The soles are also pretty slick on damp or wet man-made surfaces - tile, linoleum, anything metal and even some sidewalks and asphalt.

Overall, I've been really pleased with these. Definitely recommend them,
Nice Daily Wear
Familiarity:

I've put it through the wringer
These are my daily wear shoes for the winter here in Oregon. Waterproof and when paired with shell pants, they keep me dry biking to work. I like the fit and the support, though they could be a little lighter. I'm impressed with the wear as well, since I spend a large amount of my time on rough floors in our shop. Full Disclosure, I got these through participation in the Gore MountainTechs project, but I'd be willing to buy a second pair when they finally wear out.
Excellent
Gender:

Male

Familiarity:

I've used it several times
Been wearing these for a week now. My first thought was they were hard & not very flexible. Didn't think they would be any good. HOWEVER, I wore these to the woods for 5 hours the other day, barely noticed I had them on. Another day still I spent wondering around costco for an hour or two. This usually leaves my feet aching by the end, but they were not. They are very comfortable. I haven't given them the water test yet but so far walking across the lawn in heavy dew left me feet totally dry.



I guess the only negative thing i can thing of is watch out for the rocks if the soles are wet..........Slippery is an understatement.
these are really fantastic shoes for hiking in any weather. They are solidly made and comfortable right out of the box. Super grippy on slick rock and wet roots alike. And of course the fact that they are lined with Gore Tex makes them my go-to shoe for any serious outdoor excursion. as a disclaimer, I do receive some products from Gore for the purpose of field testing. So I am lucky to have experience with so many great products. If you want to stay dry from head to toe these are the shoes for the job.
I am a Gore product tester and have owned these shoes for over a year. I did not receive these shoes in order to review, but I wanted to write a review anyway. I have a hard time taking off my Chaco's during the summer, and even during the winter, I am almost always wearing a pair of Chaco's. But when it comes time to shave/wear pants/etc. then these are the shoes of choice. I love the comfort that these provide, they are stylish, and they look great with my eyes. As other reviewers have said, the laces were a bit funky at first, but give them some time and things get better. Great clean up shoe that provides wetness protection better than a duck under an umbrella.
19 miles of back packing 40+lb pack, very comfortable and stable shoe. Great traction on slick rock and rocky creek beds. There was no breaking them in, just go.. They were a half size small. But no biggie, Back Country is great.
I haven't hiked in these yet but I wanted shoes for everyday that don't leave my feet hurting but also look good. These fit those needs. I have worn them for about 3 weeks every day with no major complaints and no foot pain -- everything I want from a shoe! I heartily recommend. But get 1/2 size larger than you normally wear for the gtx a/c.
are these shoes better at keeping the dirt...
are these shoes better at keeping the dirt and dust out than the non water proof version...also are the Drifter AC GTX hotter than the non water proof version.
Kevin, yes they will keep the dirt and dust out better. The GTX version will probably be a little warmer than the mesh version but they still breathe well.
This shoe offers great support, and is solidly built. However I did experience a bit of rubbing on one toe, which went away after a few days of being worn.

I thought these shoes would last me a long time, but I ripped the sole quite badly on a small diameter tree stump after 2 months of use...
Well it turns out they did last me a while! I continued to use the same damaged pair for most of the summer while working a busy tree service job... the overall durability of the shoe as a whole really surprised me.

I returned the broken pair to Backcountry, but they were still going strong, even after months of use while missing half a sole!
I packed 15 miles on these the first day out of the box with no issues. On four Sierra trips, three in the Yosemite backcountry, so far they have kept my dogs clean and dry with the gtx and Mountain Hardware trail running gaiters. Grip is tight on creek crossings, snow, and steep slick rock. These were burly enough for xc and light enough for trail running. I read a review of the Drifter by a chick back east who used them for walking her dog and though wet grass. She thought they they were too western looking. The Drifter should dispel the Patagucci image. It is made for the rugged Sierra by a company about as far west as you can hike without paddling. Congrats to Patagonia for making the shoe I have been dreaming about for 40 years of backpacking.
250 miles so far and counting...
Bought the Drifter shoe for hiking half of the Appalachian Trail. Bought a half size up, which was good for wearing a liner sock under my hiking sock and also to account for foot widening after walking every day. They have held up great so far! Zero blisters, and I didn't spend more than 2 days breaking them in. Ample room side to side in the toe box. Thought the rubber toewrap on the front was a little low top to bottom for my big toe, but as long as that nail is clipped its much better. I have a wider foot and have not had an issue side to side. The grippy sole is great for the rocks. They breathe really well, my feet never seem sweaty. I'll get back with another review after a few hundred more miles. So far, so great!
First off i will say these shoes are very comfy and certainly waterproof. On the down side once the sole is wet on rocks it is similar to wearing a bar of soap on your feet. Also the first pair i bought the heel on the right sole began to peel and make noise. I thought this was a fluke so i returned them an got a second pair. The sole on this pair has begun to peel off in the same way as if the right shoe did not recive enough glue... When i eventually return this pair i will not be trying them again.
Great shoe but for me it was the wrong size and I had no others options. I also felt that the shoe is a low volume shoe so I returned the shoe. I would probably size up a full size for the correct fit. Otherwise I would have probably kept the shoes.
Comfortable right out of the box and super durable. No issues with them after hundreds of miles of use.